The City of Lacey is growing and making a name for itself. With both residential and commercial development taking place in every area of Lacey, businesses small and large are opening up in the thriving economic climate. "We are thrilled to welcome new businesses to our area," says Blaine Land, executive director for the Lacey South Sound Chamber. "We are excited to see the tremendous growth in Lacey and the South Sound."
The Lacey South Sound Chamber has been busy hosting quite a few grand opening celebrations. A variety of businesses have decided Lacey is the ideal location for them to open or expand. "The City of Lacey has made the process of becoming a business owner in our community a smooth process," says Land. "Which is wonderful to hear." There is a lot of support from local government, she adds. At many of their grand openings the Mayor or Deputy Mayor of Lacey have visited in order to meet and congratulate the business owners.
Beyond the ribbon cutting celebration, these grand openings have been a perfect opportunity for members of the public to get to know the new business, to see what they're all about, hear their story and make a connection.
Check out these three businesses that recently had grand opening celebrations hosted by the Lacey South Sound Chamber:
Linnea's Unique Boutique
6715 Martin Way East, Lacey
360-789-1112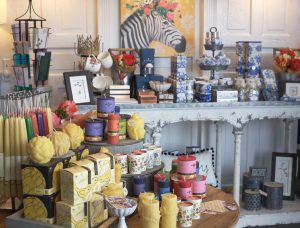 Linnea's Unique Boutique is a dream come true for Linnea Grantham, who long hoped to have her own brick-and-mortar store. Linnea points out the need for her store in the area. "There really aren't many other gift shops in Lacey like Linnea's," she says. Linnea curates a unique selection that can't be found in chain gift shops and big box retailers, and with her hands-on approach to her business she is able to rotate new stock in regularly, so there is always something new. Linnea's store is an expansion from her cozy hospital shops located in Olympia and Bellevue. "I'm looking forward to the opportunity to have events and experiences in the store," she says.
Linnea brings many loyal customers with her from her other two shops. The grand opening put on by the Lacey South Sound Chamber was an opportunity to spread the word to new customers that her lifestyle boutique is there to meet their needs with all things beautiful. Her gift shop has been recognized with many awards both locally and nationally.
Thrive Nutrition Club
720 Sleater Kinney Rd SE, Lacey
360-628-8017
Celebrating their grand opening in January, Thrive Nutrition Club had been open for a few months already when they had the open house event with the Lacey South Sound Chamber. Offering a healthy fast food option for people throughout the area, owners, John and Arlene Mitterholzer are passionate about helping others meet their nutrition needs with a variety of shakes, teas, protein-packed acai bowls and snacks.
A perfect fit for a pre- or post- workout meal or snack, most of Thrive Nutrition's early customers were noticing them conveniently located next to Planet Fitness. Following their grand opening, Arlene says the store experienced an uptick of new customers as word of mouth spread. Now the store is seeing new customers practically every day. Office employees and people looking for something healthy on the go have been among their new customers.
"It's really important to get a good, healthy start to your day," says Arlene, "which is why we want to remind people to focus on breakfast." With over 40 flavors available, you could try something new every day of the month and never have the same thing twice.
Olympia Vision Clinic
5321 Corporate Center Loop SE, Lacey
360-459-2108
Expanding to Lacey, the Olympia Vision Clinic opened their second location with a grand opening in March. The Olympia Vision Clinic offers comprehensive eye exams, glasses, contact lenses, diagnosis, and management and treatment of eye disease. The grand opening open house gave people an opportunity to meet the staff, enjoy some refreshments and even win some fun prizes.
As Lacey continues to grow, Land hopes that people will take advantage of the resources that the Lacey South Sound Chamber has to offer, such as the Lacey Visitors Center and the Discover Lacey website.  "We have great resources from all industries in Lacey and the South Sound area, and we really urge everyone to think local when they are visiting the Lacey area," says Land.
Lacey South Sound Chamber & Visitors Center
420 Golf Club Rd SE #105, Lacey
360-491-4141
Sponsored