When you hear the name "The Evergreen State College" natural sciences, ecology and environmental studies may come to mind. Or perhaps you think of more socially minded courses like cultural studies, political science or public policy. But would it surprise you to know that business management and entrepreneurship are becoming increasingly popular at Evergreen too? Three students aren't surprised at all. They're part of a growing trend of students attending Evergreen with a different plan—becoming the next generation of entrepreneurs.
Reference Point Navigation
Zach Hurtz was just a toddler when he lost is eyesight to cancer. Though he doesn't relish his time in the spotlight as spokesperson of his company, he's recognized that he has a unique opportunity to take his experience and utilize it to help others that also have visual impairments. Zach's company, Reference Point Navigation, seeks to fill in the gaps and make public spaces more accessible for all. His company has created an app thatt helps people with visual impairments navigate public spaces inside buildings.
"The Americans with Disabilities Act of 1990 was a great step towards accessibility," says Zach. At the time, no one could have predicted the advances in technology that would be at our fingertips today, he explains. With technological breakthroughs that quickly moved us from computers in the home to smartphones in practically every pocket, came the opportunity to assist individuals with disabilities to be more self-sufficient than ever before.
Currently, the level of assistance given to those with visual impairments inside most public buildings amounts to braille signs posted outside doors. Zach's app gives verbal directions based on landmarks. For instance, someone entering the Daniel J. Evans Library for the first time would not know where to find the bathroom.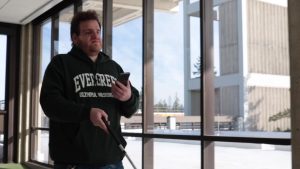 Instead of feeling around, searching for braille signs on the wall, or finding someone to assist them, the individual could ask the app for the closest bathroom. The app instructs the user to follow along the wall, counting doorways and other major landmarks, rather than giving less helpful instructions in feet and meters like GPS. The app is also a lot more sensitive than GPS, and is able to tell which wall the person is standing near. Zach hopes that as his business grows, his company will be able to map the spaces of all public buildings like hospitals, schools, museums and more.
But Zach isn't the only student learning the ins and outs of business at Evergreen.
Greeners Spark Change
Vanity Thomas saw students making bold moves around Evergreen, all within the entrepreneurial mindset. "Evergreen has turned out a lot of entrepreneurs over the years," she says. "They are not just business owners, but also change makers." This awareness led her to envision Greeners Spark Change, a business plan competition that would encourage change and innovation for current students across campus.
Vanity began the process of building the competition from the ground up, with the support of faculty like Scott Morgan, director of sustainability at Evergreen. She spent months looking at how other business plan competitions worked, creating documents, and building student interest in the project.  Though Vanity wasn't able to get the project off the ground this year, she's hopeful that it will continue to gain momentum and grow. As she moves forward towards graduation in fall, she's passed the project on to others students that will put their own inspiration and ideas into it in the coming years.
Northwest Wasabi
Cameron Hoadley knew he wanted to start a business. Entrepreneurship has long appealed to him. He just didn't always know his business would be wasabi. After learning that most wasabi in US restaurants was not real wasabi, just dyed horseradish or, at best, horseradish mixed with a sprinkling of wasabi powder, Cameron saw an opportunity to provide real wasabi to the pacific northwest market.
Most wasabi farmers keep their methods closely guarded. There is not a lot of information available regarding wasabi farming techniques, including nutrient needs and cycles, so Cameron is starting from the ground up, literally. "I like the challenge" says Cameron. Currently, he is focusing on the equipment needed to successfully create a production model for the specialty product. "I've got the time and opportunity ahead of me to pursue this, to find the answers, and create something of my own and make it successful."
What does business look like at Evergreen? Well, it looks a little different for everyone. If you talk to Zach, Vanity and Cameron, their ideas of business might not be what you expect, especially if you think of global corporate behemoths. Zach has already begun building his business with a model that prioritizes the important contributions made by employees. His value in his workforce is reinforced in the decisions he makes. Vanity sees amazing things happening within the business community at Evergreen and she is inspired by the motivation of students around campus to make changes throughout their community. Cameron points out that a business is what you make it. He stresses the impact of small business, emphasizing that even artists and creatives are small business people—sole proprietors with the power to impact the economy and maintain their own ethical business standards. While Evergreen may not be the first place you think of when you hear entrepreneurship, as these three students and many more like them show, it should be.
The Evergreen State College
2700 Evergreen Parkway NW, Olympia
360-867-6000
Sponsored