Capturing movement and remarkable grace, self-taught artist Katie Harmon with PinkPolish Design features themes ranging from everyday life to fantasy. Often featuring women in varying moods, Katie's art is beautiful and real. "I really am drawn to scenes that are more

dynamic," shares Katie. "I like moments of movement or emotion, both physical or emotive. That is what I love about creating art, I want someone to connect emotionally with that piece."
Photography was Katie's love before art and the feelings captured by photos translates into her artwork. "It was those challenging moments that I always wanted to capture not the staged, easy moment because I think people connect with it so much more," she says. "That is what I hope my art does for other people. They can see that moment and look at it and, in some ways, draw a parallel to their own life. Even in those very static moments of art, I think we can still express that feeling of movement and emotion."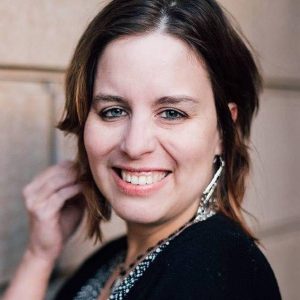 Inspirations come from everyday life for Katie. "Sometimes I work out my own stress and frustration in moments," she says. "If I felt overwhelmed, you will find that the illustration gives you that feeling." She also finds fantasy shows and books as a source of inspiration for the themes in her art. "All of that just feeds your imagination and soul," she says. "We need that magic in our lives."
Besides lovely women, Katie's art also features animals. Living on a lake in Tumwater, she finds the wildlife near her home and her pets a wonderful part of life and her companions. "I wish the world was built more on that concept, the idea that there are certain animals that revisit us throughout life and it feels like they are supposed to be there," says Katie. "Whether that is your dog or the deer that comes and visit every day. Those are important moments that connect us with nature."
As a young person, Katie grew up with artists around her. Her great-grandmother was also a very talented painter. When she moved out of the family house, she wanted Katie to have her art supplies and gifted Katie a professional watercolor set.
With her watercolors, she would watch Bob Ross and get frustrated. She revisited her paints in college during an art class. Still, Katie found art at that point in her life challenging. Then three years ago, Katie and her husband decided to spend a month together drawing.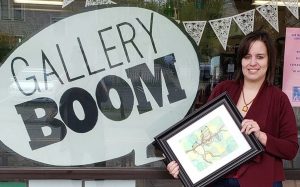 He encouraged her to try pens when she had always used pencils since they felt safe and removable. "It was actually finding the combination of media that worked best for me," Katie says. "I would have never dreamt of inking my illustrations." Finding that moment where she could create dynamic drawings and then use her watercolor skills was an experiment that paid of creatively for Katie.
For the last three years, Katie has continued to create art every day, expanding her capabilities with her hard work and dedication to her craft. "It is really important to me to have that consistent practice," she says. "I am a huge proponent that anything you want to do in life, if you do it regularly, you will exponentially improve."
Katie sells and displays her art at Gallery Boom, Sorry Mom Ink, and River's Landing in Centralia. Her work is also available online at PinkPolish Design.
Katie continues to create art each day and encourages others to try a creative outlet that sparks joys for them. "Don't give up on dreams," implores Katie. "There are many times I feel way too old to be walking down this path now. Anything you do, you can do well if you do it consistently. There is a lot of emphases put on talent in art, but it is not always talent. For me, my talent is not necessarily in painting or drawing but in composition. The rest of that I have to fill in with hard work."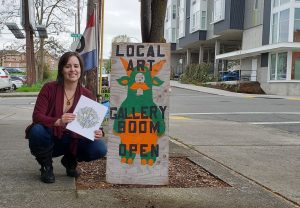 Katie also encourages budding artists to not give up. She purposefully paints a realistic look at her art on social media, even posting the creations she is not happy with and saying so. "So often we are looking at other artists work and it's curated," she says. "We don't see how many failures they had in between. That is just not a realistic look at life. There are many failures and those failures teach us."
Once commissioned to draw a woman's sister for her mother's birthday, Katie titled it "Thinking of You." She did not know that the piece was a memorial. "All of this came together in a special way," she says. "For her, this was a way to preserve her sister's memory and that particular commission was meant to be and turned out exactly how it should."
Katie keeps a copy of that print above her desk to remind her that when somebody sees or purchases her art, she doesn't know what situation they may be in and what profound impact it might have on their life.
"So often in my life, I try to control the outcome of things and sometimes I need to step back and say things are going to happen the way they are supposed to," shares Katie. "Really that's watercolors in a nutshell – things will happen as they are supposed to."