No matter the pearl, crystal or charm, Shipwreck Beads is a paradise for both veteran and beginner jewelry makers. When visiting Shipwreck Beads, a wealth of friendly staff is available to equip aspiring beaders with the skills, resources and materials to successfully create the bead projects of their dreams. As Mother's Day approaches, creating a custom jewelry piece is a popular project at Shipwreck, with the option to string beaded accessories according to any style.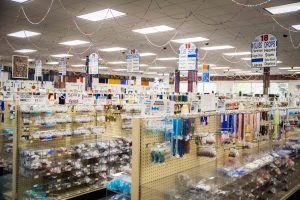 Not readily available on a store shelf, a handmade gift can signify a special appreciation for the recipient. A custom piece of jewelry fosters a closer connection because of the care it takes to create. "For me, it's the investment in time and the thought," explains Shipwreck Beads Buyer and Event Manager, Beth Simmons. "When you're making it, you're thinking about the person that you're making it for. Are they going to wear it? What are they going to wear it with? And then, every time they wear it, they think, 'she made this for me.' That, in my opinion, makes it all that much more important. There is more of a connection, more sentiment."
Beading can be a family-friendly activity for all ages. At Shipwreck Beads, both young and adult children can create their own Mother's Day gift. "We do carry a wide variety of kid-accessible beads," says Simmons. "We also carry some plastic bead kits and stretchy cord, which is always really easy for kids to work with. We also have something called memory wire, and that's an easy way to make cuff bracelets. Those are some things I do with kids regularly, so that they can create a piece that they feel accomplished with."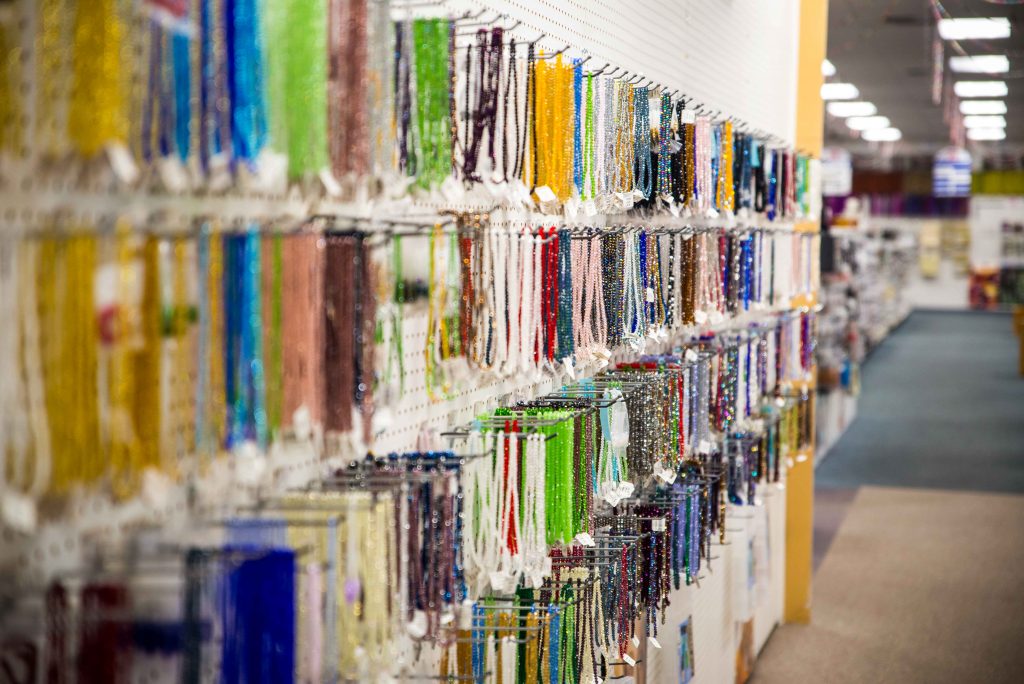 With billions of beads available in the showroom, it can feel a little daunting to journey on a beading project. At Shipwreck Beads, they are working to make the world of beading accessible and fun for all with hosted beading classes. With Mother's Day on the horizon, a beading class can be an opportunity for mothers and children to have some quality time and learn a new skill together. "We have a Beading 101 class available a couple of times a month," says Simmons. "The Beading 101 class is really helpful. It's $25 and includes all of the supplies. We have quite a few mothers and daughters that come in. You learn to make a bracelet and you learn to make a pair of earrings. You come away with a finished piece of jewelry, but also the ability to do so much more."
In addition to formal classes, Shipwreck Beads has also set up a display in the showroom with a wealth of resources, basic supplies, and project ideas. "We have a Beading Essentials Board, when you walk through the front door," explains Simmons. "Half of the display is a rotating color inspiration. We try to have a few of these throughout the store. The other half of the display is what you need to get started. So, there's the basic plier sets, there's something called a crimp-bead, which is used with bead-stringing wire. An easy earring kit is here, a mini bead board and also our Basics of Bead Stringing book by Debbie Kanan, which is our most popular book. We sell almost a thousand a year. So, this Basics of Bead Stringing book will cover a wide variety of basic techniques to really get you started"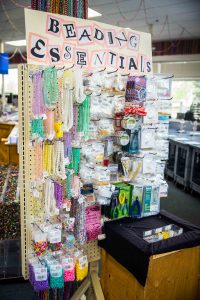 Shipwreck Beads contains a myriad of birthstone and charm bracelet selections, which are popular for Mother's Day jewelry. "For Mother's Day, I think of birthstone jewelry," explains Simmons. "We have Swarovski crystals and even most of the birthstones are available in natural stones. So, you can make a peridot bracelet. We even have Herkimer diamonds, which are little crystals. You can make a diamond jewelry piece for your mother. You can use Swarovski-pointed back stones and can customize your own type of stone. There's a couple of different styles and different shapes of stones that fit into the settings. For me, this is my new favorite line of stuff to play with, because you can get the settings and then you pick out what stones you want to put into it. And it gives a really high-end look, but it's still something that's accessible to people who have no beading or jewelry making experience."
At Shipwreck Beads, handmade gifts are valued because of the bond that is forged between the creator and recipient. "My favorite part is that connection," says Simmons. "Especially as we grow up, there's a natural push away from our parents. A handmade gift is a way to come back and reaffirm that connection."
To learn more about bead stringing, the selection available and the beading classes offered, visit the Shipwreck Beads website.
Sponsored