When talking about memorable catered events with Kelly Young, manager of Bayview Catering, I was expecting to hear a list of platters, sides and main courses. Instead, Kelly talks about the personality of the client, the flow of conversation and laughter as the key elements that create a great event. "And something unique to the family or group, their own touch," she instructs. Then, with a laugh Kelly adds, "And great food."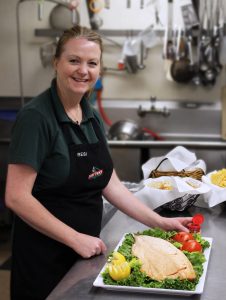 With her 25 years of experience with Stormans, Inc., one of the first things you notice about Kelly is her calm professionalism.  She has seen food trends and fads come and go – specialized stations, grazing bars, bacon in almost everything. And while she has her own personal favorites, she also recognizes the value of diving into new waters to explore.
"We recently catered for the Coastal Fisheries up at the Capital for their lobby day," says Kelly. "We had shrimp cocktails, they canned their own tuna, there were steamer clams, oyster on the half shell, all you could eat Dungeness crab. We made a crab salad with pita and they supplied the crab meat, that with the cocktail sauce. It was heaven."
Transcending the Hum-Drum
Bayview Catering has a long history of creating successful events for any size gathering. Something as simple as box meals for an in-office working lunch to full weddings. "We have catered family gatherings of 10-12 people," says Kelly, "but we also catered the Olympia Brewery picnic and that was for 3,000 people. We catered the Nisqually Tribe with breakfast for 400 people." Kelly smiles, "So, it's a big range from a few box lunches to dinner for 1,000."
Graduation Events and Family Gatherings: Timing is Everything
As graduation season approaches, Kelly recommends planning your event a good month before the date.  "People are starting to think about graduation parties coming up in June so April and May are a good time to start planning. I am meeting with someone today who is planning a wedding 5 months away and that is about right."
Planning inevitably results in a smoothly-run event and a wider choice of selections. When it comes to something simple, like a dinner party for 50, Kelly says a week's notice is fine. Any larger, and it's a case of the sooner the better.
"We are a full-service catering company so we can do as much or as little as a customer likes," explains Kelly. "We are partnered with Celebrations for equipment rental and Ralph's Thriftway Bakery for wedding cakes so we really can do it all."
In the Best of Company at the Company Party
Not surprisingly, some of Kelly's favorite catered events are the one she caters and enjoys herself. In the past, that included the Stormans' annual Christmas Party. These events are a chance for Kelly to try out ideas that she has been considering over the year and play them out. "Yes, one of my dream catering menus is fillet magnon with shrimp and crab and salads and veggies," says Kelly. "And one company Christmas party, one of my favorites," she adds, "we had barbecue fillet magnon on-site, a beautiful mixed green salad, shrimp and a side of potato, and then we offered quiche for the vegetarians." Kelly's enthusiasm for good food is contagious.  After 25 years of working with the Stormans, in the deli and catering, Kelly knows the ropes.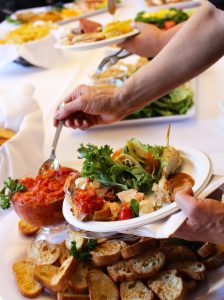 Our initial meeting was cut short when her phone rang within the first five minutes. Apologizing, she stood up to take the call. The health department was there for a surprise inspection, an event I recalled from my early days in restaurant work. In my experience, however, this was when kitchen managers started running around nervously tidying up, concerned with the outcome of the visit. Not Kelly. This is just standard, she assured me. Kelly coolly picked up a few binders off her desk and walked downstairs to meet the inspectors. Calm and collected, just the kind of person you want to manage your next event.
Bayview Catering
516 4th Avenue West, Olympia
360-357-8016
Sponsored