Grab your hover board and get ready to revisit your childhood at the Boys & Girls Clubs of Thurston County's Foundation for the Future breakfast on May 16 – it's more fun that an enchantment under the sea dance! "Give Back to the Future" is this year's theme, not only a delightful play on words, but a promise that you won't soon forget this back-in-time event that supports the incredible work the Boys & Girls Clubs do for our local youth.

"Each year our volunteer committee decides on a theme," explains Amber Wetzel, director of resource development. "This year the committee decided on Back to the Future because it is a pop culture icon and a fun way to engage our donors and community members by reflecting on their childhood memories. We plan to send them back in time, like the movie, to enjoy the nostalgia of being a kid again. Like the 700 Club kids we see each day."
With a free breakfast, thanks to the support of generous sponsors, including title sponsors Sutter Metals and TBG Holdings and match partner Bruno & Evelyne Betti Foundation, along with guest speakers and Club kids, there is really no reason not to attend. And, as Doc Brown would say, "Your future depends on it."
That is, the future of our kids, which in turn is the future of our community and beyond. The importance of these kids is why the Boys & Girls Clubs of Thurston County do what they do. Their mission is to "inspire and enable youth to realize their greatness," and they can't do that without your support.
"The Foundation for the Future Breakfast is one of our major fundraising events we host annually," explains Wetzel. "It is our second largest in revenue and largest in attendance, hosting over 700 community members each year." She adds that the breakfast is important because it raise awareness for their mission in the community, brings the community together, and raise those critical funds that operate and support their five Thurston County Clubs.
While the details of this year's ­Give Back to the Future breakfast are being kept more secretive than how the flux capacitor works, Wetzel promises it will be a fun morning for everyone. "We do have some surprises in store for our guests this year, but we aren't letting the cat out of the bag just yet. Rest assured there will be bacon, a long-time guest favorite," she says. The event is taking place at Saint Martin's University in the Marcus Pavilion and will be catered by Bon Appetit.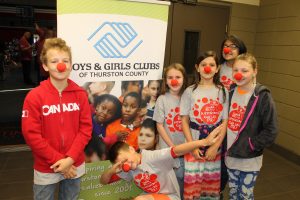 Aside from delicious food with a side of fun nostalgia, the morning showcases an amazing guest speaker that will showcase just what Boys & Girls Clubs of Thurston County is all about. Johanna Chhay is the 2019 Thurston County Youth of the Year and is a junior at Capital High School. Chhay has been attending the Olympia Club for five years, and is passionate about her experience. She believes she would not be the person she is today without the Club, and credits it for changing her perspective, allowing her to persevere, to be a kid, and learn how to work through issues. Hers is truly a story worth listening to. "She recently competed for the Washington State Youth of the Year in Seattle," adds Wetzel. "Her story of struggle and growth with the support of our Olympia Club is inspiring and touching."
Many other local Club youth will also be at the event. It's a fun day for them, as they love sharing their experiences with the Club with others. "Our Clubs kids love this event," shares Wetzel. "Although it is quite early in the morning for most of them, they come with big smiles and greet our guests with enthusiasm and joy. This year our Club kids will be seated throughout the event with guests and staff."
While the event is free, you do need to register so they know how many people to plan for, so register through this link today. Want to get involved to make this the best Foundation Breakfast ever? How about being a Table Captain! Table Captains recruit friends and colleagues to join them at the breakfast and are volunteers. To learn about becoming a Table Captain email info@bgctc.org or call 360-956-0755. The Boys & Girls Clubs of Thurston County also still needs table sponsors! It's a great way for you or your business to show community support. There are a number of sponsorship levels that include a variety of sponsorship benefits. You can find out more about sponsorships on the Boys & Girls Clubs of Thurston County website.
Then, set your timestamp for 05.16.2019 at 7:00 a.m. to head back to the past to Give Back to the Future.