The Earth Day Market Ride, and with it the launch of the annual Bicycle Commuter Challenge (BCC), is fast approaching. This final installment in our three-part series focuses on the smallest of bicyclists, kids riding with their parents.
Practical bicycling has created a lot of choices for parents commuting on bikes with kids. From trailers for six-month-old infants to electric bikes with back seats for tweens, to scads of custom and commercial solutions in between, there are many ways to ride with kids.
For Sean Leonard, moving to Olympia and participating in the BCC helped his family achieve a major goal. "Before we moved, we had two cars and we both had big commutes," he shares. "Part of our moving was to get into a different lifestyle. That spring, after we moved and participated in the BCC, we learned that we could survive with one car and lots of biking. We ended up selling our car and used the proceeds to buy a fancy bike."
That fancy bike was an Xtracycle electric bike, the type of bike that allows the parents to climb hills with the help of the battery pack and pedal as much as they want or need to keep it charged. Not everyone can afford that kind of luxury and they find other solutions.
"I first got a trailer and then a climbing company helped me rig it up with my daughter's car seat," says long-time BCC participant Michelle Swanson. "Off we would go to her daycare. She was terrible at taking naps so on the way home I would ride 1 ½ to 2 hours and that was how she slept."
Michelle recalls those early days also being mixed with misgivings. "I would get the 'side-eye' look from other parents when we would show up on a bike. You are making your kid the different one. And," Michelle pauses, "the concern for safety is ever-present."
Michelle was an experienced bicyclist before taking to the road with her daughter. She spent 20 years commuting via bike, which is long enough to learn both the rewards and the dangers. "I felt like I had the skills to be able to handle situations," she shares. "So, when I got to a busy intersection, I would take that extra time and then also be very selective about where we rode to keep her safe."
Parent Choices for Child Safety – Route Planning
"I go down 4th Avenue hill by myself," says Sean, "but with (son) Andre, I don't take those kinds of risks, we ride more in neighborhoods."
Michelle agrees. She puts route choice at the top of her safety check list. "The most important thing I have done is knowing my route, taking trails and very quiet streets. She is nine years old now, and we ride around the neighborhood and on trails together. There is so much research that indicates that kids 12 and younger are not good at judging speed and distance," Michelle pauses thoughtfully. "I just don't think she has the cognitive ability yet to keep herself safe."
Though Sean and Michelle both have kids too young for getting to school on their own now, that time will come. There is the Thurston County online route planner that will help as well as a state generated route guide for children walking or bicycling to school. Both will show parents how to get their children safely to schools in their neighborhood. For specific routes you can also contact your child's school.
The Right Bike at the Right Time
"Everything we did was in gradual increments," says BCC participant and parent, Dylan Fischer. "We went from a Chariot Cougar, one that we got used at a garage sale that changed into a jogger and a sled, to her sitting on back with a rack, to a tag-along to a tandem bicycle. And now, one of the most fun stages, she is riding her own bike." Mom, Carri LeRoy, recently purchased an e-bike. So, when Alice is not up for being on her own two wheels she can jump on the back of her Mom's bike. And that bike has proved to be a lot of fun for Carri too.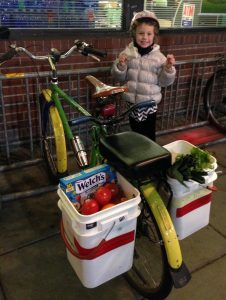 "If it's nothing but bad weather and hard work it is easy to talk yourself out of it," says Carri. "Once I found a bike that was fun to ride, it kept me going."
For Dylan, this next stage is pivotal, it brings Alce and him to the nuts and bolts part of bicycling. Literally. "At this point, we can put it together," says Dylan, "she is learning about maintaining or building her own bike. We built her new one from the frame up and she picked it all out."
Keeping it Fun
Michelle also credits letting her daughter be involved in choosing her own bicycle and helmet for keeping her interested in bicycling. "Streamers and a bell," says Michelle with a laugh. "And when it was time for her to grow into her own pedal bike, we went shopping together and she picked it out."
Michelle also observed some other parents taking the fun out of bicycling when they made their kids ride in all weather and weren't focused on keeping them warm and comfortable. So, instead, she tried making sure bicycling was always enjoyable.
In the early days, that meant making sure that there were lots of things to keep her daughter entertained during the commute in the trailer. Also, knowing that while she was pedaling and staying warm, her daughter was stationary and needed extra warmth.
"And, we go places that she wants to go," says Michelle, "going to the park rather than a two-hour recreation ride like I would like to do. Sometimes we make surprise stops, a place that sells cookies on the way." And perhaps most importantly, just listening.
Listening and Learning Together
"When she said she was tired of being in the trailer all the time, I respected that," says Michelle. "I knew it was time for her own bike."
Listening is also key for Dylan and his daughter.
"We just started having these great conversations every time we got on the bike," says Dylan. "All of a sudden she would open up and have all these things to say. Like she knows that we are together, we are going to be together for a long time and this is sharing time."
Celebrate Earth Day
All the parents I spoke with have participated in the Earth Day Market Ride and thoroughly enjoyed it. The starting points and times vary by neighborhood, but every group has a ride leader and all participants converge at Heritage Park Fountain around 10:45 a.m. for prizes, snacks and coffee before heading off for a group ride to the Olympia Farmers Market.
"It really inspired our family to get on the bike and has been a great evolution and change for us," says Sean. "The critical mass thing and then making it to the destination. Seeing people from all over the city converge and all ride together. It is a lot of fun – a lot of good energy."
Check the Intercity Transit Earth Day Market Ride page for your neighborhood's meeting point and make plans to join in the fun. You can also go online to review previous BCC articles on choosing the right commuter bike as well as safety and route choices
Exercise, helping the planet, talking to your kids more openly. Now that's a great way to celebrate Earth Day.
Earth Day Market Ride and Bicycle Commuter Challenge Kick-Off
Saturday, April 20, 2019
10:00 a.m. – 10:15 a.m.
Various Neighborhood Locations
Sponsored