To say that bicyclists are a friendly group is an understatement. Overall, they are happy to share knowledge, bike paths, and even a cup of coffee or a beer at the end of a ride. If you have been tempted to give practical bicycling a try, the upcoming Bicycle Commuter Challenge, hosted by Intercity Transit, is a great way to get started.
This article is the first of a three-part series aimed at helping you add bicycling to your transportation routine. From choosing the right bike – or fine-tuning your existing ride – to safety tips and selecting routes, this series will navigate you through it all. But first, a look back.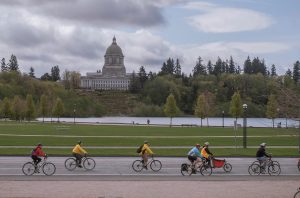 When a Good Idea Keeps Growing
The Bicycle Commuter Challenge started in 1988 when a small environmental non-profit designed a friendly challenge for other local offices to ride their bikes to work for a month. The popularity of the event grew, and with it, the challenge of managing it all.
After 18 years, Intercity Transit took over full sponsorship of the event with the goal of supporting and encouraging alternative forms of transportation. Intercity Transit's mission is to promote transportation choices that support an accessible, livable, healthy and prosperous community. To help achieve that, they brought on local bicycle ambassador, Duncan Green, to oversee the challenge.
"Thirty people participated the first year of the BCC," says Duncan, "and last year we had over 1,100." While Duncan is pleased with the increased number of annual participants, he is more focused on the effect of those participants over the course of time. "Every year there are 25 – 30 percent who are doing it for the first time, "says Duncan. "With that, and the relationships we have built with the sponsors, we get a lot of community support." It is that community support that is at the heart of the Bicycle Commuter Challenge's success.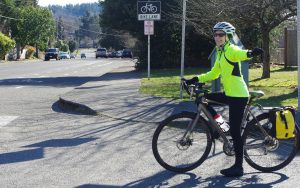 Kris Fransen had just started working for Intercity Transit when the annual challenge came up. "It really encouraged people to give it a try," says Kris. "I lived five miles away and so I participated that first year in 1993," Pausing she adds with a laugh, "and I haven't stopped since."
More Than One Size Fits All
Anyone can take part in the challenge, and that's the beauty of it. "There are a lot of approaches," says Duncan. "There can be a hard-core competitive element for some, others who just want to ride their bikes and those who want to be a part of something in the community."
"I like to tout it as free exercise," says Derik Archibald of Joy Ride Bicycles. "If I am going to work and riding my bike I get free exercise, and that is what I look at for myself as a personal gain." Tapping his chest lightly Derik adds, "And, it just feels really good."
Figuring out how it will work for you is key to the success of the Bicycle Commuter Challenge. "It can be an incremental thing," says Riley Kendig of Deschutes River Cyclery. "You don't have to jump in 100 percent and do it every day. You can use your car to help you bicycle – drive to the office and plan a few days ahead, bring your lunch or a change of clothes."
The Comfortable Bicycle Commute
The one word that comes up over and over again in bicycling is comfort. "It is so important," says Kris, "the less comfortable you are the less likely you are to continue." That little twinge in your back can get pretty noticeable after a few miles. Cold hands and wet feet can distract and discourage. Heading to work on her bike that first morning was a steep learning curve for Kris. "I didn't have a bicycle then," she recalls, "so I rode my daughter's 10-speed. I was wearing a heavy back pack with my hairdryer and all the clothes to change into." Kris cringes remembering. "I was so tired I had to take a nap during lunch." Twenty-six years later she is the quintessential bicyclist – she keeps her hair stylishly short now to accommodate her helmet – she is athletic and engaged. "Even though my first ride was really hard," says Kris, "you have to just keep doing it, it does get easier."
Overcoming obstacles is what the Bicycle Commuter Challenge is all about. Riley has helped a lot of people figure them out. "When people tell me they don't like to ride bicycles," he says, "I usually find out that their bike wasn't comfortable – and it doesn't have to be that way." Riley's co-worker, Sam Kates-Goldman agrees. "People make do with what they have and put up with ill-fitting bikes. It is amazing how easy it is to fix that and make it so that you love the way your bike fits and rides."
Choosing Your Bike
Second-hand bikes are a great way to go as long as they are in good working condition and not worn out. A new bike will cost you around $500 and second-hand about half of the manufacture's price tag. Either way you go, Derik recommends bringing along someone who knows bikes well or getting it inspected before laying down your money.
When choosing a bike, the top factors on Derik's list is to make sure the bike fits, or can be adjusted, has a wide gear ratio to tackle hills, wider tires and provisions to add on a fender and luggage racks. Those are the basics.
Used bikes, especially used commuter bikes, can be a bit trickier. Frayed brake cables are Riley's pet peeve, "If you aren't sure if your bike is safe or not, bring it to the mechanic, it's like going to the doctor," says Riley. "Bring it here to Sam and me, or any bike shop."
Safety First – Fashion Second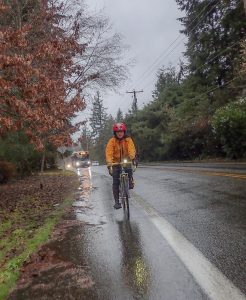 Once you have your bike you will need to make it, and yourself, practical and safe. A helmet, lights to be seen in fog or overcast days, fenders to stay dry, and clothing that will keep you comfortable and ensure that drivers know you are there. Depending on the weather, you may be able to get suited-up with existing gear at home. Rain is a fact of life here so rain gear, extra gloves, shoe covers and eye protection are standard. If the weather is nice, you can enjoy travelling lighter.
"Eventually, I just changed my wardrobe," says Kris, "I started wearing leggings and longer tops. That was what I wore to work. And if I needed to change when I got to work, I would pack it in my pannier.
"If you look at cultures where bicycling is the primary mode of transportation," says Sam, "they are travelling more slowly and are wearing comfortable clothing." While it is tempting to approach bicycling in sport mode, there is something to be said for Sam's approach. "Take as much time as you need to get to work," he advises. "Just getting to relax a little on your bike can go a long way."
On Your Mark, Get Set – Goal!
The kick-off for the Bicycle Commuter Challenge is the Earth Day Market Ride. This is a chance to meet other riders in your neighborhood and get signed up – all the while earning miles toward your commuter challenge total. In addition to the personal rewards coming your way, there are daily and weekly prizes and one grand prize, a trip for two on a guided tour with Adventure Cycling. The Intercity Transit's website lists all of the prizes.
On Saturday, March 23 and Tuesday, April 23, you can participate in a hands on workshop called Bicycle Commuting Basics. This two hour class will cover everything from roadside mechanics to loading your bike on the bus. There is a $10 fee and you can sign up online at the Intercity Transit website or through the Olympia,  Lacey or Tumwater Parks and Rec Departments.
The First Step – Remember When?
"Biking is not for everyone," acknowledges Kris, "but if you have just that little bit of interest, explore that. I mean, what kid doesn't like to ride a bike? Did you ride a bike as a kid and did you think it was fun?" Leaning forward Kris smiles, "Find that inner bike-riding child."
Sponsored