South Sound Roots Academy will host the second annual Washington State 3×3 Basketball Championships March 16 and 17 at Tumwater High School.

The event, which will be the largest International Basketball Federation (FIBA) 3×3 basketball tournament in state history, will feature four divisions – men, women, U18 boys, and U18 girls with the winning teams in each classification qualifying for the USA Basketball 2019 3×3 National Championships at the Olympic Training Center in Colorado Springs, Colorado.
"3X3 is a super-fast style of basketball that is fun to play and I think even more fun to watch," said SSRA past-president Kelly Golob. "FIBA created this game over 10 years ago to help increase participation in basketball around the world, and it has already become extremely popular in other countries."
FIBA 3X3 will be the newest Olympic sport, debuting at the 2020 Olympic Games in Tokyo, Japan.
"We believe this is going to be a tremendously popular sport within the next two to five years and we want to do everything we can to spark it here in Washington and Olympia," said Josh Wilson of South Sound Roots Academy. "What we'd like to see is Olympia and the Pacific Northwest be a mecca for 3×3 for the country. To be the leader in FIBA in the state is something we take great pride in."
Each 3X3 team consists of three players and one substitute. The game is played on a half-court and features one 10-minute game with a 12-second shot clock. The first team to reach 21 points or the team that is leading after 10 minutes is declared the victor.
Possessions alternate with each made basket with field goals being made inside the arc worth one point and made shots beyond the arc worth two points.
The tournament has already seen growth in just its second year as last year's inaugural tournament only featured a men's bracket. Last year's champion, Roots Academy, went on to place fifth at the 2019 3X3 National Championships.
"It is extremely important for us to have different genders and ages participating because it aides in the growth of the sport," Wilson said. "So to be able to add those divisions means a great deal to the growth we'd like to see. We still have plenty of room in those divisions, especially women, so we'd love to see more sign ups in the following week to keep these opportunities going in the future."
According to Wilson, teams will need to register by March 14. Registration can be made through the FIBA 3X3 website.
"The men's division is set to close March 13, but we could probably sneak a few in," Wilson said. "Our cap is at 16 teams per division. The goal is to have the highest quality tournament that we can to keep fans, teams, and USA Basketball coming back to have us host this national qualifying event."
In addition to future FIBA 3X3 national qualifying events, Wilson hopes through the expansion of the sport more tournaments, leagues, and camps will be offered in the area in the upcoming years.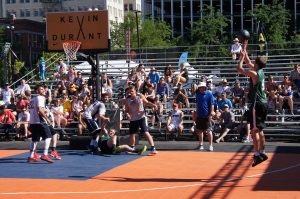 "The thing about the sport is it will create better basketball players for all ages," Wilson said. "There are more touches for the players, more shots and you have to work your tail off in the 10 minute games. It's a fantastic way to build your basketball skill and stay in shape."
Children under the age of 18 get in free, while admission for adults is $5. All money will go to support SSRA's non-profit goal of improving the health of kids in the local community through free or lowered cost basketball opportunities. The SSRA provided 110 free basketball training sessions to local kids in 2018.
"Our ultimate mission is to provide high quality basketball opportunities for all kids in Thurston County regardless of their economic background," Wilson said. "We hope everyone can come check out the games because it is really an exciting sport."