Over decades of playing with the Olympia Symphony Orchestra (OSO), some moments inevitably stand out in the musicians' minds. For bassoonist Brian Geddes, one such moment occurred during a Tchaikovsky Concerto that featured violin soloist, Charles Castleman, in 2001. In the middle of a particularly fast-paced section, one of the strings on the soloist's instrument broke.
It could have been a disaster, but quick thinking saved the day. "Hardly missing a beat, he reached down and grabbed concertmaster Grant Sears' violin," says Geddes. "He played the rest of the movement as though nothing had happened. It's still one of the most impressive things I've ever seen in a concert."  Grant Sears adds, "My stand partner then handed her violin to me and I kept playing on her violin until the end of the movement. I think all the 1st violins switched instruments until the soloist's Stradivarius made it all the way to the back of the orchestra. Then, someone went off to change his E string and he told a couple of stories while we were waiting. I thought my violin sounded pretty darn good on the Tchaikovsky Violin Concerto!!"
On April 28, OSO will perform a concert titled 'Cast of Characters' featuring music by Bizet, Ravel, Prokofiev and Offenbach that highlights characters from each work. The title could just as easily refer to the orchestra's members, 13 of whom have been with the organization since Conductor Huw Edwards joined in 2002 – or even earlier. Some of them recently shared memories, perspective on OSO's evolution over time, and a strong sense of appreciation for the community audience that has accompanied them on the journey.
Violist Anne Edwards has a historic connection to the orchestra and has probably been with it the longest. Her father, Fred Schlichting, was the conductor for the original string group that preceded OSO. "The name was changed to Olympia Symphony Orchestra as winds and brass were added," she says. "I have played viola in the group since 1969."
Principal trumpet and Capital High School Band Director Dan Lundberg, who will retire in 2019 after 41 years of teaching, was inspired by watching OSO rehearse at Olympia High School when he was a student there. "I started teaching in Olympia and the Symphony needed a substitute trumpet player for a couple of concerts in 1978," he says. "I became a regular around 1984."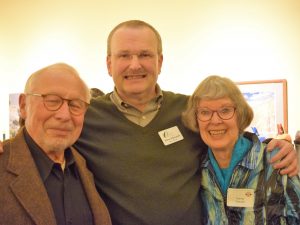 Since Huw Edwards took over the helm, OSO has grown and evolved, according to principal second violinist Grant Sears. "It used to be a community orchestra," he notes. "The quality has grown exponentially since Huw took over. Through his amazing musicianship and leadership, we have become an outstanding orchestra."
Geddes, principal bassoonist, agrees. "Huw has really driven for an increased level of precision and commitment from the members of the orchestra," he says. "As a musician, this has been challenging and rewarding, and I like to think that the audience has enjoyed the higher standards that the group has been able to achieve."
Though some things have changed, others have remained consistent, according to principal cellist Holly Reeves. "There has always been a wonderful sense of community among the players, and that feeling is perhaps stronger now than ever before," she says. "There is excitement within the orchestra for the programming, the growth that is apparent from concert to concert, and the support from the community. Also, we're thrilled by the real sense of potential and new possibilities in the coming years."
Some concerts made an indelible impression on the musicians, albeit for different reasons. Violinist Kathryn Cholakian recalls world-renowned violinist and child prodigy Hilary Hahn performing the Brahms Violin Concerto with the OSO in 1995.  "She was 14-years-old," she says. "It was jaw-dropping."
Flutist Cheryl Sears fondly recalls the time her husband Grant performed the Bruch Violin Concerto as concertmaster and the couple's four- and seven-year-old daughters brought him flowers on stage.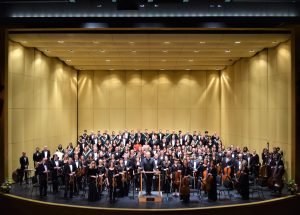 Others cited the series of Beethoven's 9th Symphony concerts, which Anne Edwards describes as "challenging and chill-inspiring, with the choir singing and the orchestra playing moving rhythmic accompaniment." Last year's sold-out season finale performance of that work stands out for Reeves as well. "It was a wonderful celebration of all this orchestra has achieved and how valued the organization is in Olympia," she says.
But another type of memory has stayed with violinist Barbara Johnston. At the beginning of one performance, she and another second violin player simultaneously realized they had the wrong piece of music on their stands. "We heard the first note and looked at each other with this panicked expression," Johnston recalls. "I'm so glad it wasn't a big chord. I'm sure the people behind us were dying laughing."
The group has clearly forged relationships with each other and their audience over time that are based in a shared love of their craft. "So many of us are music teachers," says Cholakian. "It's such a passion for everyone. I feel like we're a family." Cheryl Sears looks forward to seeing her orchestra friends at rehearsal every week and appreciates the connection with the larger community. "I love that our audience is comprised of friends and people we interact with on a daily basis in our lives outside the symphony," she says.
Johnston notes that Olympia audiences are tuned into what the orchestra is trying to accomplish. "They're so wonderful," she says. "They appreciate what we do and they're very forgiving if something goes wrong. Every time I leave the concert hall, someone says, 'That was such a great concert.' That makes it all worthwhile."
Be sure to attend the Olympia Symphony's season finale, "Cast of Characters," on Sunday, April 28, 7:00pm at the Washington Center for the Performing Arts. You'll hear Maestro Huw Edwards conduct a literal and musical "cast of characters" — from Spanish toreadors in a famous excerpt from Bizet's Carmen, to invented soldiers and comedic cover-ups in the music to the epic film Lieutenant Kije by Prokofiev. The music in Ravel's ballet score Mother Goose includes children's favorites such as "Tom Thumb," "Beauty and the Beast," and "Sleeping Beauty." Offenbach's Overture to Orpheus in the Underworld ends with the famous high-stepping "Can-Can"!
Learn more about the Cast of Characters concert at the Olympia Symphony Orchestra website, by following the Olympia Symphony on Facebook and Instagram, or by calling 360-753-0074. Tickets start at just $10.
Sponsored