Working with seniors can be a daily learning experience. As a personal driver at Panorama, Lynette Burns says, "Would you like to be in the company of wisdom, knowledge, wonderful stories and great adventures of all sorts? That's what seniors bring to the table. It is a wonderful journey to experience all facets of life, and aging is one of those experiences that not many have the privilege of enjoying. And even though some suffer from many challenges, they show endurance."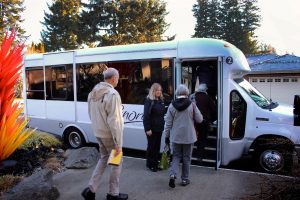 Panorama is a premiere retirement community in our area. They employ over 400 dedicated staff to provide a wide range of services to their residents. About half of the people who work at Panorama are in the nursing field. Jobs ranging from landscapers, maintenance personnel, housekeepers, security officers, restaurant and office support staff, and even lifestyle enrichment specialists, comprise the other 200 or so positions. Careers in Aging Week is a national effort lead by LeadingAge, a not-for-profit organization dedicated to education, advocacy, and research in all areas of aging services. The goal of Careers in Aging Week is shared by thousands of organizations in the industry, partnering to increase awareness of the rich variety of jobs available in in the field of aging services. Careers in Aging Week offers an opportunity to learn more about the variety of jobs available in this field, along with some unique benefits of working with seniors.
Compassion is a key quality of the Panorama staff, whether they work in the restaurant, housekeeping or in an office. "It takes a special kind of person," says Shawna Williams, Director of Human Resources, about assisting seniors. "Even the people working outside in landscaping share a desire to be helpful."
"It's more than a job, it's an extended family. I never thought I would be gaining hundreds of additional grandparents," says Christe Smith, "but they have been so supportive by encouraging me to live my best life and by providing the road map through their own stories." Christe is a bus driver for Panorama taking residents shopping and to appointments and special events. "It's rewarding to do this work because I know it allows people to continue the life they're accustomed to even as aging changes come."
"Some people have a very active, involved family to advocate for them, but some don't," explains Zane Sundberg, a nurse manager. "We get to be their advocate, whether that's helping them transition back home or preparing for their future in long term care, making it as comfortable, normal, and satisfying as possible." At first Zane wasn't sure nursing home work would be a good fit. "Once I started getting to know some residents, my thoughts about working in nursing homes changed very quickly. The difference you can make in someone's day is incredibly rewarding," he adds.
"The most rewarding part of this journey has been knowing that I make a difference in people's lives, even if it's a small difference," says Erin Kimball. Erin is the Administrator for Assisted Living, and has worked for Panorama since 2005. "Everyone has led a life full of their own amazing stories and accomplishments. You can learn so much more than you ever thought just by listening. I go home each day feeling fulfilled and knowing that I contributed to the quality of life for others."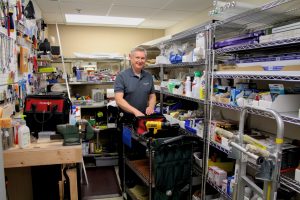 Just as staff are dedicated to enriching the lives of the residents, Panorama is committed to helping employees advance their careers with a scholarship program. There are two types of scholarships, one for those in the nursing field to advance their degrees or certification, and the other for non-nursing fields. Scholarships are open to any Panorama employee who has worked at the facility for at least one year. Upon filling out an application, an employee can be awarded up to $6,000 a year. Funds are paid directly to the school or program providing training for a particular skill. The student needs to maintain a 3.0 grade point average or passing if grades aren't offered, and continue to work at Panorama at least 16 hours a week while receiving their scholarship.
A small committee reviews scholarship applications. The very first scholarship was awarded to a licensed practical nurse (LPN) who went back to school to become a registered nurse (RN). A nursing assistant went back to school to learn health information management. And recently a housekeeper applied for a scholarship to get nursing assistant training at ProCare Academy.
Working at Panorama has taught Adam Price there is a lot to look forward to in the advanced years of life. He has worked as a switchboard operator since 2015. "Before working with Panorama, my idea of a senior citizen was someone who lives a slow and peaceful existence, waiting for the next visit from their children. Now I see that I won't truly know the meaning of the phrase 'I'm busy' until I retire. The residents I know at Panorama are more active than any young person in my life, and a fair amount of them could frankly run circles around me and my friends."
Panorama keeps a current list of Job Openings along with information on how to apply on their website.
Panorama
1751 Circle Lane SE, Lacey
877-208-6274
Sponsored