The need is growing at South Puget Sound Community College (SPSCC), both for health care education and SPSCC Foundation programs to expand as community and student populations grow. This need to expand health education at SPSCC coincides with the increasing demand for medical professionals in the Thurston County region. In response, SPSCC recently acquired the Louis Walker Middleton Building thanks to the estate of Dr. Angela Bowen, a medical pioneer and local Olympia philanthropist. The 24,000-square-foot building will become the Dr. Angela Bowen Center for Health Education and will allow for more opportunities to produce new health care professionals. The center will also become the new headquarters for the SPSCC Foundation.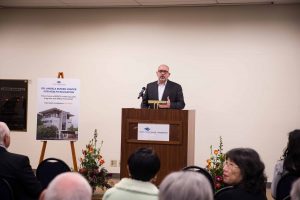 The building was able to be acquired by the college due in large part to an unprecedented $1.19 million in-kind donation from the estate of Dr. Angela Bowen to the SPSCC Foundation. The renovations for The Bowen Center are expected to be completed by the fall of 2021. "Health education is one of the fastest growing sectors of our economy," says College President, Dr. Timothy Stokes. "In 2018, registered nurses had the most job openings in Thurston County, with 214 jobs being posted every month. LPN's accounted for an additional 109 monthly postings. And EDC predicts that health service industry and health care workers will add 2,500 new jobs in Thurston County by year 2021, with that number doubling to 4,300 by 2026. We are going to do our best to meet that need and produce those workers for our community."
Dr. Bowen was a pillar of the Thurston County community for decades, both as a physician at her Olympia practice, and as an advocate for medical ethics and patient rights. She was only one of four women in her 1963 graduating class at the University of Washington Medical School and was the first in her family to attend college. She was a key figure in opening Olympia's second hospital, Capital Medical Center in 1985. Dr. Bowen also founded several organizations like the Western Institutional Review Board, and the Middleton Foundation for Ethical Studies, both of which protect patient rights and educate professionals in medical ethics.
In addition to health care education, The Bowen Center will also be the new home of the SPSCC Foundation, on the building's fourth floor. This will enable the foundation team to work under one roof and will alleviate space issues that the foundation currently faces. "Over the last five years, our foundation has expanded quite a bit," says Tanya Mote, executive director of the SPSCC Foundation. "We have doubled our endowment and we have also doubled our staff. Right now, we have staff members in a variety of offices that are not very close. So, this will really allow us to bring out whole team together and allow us to create more opportunities for students."
As the office grows, the mission of the foundation can be elaborated and more students can be helped. "For the foundation, this generous gift means a lot of things," continues Mote. "One of those is to expand services, so we can provide more scholarships and emergency funding to students in our community. It's going to allow us to expand our alumni programs. We have 52,000 alumni and I think we are going to find more in this new, beautiful space. And it will help us continue our heartfelt mission of supporting success for students. So, we are honored to do this work and continue Dr. Angela Bowen's legacy of investing in education."
Bowen's passion for medical education and ethics can now live on through future generations of SPSCC students both through the foundation and expanded healthcare education programs. "Dr. Bowen sincerely believed in the necessity of educating people in the conduct of ethical research," says Ted Schultz, SPSCC Foundation board member and executor of Dr. Angela Bowen's Estate. "And I think that is one of the reasons that I am happy to see this building go to an educational institution. Dr. Bowen would be very proud and pleased to know that this building she created would be used to train and provide good health care services."
To learn more about the Dr. Angela Bowen Center for Health Education and the expanded college foundation services, visit the SPSCC Foundation website.
Sponsored