Through four years of playing high school basketball and one year at prep school, Saniah Simpson-Patu never once wore the same jersey in consecutive seasons.

She travelled from Oregon to Las Vegas, back to Oregon, then to Seattle before finally ending up in North Carolina. Each stay was more of a respite than a permeant stop. She was a Lumberjack, a Tiger, a Bulldog, and a Viking, but on the court she never considered herself part of something larger.
"I would start to get close with people," Simpson-Patu said, "and then I would move."
This year, however, when the Saint Martin's University sophomore slipped on the same uniform she wore last season, there was finally a sense of familiarity. She was here last year as a freshman, earning Great Northwest Athletic Conference Freshman of the Year honors after averaging 14 points and 6 rebounds a contest.
Knowing she was returning to the same system for the first time ever was nice, but it certainly took a back seat to the feeling she got knowing who she was back on the court with this season.
Finally, the mascot across the jersey meant something, and it had nothing to do with basketball.
"It was such a great feeling. It was amazing knowing I was coming back. It was comforting," Simpson-Patu said. "I have the same friends as last year. Everyone knows me. I didn't have to start fresh again for the first time ever. I now have relationships with my teammates. They're my family. They're my sisters. This is home."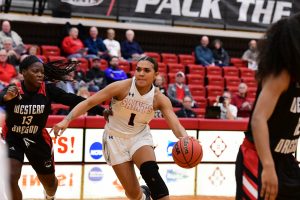 Makenna Schultz's background is quite different.
Schultz, a 5-2 lighting-quick guard with a panache for scoring, is a Lacey native, playing her high school ball just down the street at River Ridge where the high-scoring guard was a four-year starter and league MVP for the Hawks.
During home games at Marcus Pavilion, the stands are packed with members of Schultz's family. Parents, grandparents, siblings, aunts and uncles, and even cousins come out to support her, never missing a contest.
"That whole middle section is where my family sits," Schultz said as she pointed out a large area in the stands. "They're here every game. Having my family here, that's what drives me every game."
Simpson-Patu's path to Saint Martin's took her across country. Schultz's trip was less than five miles.
Different journeys, but each possessing the same on-the-court mindset.
"We're both so competitive," Schultz said. "We have that competitive edge where it's almost crazy, but it's just us wanting to win."
Simpson and Schultz are the top two leading scorers for the Saints this season, each averaging around 14 points a game. Both were pre-season GNAC all-conference picks heading into this year. And both are playing large roles in helping head coach Christy Martin turn around the program – something Martin has had plenty of experience with.
Liberty High School in Spangle couldn't win a game. Blue Mountain Community College almost saw the program dissolve due to lack of players. Tacoma Community College was the perennial league doormat.
Three women's basketball programs all in desperate need of saving.
Enter Martin.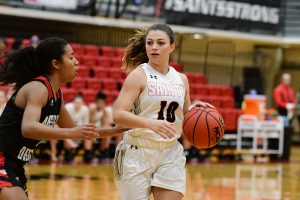 Martin took over a two-win Liberty team that hadn't been to the state playoffs in almost two decades in 2004. She spend three seasons there, averaging 20 wins a year while ending the school's lengthy postseason drought.
She did the same in the community college ranks, transforming both Blue Mountain and Tacoma from pushovers to powerhouses.
It was during her time in Tacoma where she first reached out to Simpson-Patu, recruiting her to come play for the Titans. Simpson-Patu, who played her senior year at Rainier Beach High School, initially verbally committed to Martin and the community college, but soon after she got a call from Martin saying she had received her current position at SMU and asked if Simpson-Patu wanted to be her first signee.
Simpson-Patu was all in.
The decision was a smart one as Simpson-Patu, who scored a career-high 34 points against Hawaii Pacific this season, became the first freshman in school history to be named the conference's freshman of the year. She hasn't slowed down during her sophomore campaign, leading the Saints in several statistical categories.
"Saniah has achieved so much on a personal level," Martin said. "She has embraced being a Saint with fervor. She's president of the Black Student Union and she is active in politics in the community. She is doing all of this while balancing school and basketball. It's pretty impressive. She puts in a lot of work outside of basketball with our (grad assistant) and it shows on the floor."
While Simpson-Patu arrived when Martin was hired, Schultz already had a year under her belt at SMU.
As it turned out, her style of play fit perfectly with Martin's coaching as Schultz went from scoring 3 points a game as a freshman to 13 an outing last year, while being recognized as a GNAC player of the week recipient.
This year her play as been even more impressive as she is second on the team in scoring, highlighted by a career-high 37 points during a wild 107-103 triple overtime loss to Dixie State University.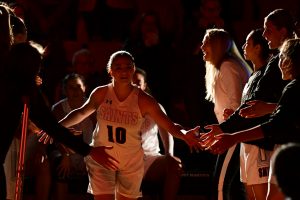 "She's incredibly loyal, tough, hardworking, and has become a very good leader who is not afraid to hold teammates and coaches accountable," Martin said. "As a player, she genuinely wants to win. If she scores 37 and we lose, she is upset that we lost. If she scores 8 on a win, she's ecstatic that we won."
With Simpson-Patu and Schultz leading the charge, the Saints won eight games during Martin's first season at SMU last year, marking the most wins for the program in three years. After a slow start this season, the Saints closed out January with road wins over Alaska Fairbanks (83-74) and Seattle Pacific (91-70).
"I feel the successful of a program comes from the building of the culture. No matter if you're winning or losing, as long as the culture and the foundation of your program is there you'll end up being successful," Simpson-Patu said. "We're 10 times better than we were last year and we're just going to keep improving. By my senior year we're winning a national championship."
SMU Women's Basketball to Hold Elite and Youth Girls Summer Camps
The Saint Martin's University women's basketball program will hold two Youth Skills Camps this summer at Marcus Pavilion. The camps are open for kindergarten through eighth grade girls. Dates for the first camp will be June 24-27, while the second camp will be held August 5-8. Both camps will be held between 9:00 a.m. and 3:00 p.m.
SMU will also hold an Elite Camp for 9th through 12th grade girls on August 25. The camp will be from 10:00 a.m. until 2:00 p.m. Cost is $85.
You can register for the camps at online.