Think outside the box of chocolates this Valentine's Day and book a charming getaway with that special someone. Break away from the hubbub and visit the revitalizing seaside at the Quinault Beach Resort and Casino (QBRC) in Ocean Shores, where it's a memorable way to spend the holiday with fine dining, casino games, spa options and so much more that will keep the romance and relaxation at an all-time high.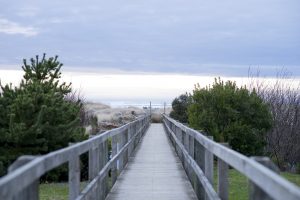 The QBRC has so many amenities for couples to love that it will surely make a Valentine's Day stay a holiday to remember.
The Beach. The stunning ocean is but a few steps away from the resort with the tranquil sound of the waves making a perfect. The dipping February temperature may be on the colder side, but don't let that stop a short walk out to see the coastline up close while going side by side with the one you love as you take in the sights of the rolling tide, seashells, shorebirds and sand dunes.
The Romance Package. A two-night stay awaits you and your sweetheart between Sunday and Thursday where you can take in the easygoing casino feel and comfortable rooms that the QBRC has available, with rates starting at $199. Make a stay an extra special one by reserving an ocean view room for an additional $20. Enjoy complimentary strawberries, champagne, and a $100 dining credit to Emily's Restaurant that visitors are sure to love. Room packages are based on availability, so book the romance package today to reserve your room.
The Restaurants. Go out for a fanciful dinner and let the wine and conversation flow while enjoying a fine dining experience at Emily's Restaurant that hosts an ocean view. Hearts will be happy and bellies will be full after trying any of the delicious fresh dishes that all have a signature Northwest flair to them. For $60 on Valentine's Day, guests can dive into a delicious filet and lobster special with a flourless chocolate torte for dessert. The Sidewalk Bistro offers sandwiches, salads, chowders, wraps, and beverages that make it a great stop for a quick bite to eat before going for a swim or playing in the casino. For light refreshments and a cup of coffee or other beverage, the Fireside Coffee bar is another quick stop.
The Spa Services. The brisk winter air and proximity to the ocean will have you feeling rejuvenated. The next step is a soothing massage. Surprise your sweetheart with one of the many calming massage options at the QBRC and of course, get one for yourself, too. With affordable prices ranging from $49-$149, pick a session that will have any tension and stress gone just like the ocean breeze.
The Room Service. A lot of the time, a vacation means keeping everything simple and the outstanding room service available makes it a breeze for those couples that wish to unwind and have their meals in the comfort of their rooms. From 11:00 a.m. to 9:00 p.m., couples are welcomed to put an order in from the broad food and beverages menu that is available for delivery.
The Gaming. With plenty of table games to keep couples entertained throughout the day, coming to stay and win at the casino is fun for all. Test out casino favorites like emperor's challenge pai gow, blackjack, craps, roulette, players edge 21, 3 card prime, and many others, with table limits going from $3 to $250. People can also gain points by playing table and slot machine games that go towards other bonuses at the casino, like dining, hotel stays, and spa services with the Q-Club Rewards Program.
The Gift Shop. Take a walk to the gift shop and shop around for that special memento to mark a sweet Valentine's Day. With an array of items that will make it simple to find a gift for everyone and with the helpful and kind staff, visitors will find themselves feeling right at home. Don't forget to look over the jewelry selection for a very special gift or choose a tasty wine or a piece of comfy clothing to enhance a great stay at the QBRC.
The Hot Tub. Every night from 9:00 p.m. to 12:00 a.m. is adult-only hours in the spacious hot tub, making it an ideal spot for couples to come and unwind for a few minutes after a full, fun day. The neighboring heated pool also has lots of space to go for a relaxing swim or just lounging by the pool with your Valentine.
The Lounge. The Ocean Lounge is a great place to relax with the one you love with an assortment of adult beverages, dancing, and periodic free live entertainment that is played throughout the week and weekend. The lounge has that low-key feel that will set the pace for a peaceful time with open hours from 8:00 a.m. to 2:00 a.m.
For more information or to book a reservation, please see the official Quinault Beach Resort and Casino website or call 888-461-2214.
Sponsored