Rehearsals are well underway for Broadway Olympia Production's version of The Wedding Singer. For veteran choreographer Heather Malroy, this is her first time working on a Broadway Olympia musical and she has designed the dance numbers to align with the over-the-top 1980s theme. The nostalgic music and dancing numbers have been a welcome adventure for both Malroy and the actors, who get to perform distinctive dance styles made famous in the 80s.
What is special about The Wedding Singer is that it visits a unique decade for the theater and it embraces the pop culture of the time. Malroy is impressed with the actors of this production, who have been able to learn all of the dance numbers on an accelerated schedule and adopt the style of the 80s in their dancing. "We are on what I call a fast-track schedule," explains Malroy. "So, we are learning a lot of information in a short period of time, which requires actors to put a lot of work in. They're doing great. The neat thing about this show is that it's truly pulling from all the styles of the 80s, being true to the era. So, it's a lot of fun to do and I think it's a lot of fun for the actors because they get to step into another era of dance."
To make the transition from movie form onto the stage, each musical number is inspired by an iconic 80's moment and Malroy is trying to capture those moments with the choreography, as well. "When they did the musical, they took all the themes from The Wedding Singer and stayed true to them," says Malroy. "And each one of those has a tie-in. For instance, Flashdance. Linda is very Flashdance. You have MC Hammer for some of the rap sections. All of the pieces of The Wedding Singer, they tried to match music to the idea or the feel, so the music really dictates the movement."
Before teaching the dances to the cast, Malroy first became well versed in the show's music and storyline. While concentrating on the music, she listened for smaller sub-divisions within the songs, where different dance moves could be assigned. Although Malroy arrived to the first rehearsal with dance numbers completely mapped out, she also expects adjustments to be made while the actors learn. "First, I listen to the music a lot," says Malroy. "Every piece of music has, what I call, sections. I need to know where the music is going. I actually dance it out and see how it makes my body feel. Then I go and look at what era we're in and which moves I need to take out because they're not appropriate. I'm very visual, so for every choreography number, I want there to be someone with a camera, almost like a story board. Then I go back and try to make sure all the pictures look correct. I try to come to rehearsal with everything absolutely done, down to what eight count they're doing. Inevitably, the second I see that and depending on the actors, it will change. With the smaller numbers, a lot of time it will change at rehearsal."
For Malroy, dances with the entire cast, with a lot of action and moving parts, are the most fun to see come to life. "We just did 'All About the Green' last night," says Malroy. "It's one of those things as a choreographer where you have an idea in your head and you see if it's going to work. Last night, they did an amazing job. It visually turned out how I imagined, so it's really exciting. And then the opening, there's a ton of lifts, you have the high energy Running Man and The Robot. You have all of those bad 80's moves all in one number and it's this burst of energy."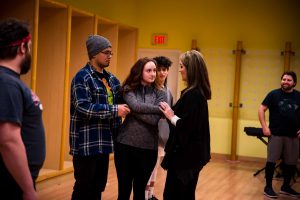 For dancer and ensemble cast member, Adrian Renon, the era-specific choreography has been a welcome experience. "This one's a little different," says Renon. "The past plays I've done were a little more urban, with a little bit of hip-hop twist to it. This one's jazz and musical theater based. It does have an 80's feel. When the music comes in and the dancing starts, it feels like such a throwback. Times are fun now, but it is also nice to go back into a different time and experience the dance culture there. The songs are incredible and bring out so much 80's fun-ness to the musical."
Well-versed in the theater world, Malroy admires the talent of The Wedding Singer cast and their enthusiasm to try a myriad of unconventional 80's dance moves throughout the rehearsal process. "The actors have been my favorite part," explains Malroy. "Because every time you come into a project, you see them dance at the audition, but you don't quite know how things are going to gel and come together. Everyone in this cast is so willing to try anything, do what you ask them to do, have a positive attitude about it, and that really makes an impact on how numbers can look. It makes it easy."
Broadway Olympia's rendition of The Wedding Singer opens at 8:00 p.m. at the Capitol Theater on February 14. The show runs until February 17. More information about the show can be found on Broadway Olympia's website. Tickets can be purchased on the Capitol Theater's website.
Sponsored