This February marks the third Valentine's Day for Bittersweet Chocolates and co-owners Cindy Uhrich and Deb Smith are commemorating the season by introducing new chocolate varieties and special gift sets. They are curating unique wine and chocolate pairings evocative of the holiday at their tasting events. And in the season of love, they are taking the time to appreciate both regular and new customers that visit the shop in search of handmade, gourmet chocolate.
The tradition of Bittersweet Chocolates has been to create special holiday selections with accompanying packaging fitting for any Valentine. "Typically, what we do is we bring on some nice flavor profiles in pretty shapes and designs for Valentine's Day," says Uhrich. "We offer a larger, heart-shaped box and a five-piece box with just our Valentine's selections. That is in addition to the 24 original flavors that we started with. We have also brought on wine. Last year was the first year we had wines to go with the chocolates, so we are going to continue that this year, too."
Valentine's Day Chocolate Specials
Uhrich and Smith plan months in advance to formulate flavors that will appeal to every kind of chocolate lover. "We try to have at least one of each type of chocolate, a dark, a milk and a white variety so that there is something for everybody," says Uhrich. "And then we think about the season and what's available. We also think about the holiday. What kinds of flavors do people associate with Valentine's Day? One of the things we are thinking about this year is strawberries and champagne."
To match the season, the special chocolates are molded in fun shapes like hearts and lips. "We are going to do three kinds of lips," says Co-Owner, Deb Smith. "We are going to do a very dark red lip that will be a caramelized dark chocolate. Then, we are going to do a ruby red lip in milk chocolate and then we are going to do a pale pink lip that will be roasted white chocolate. We are going to have a heart that is passionfruit caramel with macadamia nut. We are also going to do a black and white heart, white chocolate with crème de cocoa and dark chocolate with Kahlua. The last one is going to be a surprise."
A large amount of painstaking work and care goes into each seasonal flavor. Ample experimentation occurs before each flavor hits the shop's display, to make sure it's perfect. "We try to start thinking about Valentine's Day during the Christmas season," says Uhrich. "Right after Christmas, we start to develop and by the end of January, we will have the chocolates in the case. Right now, it is a six-week to two-month process to come up with and get the flavors right before we actually produce."
Celebrate Valentine's Day at Bittersweet Chocolates
Valentine's Day at Bittersweet Chocolates doesn't just mean a new variety of flavors, but also special events like chocolate and wine tastings. Chocolates from the shop are matched to a curation of wines that are reminiscent of Valentine's Day. "What we plan to do for Valentine's Day is to have two tastings," says Uhrich. "And that would introduce the flavors that we have with some wines – sparkling and champagnes, because those tend to be the ones people think about when they are thinking about Valentine's Day. We will be doing one a week before Valentine's Day. We also do some hors d'oeuvres to kind of break up the chocolate and the wine. It is a nice variety of little flavor bites to go with the champagnes and the sparkling wine."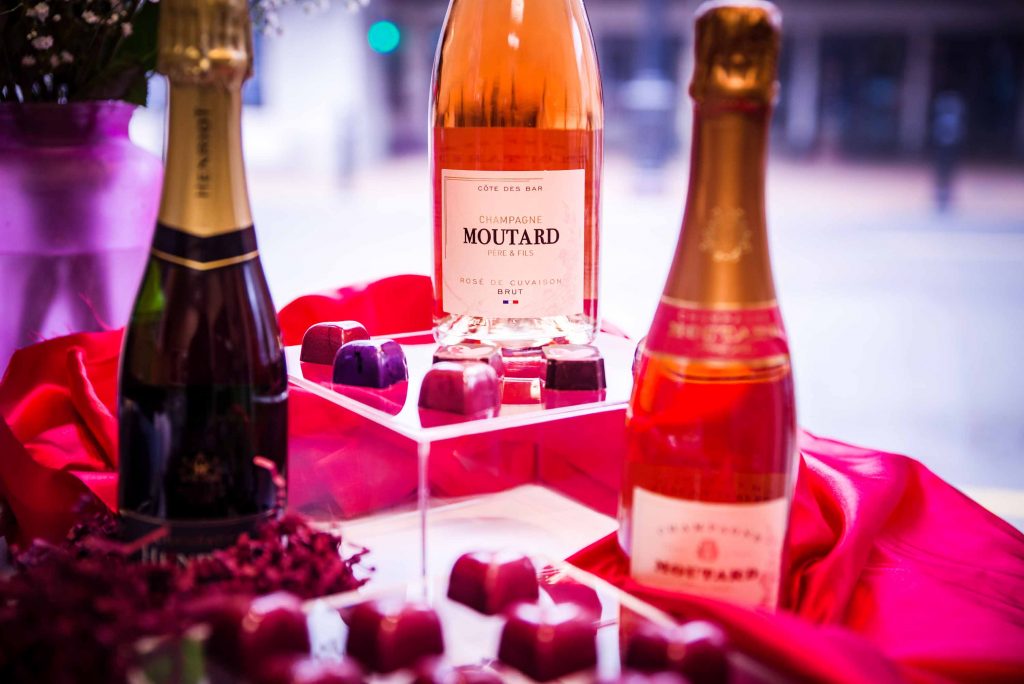 Valentine's Day is special around the shop, because it is a time of creating new flavor combinations and enthusiastic customers visiting the store. "I like making all new chocolates and people are excited about coming in," says Smith. "It is a challenge coming up with five or six new chocolates. And that is the fun part for me, coming up with new ideas."
Becoming a Community Cornerstone
As the chocolate shop develops deeper roots, the new goal of Uhrich and Smith is to connect with customers on a deeper level. "We have a couple that comes at least twice a week," says Smith. "And they get a four-piece box. They bring their dog, walk into town and come here. And that is the fun part, having regulars. Part of the challenge as we get to know some of the regulars, is to remember what they like."
Over the years, Bittersweet Chocolates has become something of a "happy place" for local residents looking for a treat. "We don't see sad people in here. Ever," says Uhrich. "Everyone comes in here and they are so excited."
Uhrich and Smith are passionate about cultivating a community within the walls of their chocolate shop, because of the unique product that they provide. "We take a lot of pride in our product and the chocolates are beautiful," explains Smith. "It's nice to give somebody something that's local and the fact that we make our own product is important. We make people feel good and I think that's the thing. Chocolate makes people feel good. I think they feel excited when they walk out the door with something. When people come in and say 'oh, these look like jewels, these are so nice' that's a good feeling."
To learn more about Valentine's Day flavors and wine tasting events, visit the Bittersweet Chocolates website.
Sponsored