At Merle Norman Cosmetics, Wigs, and Day Spa, there are a myriad of beauty and wellness services offered, including massage, hair services, wigs, hair extensions, facials, waxing and a complete education in all things makeup. All of these services contribute to owner Madelin White's goal to be a one-stop-shop for all things beauty.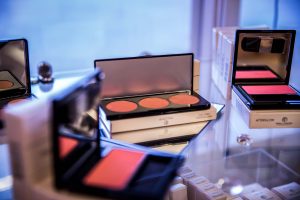 Merle Norman offers multiple makeovers, tailored to different occasions and skill-levels. For a special event, like a wedding or prom, they provide a special makeover service, where makeup is professionally applied. For those looking to learn more about makeup, you can come for a free makeover where the client learns how to apply makeup and take care of the skin.
Owner Madelin White is interested in not just offering a wide selection of makeup, but ensuring that clients know how to use it to best accentuate their features. "The free makeover teaches you about makeup and skincare and the right products for you," says White. "People come in and want to know if we have a system. The problem is, we are all different and what cleanser I use may or may not be the best for you. So, we have skincare for everyone, from sensitive skin to acne-prone." White helps clients to navigate the world of skincare and makeup, as it can easily get overwhelming.
When going to Merle Norman for a free makeover, the right products are selected based on skin type. The knowledgeable staff ensures that the client knows how to use the product before leaving. Each product is recorded on a custom face chart that marks what products are being used and where on the face they should be applied. "Women come in and they are embarrassed, usually, because they don't know how to apply something like eye makeup," says White. "We teach them step by step, because my philosophy is that I can't go home with you and teach you later. Even if they bought everything in this store, it wouldn't matter if it just went home and got put in a drawer, because they didn't know what to do with it. We not only teach clients, but we write it out and draw pictures. They will have a list and have an order to use the products in. We also teach them about foundations and color products. We teach how to apply makeup and where to apply it. For instance, if there were three eye shadow colors, we would write them down and label them."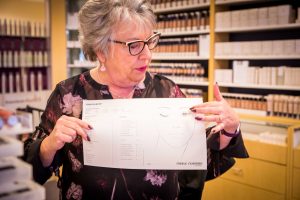 The free makeover is perfect for anyone who is looking to get into skincare and makeup, but isn't sure where to start. It can also be beneficial during a changing season, when skin tones and wardrobes may change. "You should have your foundation checked at least twice a year," says White. "Or else you end up with a line of demarcation around your neck. We also find out what colors are best for them. What colors work with the clothing they wear or the best colors to bring their eye color out."
To learn more about the makeover services offered, you can visit the Merle Norman Cosmetics, Wigs, and Day Spa website.
Merle Norman Cosmetics, Wigs, and Day Spa
3925 8th Ave SE, Lacey
360.491.4911
Monday – Friday: 9:00 a.m. – 6:00 p.m.
Saturday: 10:00 a.m. – 6:00 p.m.
Sunday: Closed
Sponsored