After the busy holiday season, January is a time to catch your breath, reflect on the New Year, and organize home, calendar and finances. Then February rolls around. No matter the weather, it's a month of sweet treats and Valentine delights galore. But this year, consider an experiential gift for your sweetie, friends and family. Let the Washington Center for the Performing Arts bring the world of comedy, music and global sensation to your doorstep.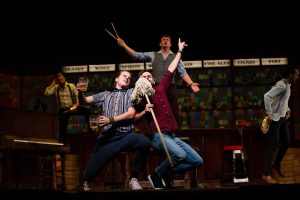 Recently, online ticket seller Eventbrite worked with Harris Poll to ask about people's favorite gifts to give and receive. Results showed that "63% of U.S. adults would prefer to receive an experience gift than a material gift." Reasons cited for choosing experience over item were simple and yet delightfully obvious. "85% of U.S. adults agree that experience gifts are a great way for both the giver and receiver to enjoy something together."
In February alone, the Washington Center has a full calendar of top tier entertainment. Marketing and Sales Director Jessica Caldwell encourages everyone to enjoy "A month of romance. Take away the expectation around Valentine's Day and turn it into a month of love, laughter and connection! We have so many loves in our life—love of a partner, love of children, love of family, and love of friends. Shared experiences, shared laughter, and shared wonder are an excellent way to say I love you in this month dedicated to authentic connection and the relationships we hold dear."
"This year we chose to do a lot of comedy," she continues. "Joy and laughter are appropriate for all relationships so it was an easy, intentional choice." February's offerings include The Choir of Man, Golden Dragon Acrobats, Best of Seattle Stand Up Comedy, Natalie MacMaster and Donnell Leahy, and Kinky Boots. All shows begin at 7:30 p.m.
"We're really big on experiences," says Caldwell. "They're thoughtful and meaningful, create memories, and give the gift of experience and laughter." The Center's central downtown location is ideal for bringing people together and celebrating local, regional and international talent. "It's the pearl of Olympia, not to have to drive to Tacoma or Seattle for these world class performances."
The Choir of Man
The Choir of Man hits town on Monday, February 4. Freewheeling singers turn the stage into a true English neighborhood pub. Described as "a pint-filled good time set in a working pub (free beer anyone?) that combines hair-raising harmonies, high-energy dance, and live percussion with foot-stomping choreography. The multi-talented cast of nine handsome blokes sings everything—pub tunes, folk, Broadway, classic rock—all to roof-raising heights."
Singing everything from Paul Simon to Queen, Adele to Guns'N'Roses, warm up your pipes listening to the original cast album online or watch clips on their official YouTube channel.
There will be a live DJ in the lobby starting at 6:30 p.m. when doors open, Straight Shots an intelligent mix of full track vinyl record selections presented by International Sound Curator, Christopher Di Nunzio.
Golden Dragon Acrobats
The Golden Dragon Acrobats started in 1967 and have been touring in North America since 1985. They put on more than 200 exhibitions a year, have conquered everything from the Broadway stage to university campuses nationwide, and will be in Olympia for one night only.
This year's visit will be on Thursday, February 7. "This is an absolute highlight, for kids, of their whole year," says Caldwell. But she laughingly warns parents to keep a close eye on them afterwards, many have gone home to try amateur plate spinning and acrobatic creativity…with mixed results. Watch excerpts from past shows, get tickets while you still can, and sign up for springtime gymnastics to combat midwinter wiggles.
Best of Seattle Stand Up
On Valentine's Day, score some giggles, a cocktail or two, and spend the evening with your sweetie at the Best of Seattle Stand Up night. The Center will offer a specialty-themed drink at the bar before comedians galore take the stage. The Washington Center is bringing back the DJ for the one hour before the show, starting at 6:30 pm. Those attending are encouraged to come early and take in the music scene while enjoying the company of their friends or loved one.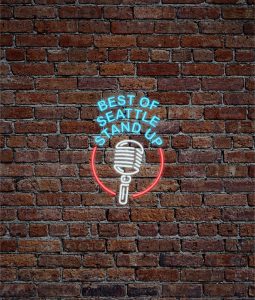 All performers are recent semi-finalists in the Seattle International Comedy Competition. Ticket sales get a Valentine's bump "especially for the last-minute procrastinators," chuckles Caldwell, "Since they can get them the day-of or day before."
Whether you plan ahead or prefer to wing it, solo or with a crowd, there's no wrong way to enjoy some of Western Washington's funniest comedians.
Natalie MacMaster and Donnell Leahy
Husband and wife team Natalie MacMaster and Donnell Leahy bring their Visions of Cape Breton and Beyond act to the Center on Sunday, February 24. It's "a fabulous show," says Caldwell, "a total love-fest."
These Celtic fiddlers bring the entire family as well as their band and feature amazing musical abilities and warm, welcoming nights of music. Find videos of mom, dad, and four of their six children playing along to historical melodies on Facebook. You never know who will join them on stage when they come to town.
Kinky Boots
On Wednesday, February 27, close the month out with flair and a pair of bright red Kinky Boots. This Broadway darling show is based on a true story and full of songs by the beloved icon Cyndi Lauper. The musical has won "every major Best Musical award, including the Tony, the Grammy, and London's Olivier Award."
Tickets "are selling out fast," warns Caldwell. "We're lucky to have this big of a performance in Olympia" and it's here for one night only.
Washington Center for the Performing Arts Box Office
512 Washington St SE, Olympia
360-753-8586
Tuesday – Saturday 12:00 p.m. – 5:30 p.m. and two hours before any ticketed event
Sponsored