Educating our children lays the groundwork for everyone's future. Its importance is critical to building life skills. Sequoia's Treehouse Childcare and Preschool offers parents and young children an alternative to typical early childhood education with a focus on being outdoors in nature and social-emotional learning through play. Sequoia Hartman, proprietor, brings her years of education and experience to this learning philosophy while also being inspired by the Reggio Emilia approach. According to Wikipedia, "The Reggio Emilia approach is an educational philosophy focused on preschool and primary education. It is a pedagogy described as student-centered and constructivist that uses self-directed, experiential learning in relationship-driven environments."
"The Reggio philosophy ties in with my beliefs," explains Hartman. "Communication, choice, mutual respect, learning through play, creativity, and lots of outside time build the framework for Sequoia's Treehouse experiences."
I personally was curious about this way of teaching early childhood education. Within a more child-centered flexible format, my first thoughts were "would children be kindergarten ready?" That is a reasonable question. However, a better question is "What does it mean to be kindergarten ready?" Knowing the alphabet and counting are essential skills and will be acquired along the way, but does the child know how to share or how to manage his or her behavior?  Do they have boundary skills and communicate well?  Is the child encouraged to explore their own interests and creativity and understand their connection to the planet? Are adults supporting or thwarting the child's natural curiosity? The approach at Sequoia's Treehouse gives children time to investigate their environment and take part in activities cooperatively, not only side-by-side. The outdoor play aspect in all weather, for the same amount of time in all seasons, is a major component of Sequoia's Treehouse, which is uncommon at other early learning centers. "It lets people have a quality, nature-based, outdoor-focused school program," said Joe Beatty, Director at Sequoia's Treehouse.
Children 2-years-old on up have access to the wetlands in the back of the property.  The wetlands offer opportunities for exploring all kinds of plants, animals, birds, and trees through all the seasons – a veritable changing classroom of experiences.  Children are prepared for time outside with personal outdoor gear and extra clothes because they get wet and muddy. Throughout the day children have many chances to make choices while sharing and respecting others is highly encouraged.  Boundaries are learned through communication and mutual respect. The staff at the Treehouse practice finding ways to say, "Yes," to the students instead of the oft-used "No."  Hartman knows it is possible to create an environment where children want to learn naturally if allowed to simply be themselves.
Hartman's personal schooling centered around Human Development and Family Studies. For more than eight years she was the Executive Director of a non-profit in Seattle, a Childcare Director with the North Seattle Boys & Girls Club, along with other experiences throughout her life in summer day camps and years of working in non-profits with at-risk youth. Through her experience as an Executive Director, Sequoia saw young children having difficulty making the transition from preschools to public school. The children were overwhelmed by a number of aspects including the size of the Elementary school, the large amount of children (many of them older), unfamiliarity with rules like lining up, sitting down and listening for long periods, etc.  Hartman longed for her own education Center for years and decided it was time.
Hartman met the property owner of her current location and the relationship began with a vacant lot. The property owner always envisioned a childcare center on the empty lot along South Bay Road NE and had been working on the lot for 8 years to prepare it for a Center. Even though his children had since grown, he still maintained the vision and listed his property for lease. The first building was built and ready for move-in on October 4, 2015, the first day the program began. Hartman began spreading the word and getting to know the neighborhood and the community. Today, the Center occupies two buildings where over 100 children come to learn and play.  The 17 Staff members work closely with each child and family.
The indoor classrooms have thematic names: Seedlings, Sprouts, Shoots, Saplings, Young Sequoias and Sequoias. Children are grouped, more or less, by age.  Some of the focus in the classrooms this autumn were about leaves and related art activities. I experienced children talking about their families, painting, singing songs and practicing yoga.  The fun new additions to the Center are the three pygmy goats (Rain, Hurricane, and Blizzard), a lively trio who require care and feeding that the children take part in.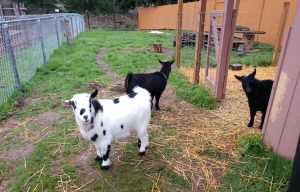 Sequoia's Treehouse enrolls infants 6-weeks to 6-years with a Before/After School Program for older children attending elementary school. The Center's mini-bus provides transportation to three local schools: Madison, Roosevelt and Pleasant Glade (South Bay Elementary School students are picked up and dropped off by school bus at the Center).  Hartman has built a relationship with South Bay Elementary School (she sponsors the school). Because of this, a main highlight at Sequoia's Treehouse for the Kindergarten class (Sequoias) is the weekly trip to the elementary school to take part in Lunch Buddies with 4th grade classrooms (while school is in session). Additionally, the Sequoia classroom attends swim lessons once per month.  All of the classrooms take part in monthly yoga offered at the Treehouse, except for the Seedlings and the Sprouts.
In a technology-driven world how do we learn to make personal connections and interact with the planet?  One of those ways can be with Sequoia's Treehouse!
If you are curious about Sequoia's Treehouse and the programs they have to offer, you can call for information or a tour at 360.742.3651, visit the Sequoia's Treehouse website, or see them on Facebook and Instagram.
Sponsored