Some buildings, like some people, appear to have a split personality. The Fuller & Fuller building in downtown Tumwater is a case in point. Viewed from the front, it looks like a classic example of Mansard-style architecture, with a dominant rectangular roof hanging over three of the building's four sides.
Walk around the back, however, and it more closely resembles a house with multiple stories, a bay window and stairs. The inconsistency is due to the building's history, says Ronelle Funk, the new owner. "The back side was built in 1911 before the brewery was there," she explains. "The family refused to sell, and the brewery was built all around it." Then Fuller & Fuller, a family owned law firm, bought the building in 1980 and added the main facade.
Today, it sits in a prime location central to Tumwater's new Craft District. As the city moves forward with its plans to revitalize the area surrounding the historic Olympia Brewery as a hub for craft brewing, cider-making and distilling, the district appears on the verge of becoming a major destination for locals and visitors alike. "There are so many interesting things happening in Tumwater right now" says Funk. "Our friends, families and customers can't wait to see the changes."
She recently chose the site as the location for her new Allstate Insurance office, which in addition to her Yelm and Lacey branches, marks her third. After a fellow Allstate agent, Deann Putnam, sadly passed away last December, the company's corporate office approached Funk and asked her to open a location in Tumwater based on her consistently high customer service scores.
Her team explored a variety of options in the city, initially with the idea of leasing, but the cost proved prohibitive. "Then we saw that the Fuller & Fuller building was for sale," she explains "It's an iconic building. I met with my real estate agent and we penciled it out that it was actually going to be more cost effective to purchase it than to lease a different space." The branch officially opened on November 1st.
For decades, the building has been home to Fuller & Fuller Attorneys at Law, a family practice with branches throughout Washington. With 4,000 square feet, the structure includes an upstairs, the main floor, and a daylight basement. Since the purchase, Funk occupies the main floor and the attorneys are leasing the upstairs and downstairs offices. The law offices will be moving into a nearby building that they own within the next year.
Right now is a great time to be in Tumwater, says Funk. "Everything that's going on with the Craft District is going to bring locals and tourism to Tumwater," she adds. "There will be a walking path and an amphitheater near the Deschutes River by the gold course." Several traffic revisions will also be happening within the next five years aimed at making the area more drivable and walkable.
The City of Tumwater is working with a team of partners, including South Puget Sound Community College, the WSU Food Science Department, Thurston Economic Development Council, the Port of Olympia, and Washington State Community Economic Revitalization Board, to create a Center of Excellence for the brewing and distilling industries in Washington. The college will have a satellite campus within the district and offer two-year degrees in Craft Brewing and Distilling.
Given its rich history and central location along the I-5 corridor, the Craft District is likely to attract significant attention. But aside from the district's potential drawing power, Funk was also excited about its proximity to her home at Offut Lake a short distance away by car. "I drive down Old Highway 99 every day," she says.
Opening another location meant finding new employees. Tumwater Office Manager Gina Kotek "came along at the perfect time," says Funk. "Everything flowed from there. I found the perfect office manager, found an amazing building, and found wonderful employees."
Five new staff members spent two months training at the Lacey office under existing employees. "We crammed five extra employees in my Lacey location with a shoehorn," Funk laughs. "They've done really well. I had expectations of how business was going to go once we opened, and they met their first month's goals."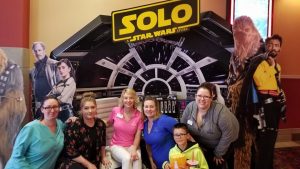 Looking ahead, she plans to do a ribbon cutting ceremony with the Tumwater Chamber of Commerce and is already working on a customer appreciation event centered around the next Star Wars movie in 2019. A grand opening is also in the works. Once Fuller & Fuller move out, Funk will likely find other tenants to lease the remaining space.
In the meantime, she's looking forward to expanding with the city. "I'm excited to be in the middle of the Craft District," she says. "We're right where Tumwater is growing."
Learn more about the new Tumwater office by visiting her website or calling 360-339-5424 (Tumwater), 360-491-3376 (Lacey) or 360-458-6061 (Yelm) or find her on Facebook: RonelleFunkInsuranceLacey.  Her agencies were voted #1 for insurance in the Best of South Sound 2018.
Sponsored