Rick Judd has an unusual commute. For the last 20-plus years, instead of driving to work or taking public transportation, he's been skating. During the week, he travels to the Briggs YMCA in Olympia, showers, stores his inline skates and then walks to his job downtown. After work, he repeats the process in reverse, minus the shower. "The Y has really facilitated my ability to skate to work," he says.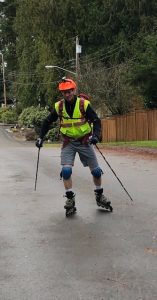 Judd initially joined the Y in 1991 along with the rest of his family. When his children were younger, they participated in the hugely popular swim classes taught through the facility, along with using the basketball and racquet ball courts. His kids are older now, but Judd continues to use the club as he always has, to keep fit for activities like cross-country skiing and mountaineering. To date, he has summitted Mount Rainier multiple times. "I've had a lot of opportunities to climb Rainier and many of the other volcanoes as well," he says. "It's great to be able to enjoy winter sports like cross country skiing as well."
As usual, in January the Y will be waiving joining fees and, as always, there is no contract with membership. Anyone who wants to become a member can call or drop by at one of their two local branches, Plum Street YMCA or Briggs YMCA to sign up. "Before the ink is dry, our front desk staff will get you scheduled for your first appointment with a wellness coach," says Jake Grater, executive director of branch operations. Membership is valid at all the of the organization's 2,700 branches nationwide, where Y staff are standing by to help people meet their individual goals
Twenty percent of all members join during the January promotion, and what happens next is key, says Grater. "Research has shown that if you can get members to visit four times during the first thirty days, they're twice as likely to meet their goals and stick with the program." That statistic is particularly relevant given that according to another study, 80 percent of New Year's resolutions fail by February.
Those who join as a family can save $65 on joining fees in January, but even during the rest of the year, they won't be turned away based on the inability to pay. "We have a personal pricing plan that allows us to reduce the membership fee according to what people can afford," says Grater. "It's based on demographics and the median income where you live."
As a long-time member, Judd is in favor of such initiatives. "They provide memberships to low-income families and kids that couldn't normally afford to join," he says. "They have some really good programs for supporting the community."
For younger children, the PlayCare program is free with membership. Joining as a family also means significant savings on programs like swimming lessons, youth sports and summer day camp.
Once a new member has signed up, the next step is an appointment with a professional wellness coach. "They'll talk through what your goals are, what's worked for you, what hasn't, what your interests are and how much time you have," says Garter. "Our staff will provide an orientation to equipment and classes and introduce people." New members get up to three free appointments with coaches to set goals and develop fitness plans.
From the beginning, the culture is one of welcome and inclusion. Aside from the physical health benefits inherent in regular exercise, the Y also offers a sense of belonging. "We provide extrinsic motivation while you're finding your intrinsic motivation," says Garter. "Members find enjoyment, support and camaraderie, all of which are very important in getting people into successful habits."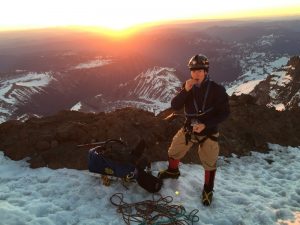 Judd appreciates both the employees and the facility itself. "The staff is great," he says. "The maintenance people really do a good job of keeping the place up and running. And the front desk staff does a great job of creating an opening and welcoming environment, while juggling providing membership services and dealing with people who are walking in off the streets."
He primarily uses the weight room and the treadmill to keep himself in shape. Now that the downtown branch has moved into a new facility, the equipment is better than ever, he says. "The weight room facility is really good. It lends itself well for anyone who wants to maintain fitness for winter sports."
The Y has also allowed him a place to store his skates over the last two decades, a central part of his weekly routine. "They're willing to work with people who are trying alternative forms of commuting," he says. "That's very important."
It's all part of the organization's commitment to diversity and inclusion, says Garter. "We're proud to be a place that people can come, have a sense of belonging, gather, and recreate, meet their goals, and achieve."
For more information, visit the South Sound YMCA website or call 360.753.6576.
Sponsored