The City of Lacey and local Boy Scout (BSA) Troops 222 and 101 have partnered again for  the annual Christmas Tree Round Up. This is an opportunity for Lacey residents to easily part ways with their old Christmas tree, while providing a service opportunity for local Boy Scouts.
The Christmas Tree Round Up partnership began in 2011 in response to the huge demand that Christmas tree collecting had on the City's maintenance staff.  "For many years, the city's maintenance staff collected trees throughout the community, but it took a great deal of time and resources," says Jenny Bauersfeld, Community Relations Specialist for City of Lacey. "So, the city joined forces with the Boy Scouts of America, and it has become  a valuable partnership."
The Christmas Tree Round up is not only a service to the community, it serves as a fundraiser to help BSA Troop 222 and BSA Troop 101 operate throughout the year. "We look forward to this event each year," says John Tulloch, Assistant Scoutmaster. "Donations from the round up help run our scouting programs  and provide the resources to buy merit badges, equipment, and assist scouts with the cost of summer camp and National Youth Leadership Training (NYLT)." You can make a donation:
Online via the Troop 222 website
Mail (Checks made payable to BSA Troop 222)
Troop 222 Tree Round Up
P.O. Box 5379
Lacey, WA 98509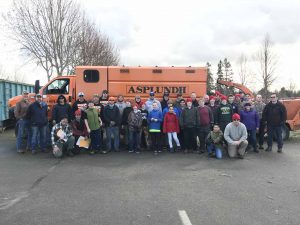 Anyone who lives within the Lacey city limits can participate in the round up. All they need to do is to leave their undecorated tree on the curb by 8:00 a.m. on Saturday, January 5, 2019. "All decorations and stands must be removed," says Bauersfeld. "Trees with ornaments, lights, tinsel, stands, and nails will not be accepted, as they cannot be composted."
Starting at 8:00 a.m., the Boy Scouts and their families collect all the Christmas tree on the curbs throughout Lacey, deliver them to chipping stations set-up at Rainier Vista Community Park and Salish Middle School, and then the trees get recycled. "Trees will be chipped and recycled thanks to the support of  local businesses, Asplundh Tree Expert Company and LeMay Mobile Shredding,"  says Bauersfeld. "Asplundh has been generous enough to donate their chippers, and their amazing staff donate their time on this day to help the boys out. LeMay generously donates several large containers for the chipped trees and the Thurston County Waste and Recycling Center recycles them, free of charge. We feel so lucky to have the support of some wonderful business in our area!"
Another goal of the Christmas Tree Round Up is to help save more waste from a landfill. "The idea is to recycle as many trees as possible and save space in landfills," says Tulloch.  "During the past two years nearly 2,500 trees have been recycled," says Tulloch. "Scouts and family members from Troop 222 and 101 have also volunteered over 1,200 hours."
If Lacey residents miss the January 5 deadline to put their tree on the curb, there are alternative opportunities to dispose of used Christmas trees. "The Waste and Recovery Center will accept trees at no charge through Sunday, January 13," says Bauersfeld. "Additionally, subscribers to Pacific Disposal's yard debris pick-up service can cut their tree into three-foot sections and place it in or next to their yard waste container on their normal collection day."
To learn more, visit the City of Lacey website. You can also visit BSA Troop 101's website or BSA Troop 222's website to learn more about the scouts.
Sponsored