During my days as a bartender I often got asked by my customers what the difference was between a bourbon and a whiskey. The truth was I really didn't know. Just like many others, it's always been a kind of gray area to me as to what makes each of them unique. With a last name like Bourdon, it's no wonder Sandstone Distillery owner John Bourdon should have a strong knowledge of the subject. "All bourbons are whiskeys, but not all whiskeys are bourbons," John shares with a smile. Still confused on my end, he shares more in depth what really classifies the American favorite as a bourbon.
Although whiskey and bourbon often get lumped together, the fact is bourbon has specific rules that must be followed to earn its namesake. John explains that first off, it must be aged in a new American made charred oak barrel. On the other hand, whiskey can be aged in just about whatever barrel the distiller prefers, some being used multiple times. To be called a bourbon it also must have 51 percent corn in the grain. And finally, to be bourbon it has to come off the still lower than 160 proof alcohol content. Anything higher automatically makes it just a whiskey and not a bourbon.
With all these requirements it's a wonder why anyone would want to go through the trouble of making a bourbon over a whiskey. But as John proudly shows off Sandstone Distillery's first ever batch of bourbon, the end result is definitely worth it. Although this is a new product for the company, it's really been years in the making because John wanted to do it right. "A lot of the work is in the time it takes to age the bourbon properly. There's a lot of different ways to do it. You can do smaller barrels which speeds up the process. But some things just shouldn't be rushed in my opinion," he says.
John shares how he spent a lot of time beforehand researching the best barrels and what type of distilling process he wanted to use. Finally, he settled on true pot distillation which allows more flavors from the grains to carry through into the bourbon. It may not be as efficient as some other methods because you don't run it through just one time, but rather three different cycles. "It does take more time, but it makes a much tastier spirit in the end and that's what we really wanted to do," explains John.
And if the customer response is any indication, Sandstone Distillery found the perfect recipe to make a high-quality bourbon. Before it was even ready, John had a group out for a tour and tasting. When they tried the 117-proof bourbon in the still they loved it just as it was and even asked to preorder it. "So, we had bottles sold at the cask strength before we even had brought it out of the barrel," says John laughing. But not everyone wants or can afford cask strength bourbon, so Sandstone also made a batch at 97 proof which is now available for their customers.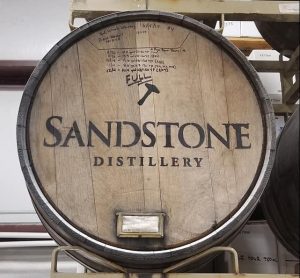 When asked to describe the flavors of his newest product John says, "It's robust without a big burn with hints of caramel and butterscotch. There's also some leather notes and maybe some chocolate and clove flavors, along with a hint of vanilla. And there's just enough oak flavor to make it nice, but not too smoky." This is a bourbon meant to be enjoyed and sipped without the need to really add anything to it, except for maybe a couple ice cubes if you prefer.
This new bourbon venture is just the first in a number of new things to come for Sandstone Distillery in the future. Be on the lookout for an American single-malt whiskey soon, created in the same fashion as a scotch. And also a delicious sounding cran-apple brandy is ready to make its debut. With their constant growth, ingenuity, and uniqueness, Sandstone Distillery has grown to become one of the top producing distilleries in our state coming in at 15 out of the 100 Washington has in operation.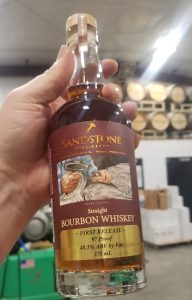 If you haven't visited this local gem, take the short drive south and see what everyone is talking about. With local history and great products to taste, it's easy to see why this small-town business is making a big name for itself. "Sandstone has become a real destination in a lot of ways," John shares. People enjoy the drive out here. They like the fact that it's not in a warehouse and out of town in a rural area. There's cows, pigs, and livestock right next to where we make our amazing whiskeys."
For more information, visit the Sandstone Distillery website or stop by the tasting room for a visit.
Sandstone Distillery
842 Wright Rd SE, Tenino
360-239-7272
Tasting room hours:
Monday, Thursday, Friday, Saturday:
12:00 p.m. – 5:00 p.m.
Sundays by appointment
Sponsored