Today, high school students have dozens of options for various sports, clubs and other extracurricular programs that they can get involved with. Whether their interests lie in art, music, sports, or drama, most schools have just what students are looking for. One unique sport that not many high schools continue to offer is bowling. To many, it may be a forgotten sport, but local schools in Thurston County and beyond have embraced the game and are working to introduce it to today's generation.
For the past 13 years, Aztec Lanes in Olympia has been helping local high school girls discover the fun of bowling. North Thurston High School (NTHS), Timberline High School and River Ridge High School all call the bowling alley home.
The Aztec Lanes bowling league is currently only available to female high school freshmen through seniors, although an expansion to create a male league is a hope for the future. "I started bowling for the NTHS team in 2016 and have returned every year since," shares bowling league member, Mikki Matson. "I not only fell in love with the team, but also the sport. I look forward to making it a part of my life even after high school because of my great experience with the team."
The season begins in late October when students can sign up and register for the winter sport. Buses shuttle students from their schools to Aztec Lanes once classes end. After one full week of practices, the regular season begins and runs through late January. Each of the three high schools utilize four lanes each, making for an exciting, packed house with high energy levels. "I love the bowling team so much," expresses NTHS team member, Gabby Michelson. "I love how we all come together as a family, bond super well and are all supportive of each other."
NTHS's head coach is currently Adam Brandenberg who, along with assistant coach and Aztec Lanes owner, Dan Brathovd, help encourage and empower the 14 students on this year's team. "Throughout my years coaching the NTHS girls league," expresses Dan, "I've really enjoyed watching both of my daughters as well as all of the other students master the sport that I've grown up with."
Although Dan has owned Aztec Lanes for the past decade, the business has been a family tradition since 1972. Having bowling ingrained in his memory from an early age, Dan is passionate about teaching high schoolers the ropes of the game. "It's been fun to watch a younger generation pick up bowling," says Dan. "Seeing their enthusiasm and competitive spirit come out during matches is one of my favorite parts of coaching."
Dan, Adam and the team's helpful score keeper, Sean Pugh, are thrilled with the 2018/2019 team of girls and the talent and drive that they exude during each match. Their newly implemented point scoring system has helped up the ante and heighten the friendly competition during their matches. "Depending on how each match goes for each individual bowler, we have a system for the girls to earn points that Sean helps us keep track of," explains Dan. "At the end of the season, we tally up the points and reward the bowlers with different prizes such as t-shirts. We've noticed an increase in motivation day-to-day, which is exciting to see."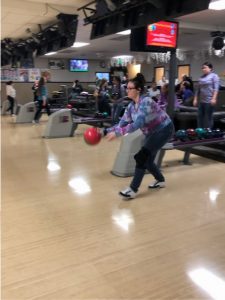 As of the end of November, 2018, top bowler averages ranged from impressive scores of 173 to 153 that Dan believes is in part due to the new point system. "This is my third year bowling and I am so grateful to be part of a team that pushes me to be my best," says NTHS athlete, Teresa Spencer. "This sport will continue to be a huge part of my life even after high school."
The high school bowling league isn't the only program currently offered at Aztec Lanes. During the summer months, they put on a Kids Bowl Free program, and throughout the year there are roughly 10 various league options for bowlers of all ages. For families and individuals looking to bowl for fun, open play is available every day of the week as well as late night bowling. Friday nights are always exciting as the music begins to pump throughout the building, LED lights flash and the lanes go dark for Lightning Bowl.
Stay up to date on all of the fun by visiting the Aztec Lanes website or liking their Facebook page.
Sponsored