Ed Adelson's volunteer work with Rebuilding Together Thurston County (RTTC) has been profoundly moving for him. "Keeping people in their homes is extraordinarily important," he emphasizes. Ed continues to be inspired by the gratitude and optimism of people who have connected with this local organization to receive much-needed repairs in their homes. Left undone, these problems lead to homes becoming unsafe and ultimately uninhabitable. In spite of circumstances, people find ways to move forward.
Rebuilding Together Thurston County brings together volunteers and sponsors with low-income homeowners whose home repair needs have become out of reach to fix. They work with veterans, families and seniors with financial limitations to handle a variety of needs. Typical projects involve the replacement of bathroom floors and fixtures. Elderly Mr. H had been using the toilets at a nearby McDonald's. Now his own are fully functional. Imagine the difference that makes for him on a daily basis. Many times residents need ADA (American with Disabilities Act) modifications like a handrail or ramp. The goal is to keep people safely in their own homes.
There is usually lots of work that takes place outside. Decks and steps are rebuilt while yards are cleared of debris and then spruced up. The breadth of these projects allows volunteers of all skills and abilities to participate. Skilled technicians do plumbing and electrical jobs and others haul garbage and pull weeds.
Once per year a national rebuilding day occurs in the spring. This past year RTTC gathered 149 volunteers to work on 6 homes on a single day with the help of 45 sponsors. Yards were cleaned, roofs repaired, subfloor replaced, cabinets installed and showers modified. The market value of the work done exceeded $43,000. All of these improvements contribute to the health of the neighborhood and allow people to stay in their own homes as they age-in-place. It is one way to avoid homelessness.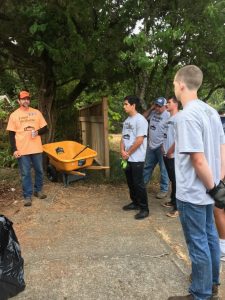 The National Rebuilding Day addresses a need within our community, but there is more work to do than can be done in a day. RTTC is creating ways to serve more people throughout the year. You can get in on the action by gathering a group of friends or co-workers to volunteer for a weekend on a specific project. Don't worry if you are not a professional contractor. Let RTTC handle that. You need only be willing to put on your gloves and dig in. However, getting dirty is not a volunteer requirement for RTTC. Those wanting to serve on a committee or participate on the board of directors are welcome, too.
That is what Ed has done. He utilized his professional skills to work along side the board for development and organizational support. He had a long career at Ohio State as a college administrator. Along with his wife Kim, a developmental psychologist, they raised a daughter and a son who are now adults. Their last post was a three-year span in New Zealand where Ed was the Pro-Vice Chancellor of Arts in Christchurch at the University of Canterbury where he ran the college of humanities with 22 departments.
Kim, a native New Yorker, had always wanted to end up in the Pacific Northwest. After New Zealand, they spent time on the west coast, ultimately picking Olympia.  That was in 2014. "We couldn't be happier," Ed says about being here. Both are avid hikers and Kim is a serious bird watcher. Ed heard about the Puget Sound Grant Writers Association and eventually hooked up with RTTC.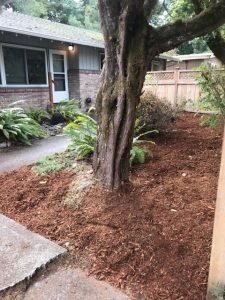 "It's a remarkable organization," he adds and emphasizes it needs support in all sorts of ways. "Helping to acquire grants for non-profits interested me." This is an important step as RTTC moves towards hiring their first Executive Director.
For those unfamiliar with RTTC it is a 501(c)(3) non-profit organization founded in 2003, by the Olympia Remodelers Council, a subgroup of the Olympia Master Builders, and other volunteers. It is part of the national organization that has over 200 affiliates across the country.
To get more information about receiving help, you can call 360-539-7830. You'll likely speak with Susan Newman, who will provide the initial interview. In addition to the HUD income requirements, applicants must be the homeowner and have plans to remain in the house for at least two more years. If you have interest in becoming a volunteer, Rebuilding Together would love to hear from you. It's always desirable if you have maintenance knowledge and experience, but all sorts of volunteers are necessary and no special training is required. Ed admits he hasn't been digging postholes, yet, but he's considering it. Visit the Rebuilding Together Thurston County website or make a call.
Sponsored