An entire city block near the waterfront between Columbia Street and Capitol Way, that was vacant for nearly 10 years, has suddenly come to life. It's got people wondering, what's happening there?
Steel beams are reaching higher and higher into the skyline. They are the framework for what soon will be a seven-story, mixed-use complex called 500 Columbia Place. The structure will include space for shopping and restaurants on the ground floor, office space on the second floor, and an additional five stories of higher-end apartments called Harbor Heights Living.
Vine Street Group purchased the property in 2008. They had designed a 140,000-square-foot office building for the site at the time. In 2009, the foundation, pilings, and grade beams were in place, then all progress stopped. In 2015, the project ramped up again, but with a completely new concept and nearly doubling the square footage of the original plan.
"We felt the timing was right to shift away from a dedicated office use approach, and incorporate 55+ living as well as retail," says Vine Street partner Camron McKinley. "The market district of downtown is an exceptional place to live, work, eat, and shop, which is the driving force that changed our project to a true mixed-use approach."
Olympia architect Glenn Wells designed the building. The retail and office space together equal 58,000 square feet of commercial space. Above that will be 115 apartment units, ranging in size from studios to three bedrooms. The list of amenities Harbor Heights Living will offer is long and caters to the 55 and older demographic. A secured parking area appeals to everyone, but the rooftop decks, courtyards with fire pits, putting green, barbecue, spot for your dog, fitness center, adult lounge and bar, arts and crafts room, and onsite storage will allow tenants to relax and socialize without leaving home.
"The project has so many unique aspects to it," says McKinley. "One of my favorite elements is the abundance of outdoor space that will be enjoyed by the folks living at Harbor Heights. The secure rooftop decks provide a plethora of outdoor activities, fabulous views, and the ability to truly enjoy the natural beauty of our area in an urban setting."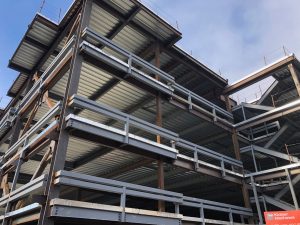 "I think one of the coolest things about the project is it's a very large project for downtown Olympia," says Amy Evans of Kidder Mathews. She and Evan Parker are the real estate brokers for the commercial side of the project. "It's local people," she adds. "Bob Woolf and Camron McKinley, members of the ownership group, both live locally and are involved in the community. So they are really committed to working with local businesses."
That commitment to area businesses reaches from the local contractors like Betschart Electric they are using during the construction phase, and onward to attracting nearby small businesses to their new retails space.
They are currently working with a restaurant and are hoping to bring in other small businesses from our area to provide convenient services to the Harbor Heights tenants and Olympia downtown shoppers. "Retail can be tricky," Evans explains. "The landlord has been good about underwriting some of those costs to support getting local tenants in."
"We would love to get a coffee shop, and a spa would be great. I kind of wanted a pharmacy to go in there with the 55 and over element," Evans shares. "It's been generating a lot of interest."
Since Vine Street has traditionally focused on office space, Evans says: "This is new frontier for them. I think that they are just really excited to be part of revitalization of downtown and Olympia in general. And so they took this leap into retail and residential, multi-family. It's exciting to see that transition into restaurants and apartments." Higher-end apartments for 55 and older residents is a niche in the market other developers have not yet targeted in our area. Harbor Heights hopes to fill that gap.
Looking at this map of downtown Olympia there are pockets of new construction all over the place. "We have more development downtown than we've had since World War II," says Evans. She shares in the excitement of this renaissance of the city's core. People who have lived here for a long time have wondered when downtown Olympia, with its gorgeous views and access to the waterfront, would see the redevelopment other cities on the Puget Sound have experienced. Redevelopment has occurred in fits and starts in recent years, but is really surging now.
"It's happening!" Evans exclaims.
Construction is well under way and is slated for completion in the fall of 2019.