Feet are an integral part to an individual's well-being, but they are often overlooked when it comes to health. They make it possible for you to climb mountains, dance, drive, play sports and partake in a variety of other activities. The team at Foot & Ankle Surgical Associates are experts when it comes to foot health. One of the many services they offer to keep your feet happy are custom orthotics.
"Custom orthotics are inserts that are usually made from making a mold of a patient's foot with a plaster cast," explains Dr. Michael Lundborg, the newest provider at Foot & Ankle Surgical Associates. "Nowadays we can use a scanner and laser pointer on an iPad to scan the patient's foot and then send it into the lab and have the inserts created." Custom orthotics are used to correct abnormal walking patterns. "They work to off load certain areas of the foot or put the foot in a better position for moving around all day," adds Lundborg. They also help with bunions, hammer toes, plantar fasciitis, generalized pain and patients who have a flat feet or really high arches.
One sign that custom orthotics may be right for you, is if your feet are in pain at the end of the day. "A lot of people think it is normal to have foot pain after being on their feet for long periods at a time, but if you can prevent that, then you will be more active and more likely to enjoy your days," shares Lundborg. He goes on to add that custom orthotics can be a tool for prevention. "You don't have to wait for foot pain in order to get them."
Calluses are another sign that you may benefit from custom orthotics. "Calluses can be caused by putting too much pressure on one area of the foot," explains Lundborg. Custom orthotics work to help balance out the weight distribution in your feet. Additionally, If you are someone who has bunions or flat feet and you do not want to get surgery, custom orthotics can help them from worsening.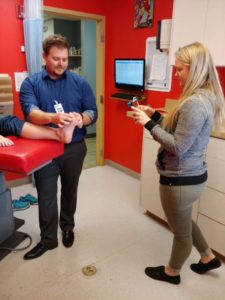 Your feet are your foundation, so If you are having problems with them, it is likely to create pain in other parts of your body. "Your knees, your hips or your back can be compensating for problems originating from the feet," Lundborg shares. "Putting in an orthotic in can help relieve pain in these other areas."
A typical visit to Foot & Ankle Surgical Associates will begin with an evaluation. "Often times we will get x-rays to see what the problems look like," describes Lundborg."We will then do a biomechanical exam of the patient's joints and how their foot functions. Together, we will determine with the patient if custom orthotics are the right option for them."
Lundborg explains that oftentimes patients will start with an over-the-counter orthotic sold at Foot & Ankle Surgical Associates. Lundborg compares this to getting generic eye glasses at Walgreens. "They will help a little bit, but getting a prescription pair designed for you by an eye doctor will help even more," he says.
Once you decide to get custom orthotics, you will have a scan or cast taken of your foot. The team at Foot & Ankle Surgical Associates will send the scan over to the lab to have your inseters created. It will take roughly three weeks to a month to have the perfect inserts sculpted for your feet. After you receive your orthotics you will have a chance to test them out and request to make any slight changes. Lundborg warns that there is a break in period, just like with any new pair of shoes.
Custom orthotics typically fit in any ordinary pair of tennis shoes but they can be designed to fit into dress shoes or high heels. If you have a favorite pair of shoes that you wear everyday it is possible to have your custom orthotics created to fit in that specific pair.
"We have had a lot of patients who have experienced benefits from getting custom orthotics," shares Lundborg. "They sometimes find that they are able to run or do exercises that they weren't able to do before or just make it through the day without ending up in a lot of pain."
If you are interested in learning more about custom orthotics or would like to schedule a visit, you can find more information at  Foot & Ankle Surgical Associates website.
Foot & Ankle Surgical Associates
1610 bishop Rd. SW #7 Tumwater
360-753-3338
Monday – Friday: 7:00 a.m. – 5:30 p.m.
Saturday – Sunday: Closed
Sponsored