For years, Diane Whelan and her husband had to wade through pools of water to put out their trash cans. After 38 years of living in the same house, they knew they needed to put in a French drain, but somehow never got around to it.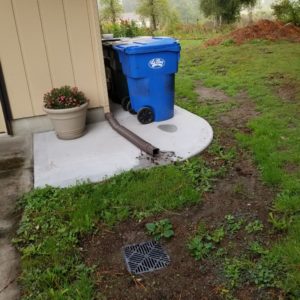 Then there was the patio. Living in the Nisqually basin, the ground shifted regularly and over time the structure had been completely broken up. "It was actually becoming dangerous," says Diane. "That's when we decided to call someone in."
The couple had never heard of AJB Landscaping & Fence, but found the business highly rated online and gave them a call. "They answered right away and were able to schedule us quicker than expected," she added.
Initially, the couple intended to replace the patio with a deck but on Estimator and Project Manager Ron Garceau's first visit, he explained why their idea wasn't possible. "Ron showed us that given the way our house is constructed, concrete made way more sense," shares Diane. "He was really helpful."
She was also pleased with how the team handled a miscommunication. Because she was gone frequently during construction, when the new patio was complete it wasn't entirely what she had in mind. "They fixed it and it's exactly the shape I wanted," she says. "It's beautiful. It makes me happy when I look at it." No longer having standing pools of water around the trash cans is also a plus.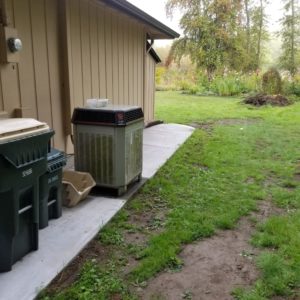 But aside from the outcome, the Whelans also appreciate how the process unfolded. "I'm just really happy, not only with the work but with the people who came here," Diane says. "Every single person, from the subcontractor who did the concrete work, to the concrete mixer and the ones doing heavy lifting, did a great job. They were pleasant to be with, very professional and personable. I'd have them here again in a heartbeat."
To learn more, visit the AJB Landscaping & Fence website or call 360-789-3707.
Sponsored