The holiday season is about to start but don't let yourself get roped into rushing around and missing all the fun. Instead schedule some relaxing escapes—close to home—thanks to Little Creek Casino Resort's active winter calendar.
As we get older, we tend to get busier. Halloween is for the kids, Thanksgiving and Christmas are for the family. But where do we recharge, get away from the chores, cooking, and shopping? At less than 30 minutes from Olympia, Little Creek offers something for everyone.
Kick off the season with their Thanksgiving Buffet on Thursday, November 22 from 11:00 a.m. to 7:00 p.m. For $26.95 per person fill your belly and not worry about dishes. Reservations for 6 or more call 360.462.3463. Island Grille and Salish Cliffs Restaurant will also have Thanksgiving Dinner specials offered.
Make your list and check it twice because Friday, November 23 through Sunday, November 25 is their annual Christmas Market at the Creek. Admission is free and there will be live entertainment, photos with Santa (Santa photos are from 12:00 p.m. to 3:00 p.m. each day) and daily vendor awards for the best decorated booth and an ugly Christmas sweater contest. Festivities run from 11:00 a.m. until 7:00 p.m. daily. (We added attendee contests this year as well – Friday is Christmas Trivia, Saturday is Guess How Many in the Jar, Sunday is a Scavenger Hunt. Participants can win Little Creek Casino Resort gift cards. We also will have #SelfiewiththeElfie and a kids coloring area.)
Stock up on jewelry, wines, and hand-made crafts instead of fighting the endless turkey-fueled, Black Friday hordes. Call ahead to the Seven Inlets Spa and schedule one of their monthly specials or regular services like a wild seagrass balancing massage or cedar wild sage pacific salt polish. Then chose the restaurant of your choice for a peaceful meal before heading home.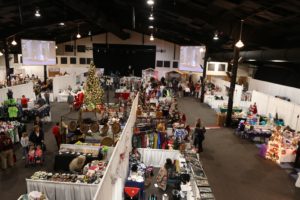 The Christmas Market is still accepting vendor applications if you'd like to sell your creations. Fill out the form and return it to the sales office via fax, email, or mail. Call the casino at 360-427-7711 with questions.
On Friday, December 7, come back for the Wizards of Winter. This group, made up of members from the Trans-Siberian Orchestra, the Irish Tenors, Blue Oyster Cult, Rainbow, Alice Cooper Band, and Broadway stage will perform a rock opera called Tales Beneath a Northern Star.
Tickets to the show are $25 or $35 and available online or at the Resort. Get a taste of what's to come streaming Spirit of Christmas excerpts or looking for fan-favorite performers on the band's 2018 membership roster.
Treat yourself like a rockstar by calling the front desk at 800-667-7711 to book an overnight Rockstar Package at the Resort. This comes with event tickets, $20 in freeplay, and breakfast for two the next morning. Otherwise try the Stay and Play golf package, or combine everything into a Stay, Spa, and Swing getaway.
If rock operas aren't your style, what about the classic sounds of the Oak Ridge Boys? They take the stage at 7:00 p.m. on Sunday, December 9, in the Skookum Creek Event Center. The Oak Ridge Boys have performed together since the early 1970s and are known for such country crossover hits as "Elvira" and "American Made."
When they visit Little Creek, the Oak Ridge Boys will perform their Shine the Light on Christmas tour. This is their 29th Christmas tour, visiting more than 30 cities in 18 states. Tickets range from $20 to $40 and can be purchased online or at the box office.
Whenever you come, make sure to bring your Players Club card or sign up in advance so it'll be waiting when you arrive. Then check out the current daily gaming promotions, entertainment calendar, and events at the on-site Salish Cliffs Golf Course.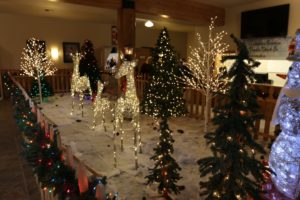 Holiday burnout is a very real thing. Psychology Today explains that "It's supposed to the reason of joy, but for those people who go into the holidays already stressed out from their hectic and overscheduled lives, the holiday season can feel like piling on. Just when you think nothing else can possibly fit on your to-do list, the holiday season comes along and bursts its seams. With parties, shopping, house guests, and family get-togethers, the demands of the holidays turn some people into outright grinches."
They suggest that pacing yourself, not overcommitting, and getting plenty of sleep are ways to make it through unscathed. You can do all three surrounded by luxurious resort suites, decadent dining, a spa, and so much more at Little Creek. Whether you escape for the afternoon or weekend, it'll recharge body, mind, and soul for the festive winter season.
Follow Little Creek Casino Resort on Facebook and Twitter for discounts, activities, promos, and updates. Call 800-667-7711 with questions or to book hotel stays, dinner reservations, spa treatments, and tee-times.
Sponsored