Disclaimer: This article is intended for readers age 21 and older.
It is that time of year again, when retailers large and small put out their best deals. At the same time, consumers search far and wide, making their plans for Black Friday. You may be familiar with many of the sales happening at the major nationwide retail stores, but don't forget the small local shops, which have unique and creative promotions that you won't see anywhere else. On November 23, while everyone else is lined up for Black Friday, Gypsy Greens Olympia will be hosting their third annual, Green is the New Black sales event.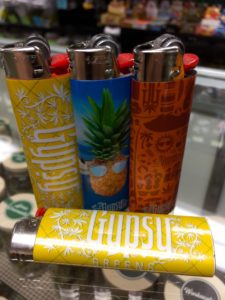 "Get there early," says Jenna Rodriguez, co-owner of Gypsy Greens, "because there is sure to be a line." The store will open one hour earlier than usual, at 8:00 a.m., so set your alarm, and join many other customers who are excited to get in on the best deals of the year.
Customers will find great deals on some of their favorite brands and varieties with savings that will fill them with holiday cheer. Gypsy Greens will have low prices on many customer favorites, and with deals this great, you might want to try something new.
"Byrne & Byrne Solutions will be on hand in the parking lot from opening to noon hosting giveaways with fun goodies and prizes that will make great stocking stuffers," says Jenna. There will be lots of fun surprises like freebie cards for an appetizer at Tipsy Piano Bar in downtown Olympia.
But customers won't be the only ones to benefit during the Green is the New Black sales event. Gypsy Greens hopes their customers will join them in spreading some holiday cheer to those in need this season. On Green Friday, customers are encouraged to bring along a non-perishable food donation to add to the donation bin for the Thurston County Food Bank. Every year, the Thurston County Food Bank serves the most vulnerable in our community, like children and the elderly. Through generous donations and volunteer hours, members of the community care for others through the Thurston County Food Bank during the holiday and throughout year. They help to fulfil the mission that everyone has enough to eat. Customers don't have to wait until green Friday to donate to the food bank. Gypsy Greens currently has the donation box out now, and has already received donations of non-perishable food items from customers looking to give back to the community.
Gypsy Greens is also excited to announce the opening of their very own glass shop. Gypsy Glass will open right next door to Gypsy Greens in Chehalis. The official opening date has yet to be finalized, but Jenna says the shop will be open by Green Friday. Customers will be able to find Gypsy Greens branded merchandise like t-shirts, lanyards and other gear. Cannabis accessories like papers, pipes, bongs, and lighters will also be available at the shop. The unique merchandise at Gypsy Glass shop will make great gifts and stocking stuffers for friends and family on your holiday list, or you can purchase some great gear for yourself.
Jenna would like to encourage customers to check them out on social media, where they will be announcing more info about upcoming sales. Follow the Gypsy Greens Facebook page to keep tabs on all the specials. You can find them on weedmaps too.
So pack up your leftovers, set your alarm, and get to sleep early Thanksgiving night, so you can head out to Gypsy Green's Green is the New Black Friday event. Green is the New Black begins at 8:00 a.m. and runs until 9:00 p.m. at both the Gypsy Greens Olympia and Gypsy Greens Chehalis stores. Gypsy Glass shop will be located next door to Gypsy Greens Chehalis in suite 102 at 1570 N National Ave in Chehalis.
Gypsy Greens Olympia
234 Division St NW Olympia
360-943-9338
Warning: Cannabis has intoxicating effects and may be habit forming. Cannabis can impair concentration, coordination, and judgment. Persons who are pregnant or breastfeeding should not use cannabis. Do not operate a vehicle or machinery under the influence of this drug. There may be health risks associated with consumption of this product. For use only by adults 21 and older. Keep out of the reach of children.
Sponsored