With so many festive activities in the winter, it is hard to know where to start. The creative agents at Virgil Adams Real Estate have some great ideas for wintertime fun near and far. From Christmas light displays across the region to holiday favorite events and activities, and excursions that will have you appreciating the area's natural beauty, you are sure to find something on this list that you and your family will enjoy. Check out these ideas below:
Holiday Light Displays
Popular Light Displays around Thurston County.  One of Tammy Adams's favorite winter activities is driving around to the light displays that people put up around their neighborhoods throughout Thurston County. Popular areas include the Capitol District downtown, Nut Tree, Burnaby Park, Ward Lake area, Raintree and Ken Lake.
Lighted Ships Parade. "Another local highlight is the lighted boat parade put on by Olympia Yacht Club," says Courtney Drennon. "I love to make reservations at Anthony's Homeport or Anthony's Hearthfire and enjoy watching the boats pull out of the port and return. The kids love picking their favorite boat." The Lighted Ship Parade will begin at 6:00 p.m. on Saturday December 1.
Maytown Christmas Island at Maytown Assembly of God. "We also enjoy seeing the stunning display of angels and the manger in Maytown," Courtney says. "It's a visual delight for all just 20 minutes from Olympia." This year the light display begins November 24.
Enchant Christmas.  If you are ready for a drive, Safeco Field in Seattle has plans for a dramatic indoor light display. "You won't want to miss the world's largest Christmas light maze," says Courtney. Enchant Christmas takes place from November 23 to December 30.
Traditional Winter Memories
Downtown for the Holidays.  Tammy looks forward to Olympia's Downtown for the Holidays every year. "There are all sorts of holiday festivities: from Santa, to shopping and the lighting of the tree in Sylvester Park," she says.
Christmas Forest at Hotel RL. Tammy also recommends this fundraising event, which benefits the Providence St. Peter Foundation. It begins with a gala dinner and auction on November 30. Public viewing is on Saturday, December 1 and Sunday, December 2.
Oly on Ice.  New for 2018, Oly on Ice is a seasonal ice-skating rink located in downtown Olympia from November 16 to January 26.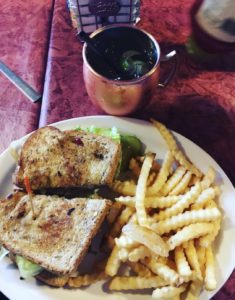 Rusty Tractor Restaurant /Hedlund Christmas Trees "We take an annual trip out to Hedlund's tree farm, says Courtney.  "If you are someone who must have the perfect tree, this is your spot and well worth the drive."  Meet Santa, enjoy hot cocoa and learn some presidential history while you are there. Some of the trees from this farm have been at the White House.  Afterward, Courtney and her family like to stop by the Rusty Tractor in Elma, for delicious home style meals! Courtney recommends the classic patty melt with their seasonal apple cider Moscow mule.
Great Wolf Lodge. "I have two little boys and we love going to Great Wolf Lodge in the winter," says Maggie Merritt. With visits from Santa, indoor snow showers, and twinkling lights and holiday decorations, this is a great place for holiday memories. Not too mention being able to eat a meal inside a giant Gingerbread house!
Polar Express Train Ride with the Mt Rainier Railroad is another of Maggie's recommendations "The kids absolutely loved last year," she says.
"Leavenworth during Christmas time is a must," says Maggie.  "Walking through all the little shops downtown is magical this time of year. The kids can go sledding, there is amazing food and drinks and all of the beautiful lights just kick off the holiday season. Oh, and the snow! Our whole family goes every year."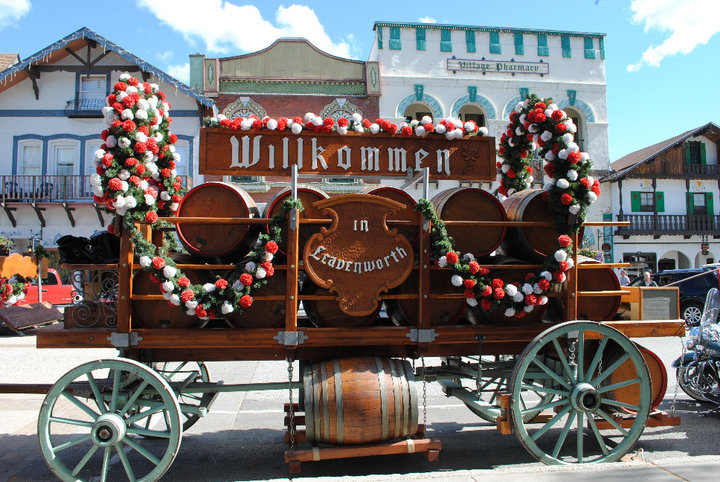 Natural Beauty
Watershed Park. "Taking a walk in Watershed Park in the fall and winter is gorgeous," says Karen Thurston. "We are fortunate to have such a beautiful place to live where we can walk among towering trees and feel like we are on an adventure in the wilderness, but in reality, we are in town." She loves the peacefulness and the beauty.  "It's easy to unwind on a walk and just be," she adds.
Mt. Ellinor Trail, located near Lake Cushman, is one of Karen's and her husband's favorite hikes.  "We hiked Elinor on Valentine's Day a few years ago, and it's a different hike that time of year compared to the summer months," Karen says. "Seeing the snowcapped mountains in the distance is amazing." Karen's husband is Patrick Their, a fellow Virgil Adams agent. "My wife and I have a tradition of snowshoeing deep into the mountains on Christmas Eve. We pack a lunch and a bottle of Washington wine, find a clearing with a view, and sit in the snow and enjoy," says Patrick. "Once we saw a moose cow and calf on this excursion."
Hunting is a great family activity in the winter says Patrick. "Within a two-hour drive, my son and I have hunted deer, elk, bear, cougar, ducks, and geese," he says. "It's an awesome family bonding experience and it's a way to harvest natural, organic food."
Suncadia. "If you have time for a weekend getaway and are willing to drive a few hours, I highly recommend a visit to Suncadia," says Courtney.  "You can rent condos or homes from owners or stay at the lodge." With lots of family fun during there are visits from the North Pole, tons of kid friendly crafts and ice skating she says.
Snoqualmie Pass/Crystal Mountain/White Pass "We love to go snowboarding at Snoqualmie and Crystal Mountain," says Maggie.  With Snoqualmie Pass, Crystal Mountain, and White Pass all within a short drive, skiing and snowboarding are a popular sport for many in this region.
"I wish more people would take the time to get away from the hustle and bustle of life's demands and just enjoy the natural beauty that surrounds us," says Karen. "We are so very fortunate to live in the Northwest."
Virgil Adams Real Estate
806 State Ave NE in Olympia
360-352-3756
Sponsored