Talk of winning a state high school football championship is hardly new in Tumwater. That topic has been going on for decades.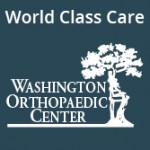 However, what is different about the chatter this year is it doesn't just center on the Tumwater Thunderbirds. The Black Hills Wolves are now very much part of the conversation.
Sophomore quarterback Jaden Cote tossed four touchdown passes, including two to senior Ethan Loveless. Senior running backs Taylor Simmons and Preston Lee both rushed for more than 100 yards and undefeated Black Hills improved to 10-0 for the first time in program history with a convincing, 45-6, triumph over visiting Columbia River in a Class 2A district playoff game on November 3 at Tumwater District Stadium.
With this victory, the Wolves wrap up their four consecutive state playoff berth, but unlike previous years Black Hills will take an undefeated record into the state tournament along with plenty of confidence.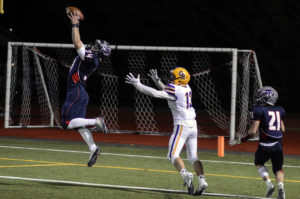 "It's just increased every week," said Simmons, who surpassed the 1,000-yard rushing mark on the season and added his team-leading 20th rushing touchdown during Black Hills' victory over Columbia River. "The whole team bought in from the start. We spent the entire summer in the weight room, and now all the hard work is paying off."
The Wolves were rewarded for their work by receiving the No. 2 seed into the Class 2A state tournament by the WIAA Football Seeding Committee.
Defending champion Hockinson, which joins Black Hills and Lynden as the classification's only remaining undefeated teams, was named the tournament's top seed.
Black Hills will open the state playoffs at Tumwater District Stadium on Friday, November 9, when they host No. 15 Burlington-Edison. The Tigers (4-5) punched their ticket to state with a 29-12 victory over Lakewood in the district playoffs.
The winner will face the winner of the first round matchup between 2A South Puget Sound League champion Fife (9-1) and 2A Olympic League runner-up North Kitsap, which improved its seasonal record to 8-1 after besting River Ridge (33-22) in the district playoffs.
Should the Wolves successfully navigate through the first two rounds, they could potentially face crosstown rival Tumwater, the tournament's sixth seed, in the state semifinals.
The Thunderbirds play No. 11 Prosser in the first round with No. 3 Lynden and No. 14 Eatonville squaring off on the opposite side of their quarter bracket.
But before Black Hills starts thinking too far ahead the team will be fully focused on notching the program's first state playoff victory.
"We've been focused on going 1-0 every week this year," Simmons said. "The coaching staff has done a great job keeping us in the moment. All we do is work on what we need to work on and get ready for the next opponent."
The Wolves enter the field of 16 with a 0-8 all-time record in state playoff games, including last year's 35-0 loss to Selah in the opening round.
This year marks the fourth consecutive state playoff appearance for Black Hills. In addition to losing to Selah last year, the Wolves lost in the first round to Lynden (31-21) in 2017 and to Archbishop Murphy (56-21) in 2016.
"I am so proud of everything this team and this coaching staff have done this season," Black Hills coach Kirk Stevens said. "We knew coming into this year we could play with anyone. We've had that mentality all season long. The only times we've struggled is when we've shot ourselves in the foot. When we've taken care of business and we've played our style of football we've done really well."
The Wolves had little miscues against the visiting Chieftains as they raced out to a commanding 38-0 third quarter lead.
Cote threw his first TD pass on Black Hills' first possession, hitting Loveless on a 42-yard scoring strike. Loveless added his second touchdown reception early in the third quarter, hauling in a 66-yard TD passes from Cote. The senior later added an interception on defense – one of four picks Wolves had in the game.
Loveless has evolved into the team's top receiving threat after starting at quarterback the previous two seasons. An injured right elbow, which will require surgery once the season is over, prevented Loveless from closing out his high school football career under center.
He has seamlessly made the shift from quarterback to receiver, a move that has also increased his snap count on defense as the team's starting safety.
"Ethan first hurt his elbow last spring. So that really gave us the time we needed to get Jaden ready (to start at quarterback)," Stevens said. "He's been ready since the start of the season, and there hasn't been a moment that's been too big for him."
The same can be said for every member of the Wolves' team as they cruised to the program's first 2A Evergreen Conference championship this season, highlighted by a 22-17 win over rival Tumwater in a game that snapped the T-Birds' eight-year conference winning streak.
"That win really boosted our confidence," said Simmons, who scored on runs of 1 and 69 yards against Columbia River. "We've had great leadership and great commitment from everyone all season long."