A symphony orchestra is about sound. The way each musician plays their instrument in harmony with the musicians around them creates melody pleasing to the ear. But a symphony orchestra is also about vision. No, I'm not talking about setup of the stage, the snazzy attire of the musicians, or even the captivating way they all move in concert when playing their instruments. I am talking about a vision that extends beyond every concert, and beyond every season, a vision that promotes the musical arts within the community. The Olympia Symphony Orchestra (OSO) board of directors has that vision.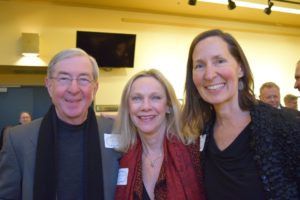 Mary Elizabeth Karpel, immediate past president of the OSO board, has served as a board member on and off since 2003. Continuing the artistic tradition of the symphony means a lot to her. "Music as an art form is very important to any community, and the arts in general are the result of an advanced society," she says. "To have the time to create art, to be still, and ponder beauty and harmony, means you have evolved to a society that cares about people and relationships." Music is important to her because it transports her to another place or time. It can change her mood or attitude, and inspires her, filling her with a sense of wonder and awe. "Music really is quite magical!" she adds.
Lena Mendiola, another OSO board member agrees, explaining that music has a way of speaking to the soul. "I love that any emotion you feel, at any given moment, has a song, lyric, movement, aria, or beat that corresponds to your feelings," says Lena, "Music is diverse and worldly—just as a book can take you to different lands, eras, and adventures, so can music."
Music and its place in the community is something many on the board agree with heartily. The board also wishes to express how blessed our community is to have such a phenomenal orchestra available to it. "For a small town like Olympia, we are so very lucky to have such talented musicians," says Craig Stephens, board treasurer. "We are also so fortunate to have such a world class conductor. Huw Edwards is amazing," he adds.
Nicole Vukonich, the OSO board secretary, echoes similar sentiments. "I am still in awe of the quality and talent of our musicians, our musical director, and the OSO staff," she says.
"I was impressed with the quality of the musicianship, especially for a small city orchestra," says Meg Weiss, a new addition to the OSO board in 2018. In Oregon, Meg worked on the Salem board of the Oregon Symphony, the major urban orchestra housed in Portland, for many years "My standards were high," she says. "People should know how good the Olympia Symphony Orchestra is, it's a musical gem in the middle of Olympia, very high quality. I look forward to enjoying a great year of music."
The board members each have different thoughts that they would like to express to their community. Mary Elizabeth hopes to share the beautiful music performed by the OSO to all areas of Thurston County and beyond. Meg would like others to join her in appreciating the great gift that this music is to the community. Craig would like others to realize that the music the OSO plays influences and is incorporated in the music they already listen to every day. Nicole reminds residents that they don't have to fight the traffic all the way to Seattle to hear a world class symphony perform. And Lena wants more members of the community to remember the OSO so that they might enjoy some of the beautiful music this season.
Providing insight and oversight to the Olympia Symphony Orchestra, the board of directors supplies a vision that ensures that this world class orchestra, which has captivated and inspired audiences for 66 years, will continue to captivate and inspire for 66 more.
The Olympia Symphony Orchestra hosts their next concert, We Shall Never Forget, on November 18 at the Washington Center for the Performing Arts Main Stage, at 3:00 p.m. This matinee concert is a part of Season 66: Highways and Byways. Of this special concert, Maestro Huw Edwards writes, "World War I concluded 100 years ago this year, so this concert commemorates that global landmark. English composer Frank Bridge dedicated his Lament for Strings "For Catherine, aged 9, Lusitania 1915." George Butterworth died at The Somme in 1916 and his poetic The Banks of Green Willow is one of a tiny fleet of orchestral works he penned. Marice Ravel's Le Tombeau de Couperin looks back to a less-troubled age but each of the five movements is dedicated to a friend who was killed in the Great War. Barber's intense and lachrymal Adagio for Strings is now synonymous with memorials and war through vivid film soundtracks, including Platoon. Beethoven worked amid wars in Vienna – the amazing Lauren Yoon from Portland will join us for his youthful Piano Concerto No. 2."
Tickets start at just $10. Active and former members of the military can enjoy half-price tickets (with the purchase of two), as an expression of the Olympia Symphony's gratitude for their service. Free tickets are available for households eligible for the USDA School Meals Program, and discounted tickets are available for piano students. Contact the Olympia Symphony office at 360-753-0074 or oso@olympiasymphony.com for details. Tickets may be purchased online at the Washington Center website or at the box office.
This concert is graciously funded by Olympia Federal Savings, Mills & Mills Funeral Home, Columbia Bank, the Washington State Arts Commission, and the National Endowment for the Arts.
Sponsored