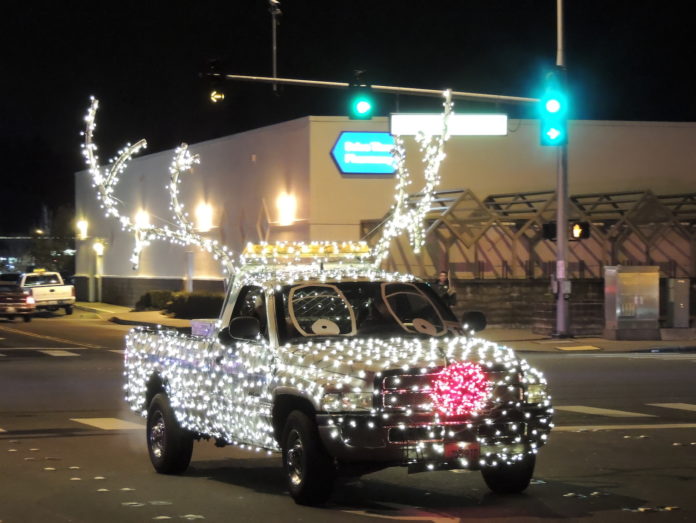 It is no secret that winter is upon us. With it, comes a season filled with sweater weather, an endless supply of cookies, continuous hot beverages, family gatherings, and the start of the holidays. Jordy Beasley, Lacey Parks and Recreation coordinator, shares that the City of Lacey has the perfect event to welcome in this festive time of year. For the third year in a row, they will be putting on the Lacey Parade of Lights on Monday December 3 at 6:30 p.m. with a tree lighting to follow.
Inspired by the Centralia Lighted Tractor Parade, the Lacey Parade of Lights invites clubs, organizations, businesses, and community members  to decorate their vehicles with Christmas lights and take part in a driving parade that brightens the streets of Lacey. The parade happens on the same night as the annual tree lighting at Huntamer Park. The community can watch or participate in either event, free!. If you would like to take part in the parade, visit the City of Lacey website and fill out an application and submit it by 5:00 p.m., Friday, November 16. In the past they have had between 30 and 50 vehicles. This year they hope to have at least 50!.
The Lacey Parade of Lights starts on Lacey Boulevard by the roundabout to Sleater-Kinney Road, then continues down 7th Avenue and ends at Huntamer Park. As you enter into the park an emcee announces your arrival, naming the business or group for the crowd to hear. "The finale vehicle that passes down Huntamer is Lacey Fire District 3's Santa Mobile with Santa on it," Jordy explains. "As soon as he pulls into the park we get the tree lighting started. There is usually some caroling and free hot chocolate provide by Sunbreak Baptist Church. After a brief ceremony, we switch on all the lights to light up the park, then Santa is there for people to visit with."
Jordy adds that in the past they have had activities and movies included in the celebration. "It is a fun time to spend with your family, surrounded by community, and get tell to Santa what you want before Christmas rolls around," she shares.
If your creative juices aren't already flowing with design ideas for your vehicle just yet, the internet and past participants can help. "Last year we decorated one of our public works trucks as Rudolph by attaching giant antlers," Jordy shares. "We also had the North Thurston school bus change  to the 'North Pole' School bus. It is fun to see peoples' creative sides come out." You can make your design very elaborate or keep it simple, as long as you include lights –  pretty much anything goes, except for the 'Santa Clause', as in – no other Santas allowed in the parade except the 'real' one on the Santa Mobile!"
"It actually doesn't take that long to decorate a vehicle if you're smart about it," past participant Holly Paxson from the Lacey Timberland Library explains. "And by smart, I mean purchasing net lights like you put over bushes. So that way you have a bunch of lights with minimal fastening." She shares some of her other hacks like purchasing an inverter for the cigarette lighter in your car in order to plug Christmas lights in. The Lacey Timberland Library chooses to go with an elegant and simple design that shows off the library's branded van. "All of our staff are really busy helping our patrons, so we want to be able to participate in a way that we can do quickly and that still looks good," Holly explains.
"The organizers of the event make it really fun and easy to participate in," shares past participant Christine Hoffmann from Puget Sound Energy. "It is a great way to spread the word about your business because it is an event attended by so many Lacey residents. We were honestly blown away by how big the crowd has been."
Both Holly and Christine estimate that it takes roughly two hours with two sets of hands to decorate your vehicle. They also advise washing your car before decorating. "But just remember," Christine shares, "if you wash your car right before you apply the lights in December, it may take a long time to dry. Just a tip from experience!" She laughs. Holly and Christine recommend using a light adhesive tape to connect lights to your vehicle. They also both attest to the vast amount of resources you can find on the internet to assist in your design.
Whether you are looking for something fun to do around the holidays, or a creative, community-oriented way to spread the word about your business, the Lacey Parade of Lights is worth checking out.
To find out more information and learn about how you can participate visit the Lacey Parade of Lights or contact Lacey Parks and Recreation at 360-491-0857.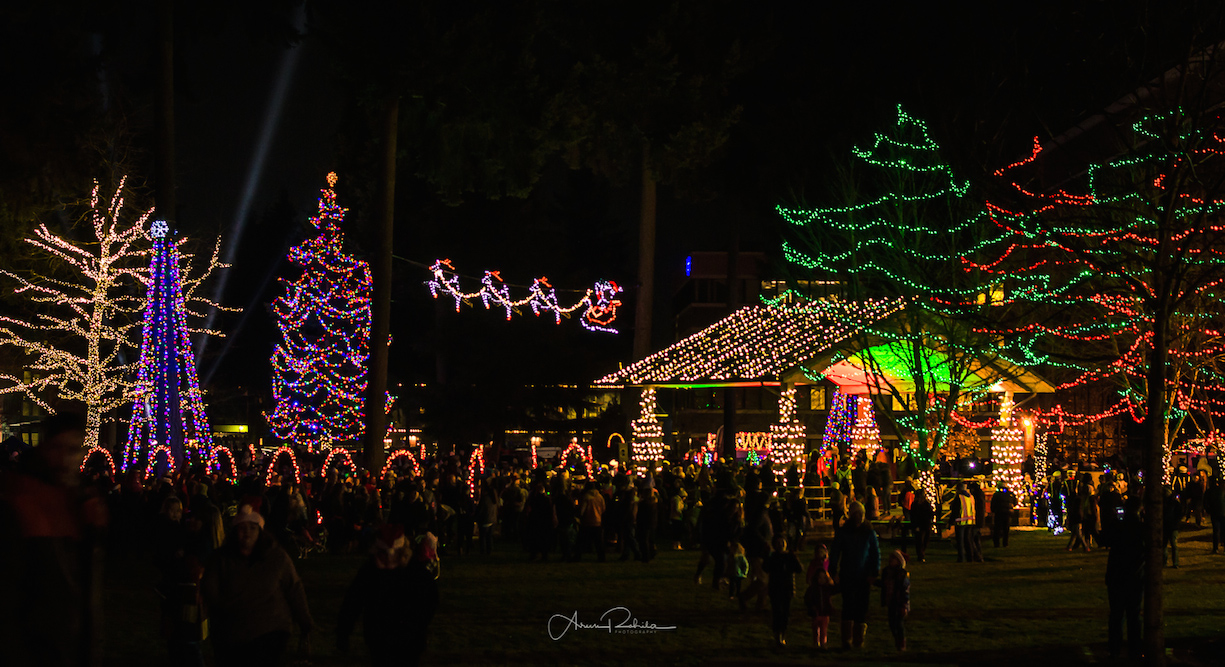 Sponsored