Since opening in 2012, Spud's Produce Market has thrived. They have become a go to spot for all your grocery needs, now selling frozen foods, sauces, spreads, baked goods, stellar produce and a wide selection of craft beers and wines. Owners, Dave and Karissa Jekel, opened the market from a desire to have something of their own that would provide them with the freedom to work with people and products they value.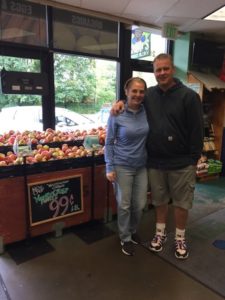 Prior to the market the couple was running a larger grocery store in Tenino that Dave's parents built. It was here the couple first met when Karissa was hired as a cashier in high school and the vision for Spud's Produce Market began to form. "We wanted to do something that had a smaller footprint and would be easier to maintain," the couple shares. "We like dealing with fresh food, what's in season, working with small farms and getting to know our suppliers."
The couple's business philosophy has a strong emphasis on listening to, connecting with and serving their customers. This is one of the contributing factors to the market's success. Dave and Karissa estimate that 70 percent of what they currently carry started as requests by their customers. They jokingly call Spud's Produce Market the neighborhood pantry.
The positive experience the couple has had with Spud's Produce Market has led them to take an exciting step. They will soon be opening a second location on the corner of old Highway 99 and 79 street in Southeast Tumwater. "We had been looking for another location for a while now," Dave shares. "We finally found one that we really liked but we wouldn't have done it if we didn't have the guys in place that we felt we could expand out with." The guys Dave is referring to are Nate and Grant. Dave hired them both fresh out of high school when he was running the larger grocery store in Tenino. With a few breaks in between, Nate has worked with Dave for 20 years while Grant has worked with him for 14 years. With a total of 34 years combined, they have become Dave's longest-term employees and a part of his family. They have been a part of weddings, holidays, the birth of Dave and Karissa's three daughters, and the opening of Spud's Produce Market.
When asked, both Nate and Grant have nothing but positive things to say about their experiences working for the company.  "Working here is awesome!" Grant shares. "It is like working with old time friends and just overall good people." After working in the corporate world, Grant saw coming to work at Spud's Produce Market as an opportunity to help grow a small business. He describes the market as having an old-timey corner store feel without the old-timey corner store products. "It is a store that has really grown into itself by learning who the clientele is," he explains.
Nate admits that he was bummed about leaving Tenino because he didn't think the community aspect would be as strong in Olympia. But the opposite has been true. "On any given day I recognize 95 percent of everyone that comes in here," Nate shares. He secretly calls some of these regulars his "cust-a-friends." Nate describes working for Dave and Karissa as great. "They make a big deal about caring for their employees," he adds. "They are family as much as anything."
Both Grant and Nate have helped to relieve Dave and Karissa of the pressure that can come with running a store. Their support has made opening up a second location possible. Currently Nate and Grant have taken on the hiring for both stores. Behind the scenes, Grant is the beer and wine master and takes care of keeping it stocked and ordered. Upon the grand opening, Grant will be leaving the Wildwood store to run the new location. Caring, organizing and stocking the produce is Nate's forte. He will be staying at the Wildwood location, ensuring things continue to go smoothly.
From the very beginning, it was Dave and Karissa's goal to create a community oriented market that made eating fresh, locally sourced produce affordable and convenient. Although Spud's Produce Market is growing in size, you can expect to see the same emphasis on community, quality products, affordable prices and a tight knit group of employees that sets them apart from their big box competitors.
To stay updated with all things happening at Spud's Produce Market follow them on Facebook or come check out their Wildwood location.
Spud's Produce Market
828 Capitol Blvd SE, Olympia
360-915-9763
Monday-Sunday: 9:00 a.m. – 7:00 p.m.
Sponsored