Science is all around us. Teaching about the amazing natural world we live in, the wonders of technology, and how everyday things move, work, and operate is crucial. On Tuesday, October 9, teachers, legislators, and education administrators came together to celebrate at the All Kids Can Learn Science celebration of the Washington State Science Learning Standards (WSSLS).

Held at Olympia's Hands on Children's Museum, the afternoon was sponsored by the Washington State Board of Education, Ready Washington, Washington STEM, and the Office of Superintendent of Public Instruction. This is the fifth anniversary of the adoption of WSSLS standards, and speakers addressed the program's success before guests could mingle amongst student science projects displayed at the Museum.
According to Ready Washington, the WSSLS has "three distinct dimensions: science and engineering practices, disciplinary core ideas, and crosscutting concepts, all of which help students see science as an interrelated world of inquiry and phenomena. The standards build from year to year, creating a coherent progression of science education."
Speaking to the program's success were Jeff Estes from the Board of Education, Dennis Schatz of the National Science Teachers Association, Senator Lisa Wellman, Tacoma science teacher Josh Simondet, and STEM advocate Gaby Tosado.
"Science standards provide a really tangible way," said Jeff Estes, to provide "hands-on, minds-on" learning. He was proud that so many came to showcase science education. "These students and their peers across the state are really why we are here today."
Dennis Schatz agreed. By making science "personal and culturally relevant," it helps give students more control over their learning and create something more than the oft-cited life-long learning. Through such education, students not only become "life-long but life-wide and life-deep learners of science."
We spend 30 percent of our total lifespan in some form of K-12 classroom, Schatz reports, so we should encourage students to "think how they'll study science throughout their entire life" by encouraging "expanded-learning opportunities, mentoring, and citizen scientists."
Senator Lisa Wellman reminded attendees that "labels on people can be discouraging but science is a way of thinking. Kids need to think what if, why not, what could be?"
Teacher Josh Simondet and PhD student Gaby Tosado know the classroom inside and out. Keeping classes fresh and relevant means studying global warming—a real issue in Tosado's native Miami—and using real-time examples from the world around us. "You never run out of science," says Simondet, "you just run out of time."
Ready Washington, one of the primary facilitators of the event, believes that "Students have big dreams, and our goal is to provide tools and information to help those dreams come true. We want every student in Washington to graduate from high school positioned for success, with the necessary skills and experiences to complete the right education and training on the career pathway of their choice."
Some of these tools include videos showcasing examples of hands-on, minds-on science as well as an active social media campaign (#WAScience4All), a FAQ sheet for school administrators, engaging commentary in the Everett Herald about STEM education, and upcoming FAQ sheets and materials offered in English and Spanish.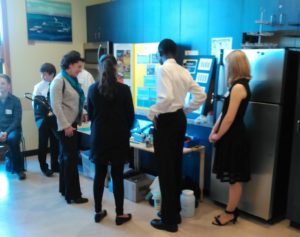 Also on hand were students of all ages from districts across the region. They showed off projects, answered questions, and demonstrated their prowess to the packed house.
Carl Sagan once said that "Science is a way of thinking much more than it is a body of knowledge." Thanks to dedicated educators participating in the WSSLS, future generations can develop their STEM-fueled curiosity early to create a stronger, healthier future for us all.