A new kind of composition is in the works for South Puget Sound Community College's (SPSCC) music department. John Guarente and Cameron May recently joined the SPSCC faculty as music professors. They are excited to bring new plans to the college's music department and promote music education among SPSCC students as well as the greater Thurston County community.
The Dean of Humanities and Communication, Melissa Meade, can't wait to see what developments are now in store for the college's music department. "Cameron and John are tremendously talented and brimming with ideas for the program," Meade says. "They each have robust experience with ensembles, colleges, and universities across the country. They are eager to connect SPSCC with the Olympia community in all kinds of ways."
John Guarente: Professor of Choral Ensembles and Music Theory
Music professor and choir director, John Guarente, has an extensive musical background. He started by composing his own songs and playing in a rock band, but the experience of conducting an acapella group in college stayed with Guarente as he continued his education. "I always sort of had it in the back of my mind that I wanted to be a choir director," Guarente shares, "because I had such a great choral experience as an undergrad."
Guarente arrives at SPSCC from Wisconsin, where he taught at a small liberal arts college. He has family living in the Pacific Northwest, and Guarente reports that it was the beautiful campus and friendly atmosphere that convinced him to teach at SPSCC. "When I visited the school, I thought, 'my goodness, it's gorgeous,'" Guarente says. "The faculty seemed really welcoming and the overall setting of the music department seemed like the pieces of a successful music department were already in place. It seems like everything here is really set up for success."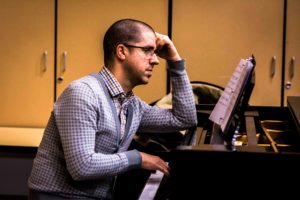 Guarente has now been with the college for three weeks and already appreciates his students and the diverse campus. "I am really enjoying the students so far," says Guarente. "They all seem really self-motivated and positive. It's nice to be in a community that values diversity and individuality."
As a music professor, Guarente is an advocate for students exploring music academia, even if they have no prior music experience. "Music has been a part of world culture for thousands of years," says Guarente. "I also feel that community college students sometimes don't have the same sense of community, ironically, as traditional four-year undergrads do. Music might bring people together in that way, so they can feel that close-knit comradery."
Guarente has plans for the music department, to grow on its already firm foundation. "We want to be more visible on campus," he shares, "getting out and doing more things than just our concert at the end of the quarter and getting the word out that we have choir here on campus. People who want to sing can come sing with us. Another goal is to set up a pre-bachelor's music program."
Along with the daytime student choir, Guarente conducts and encourages interested members of the general community to join the adult community choir, which meets Wednesday evenings.
Cameron May: Professor of Instrumental Ensemble and Music Theory
Cameron May has been at SPSCC for just shy of a month, but he is already finding great company in the school's music department. He is enjoying the culture of musicians in the orchestra he conducts. "The school is successful in really building a community within the orchestra," May shares, "of people who love each other, love coming every week and playing together and making music. They are lifelong music enthusiasts."
May comes to SPSCC from the University of Illinois, where he received a master's degree in orchestral conducting. What originally brought May to the Olympia area was a conductor position with the Student Orchestras of Greater Olympia, the town's orchestral youth ensemble. Eventually, May was hired to also join the faculty at SPSCC. "It's a very natural kind of organic combination," May says. "I knew I was coming here to Olympia and so I looked for other ways to be a part of the community."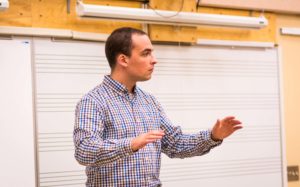 Although conducting orchestra is a significant part of May's role as a professor, he also loves teaching students at all levels in his music theory classes. "I have such a variety of students," May says. "They have such different backgrounds and such previous levels of experience with music and such different interests in why they want to learn more about it."
May also has plans for the music department. "We are trying to work towards getting direct transfer in place with the state schools, so we have the full two years of music-major curriculum," says May. "There's also the culture of having people come here to study music. With the orchestra, what I am trying to do is give them the experience of playing music that they haven't played before or get them to think about the music differently."
May encourages anyone considering studying music to give it a try. "I think it's interesting and important for everyone to have a basic understanding of how music works," he shares. "Music is everywhere and is a part of every aspect of culture. Religions, TV commercials, sporting events, there's always music involved. Having at least a basic understanding of how that works, to me, is more interesting than hearing this noise and not knowing anything about why it is the way it is."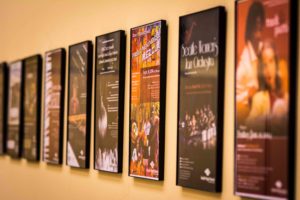 To showcase the dedication and craft of the musicians, there will be both an orchestra and choir concert at the end of fall quarter. The fall quarter choir concert titled Winter Roses, will be on November 30. The orchestra concert will be held on December 1. Both concerts will be at 7:30 p.m. and will take place at SPSCC, in the Kenneth J. Minnaert Center for the Arts Main Stage.
The orchestra and choir performances are not the only performing arts events on the SPSCC entertainment calendar. Look out for the jazz band concert on December 7 at 7:00 p.m. at the Kenneth J. Minnaert Center for the Arts and the Student Film Showcase in the spring of 2019.
The theater department will be hosting its own performance of Angels in America, a play by Tony Kushner that explores the AIDS epidemic and homosexuality in the United States during the 1980s. The play will run from November 8-18 in the Kenneth J. Minnaert Center for the Arts Main Stage. You can learn more about all South Puget Sound Community College performing art events and find ticket information on their website.
Sponsored