It's amazing how powerful a simple conversation can be. Open discussion is a great way to share, comfort, care, and support. Come discuss the emotional and behavioral health of our students at the second Community Conversation hosted by North Thurston Public Schools.
This conversation takes place at the District Office, 305 College St. NE on Tuesday, October 23. The event runs from 5:30 p.m. to 7:00 p.m. and is open to everyone, though RSVP'ing in advance is appreciated. School Board members will be on hand as well as regional and local experts on behavioral health.
"During the Community Conversation, we will hear from several representatives from local organizations including Community Youth Services, Olympic Health and Recovery Services, North Thurston Public Schools, and Sea Mar Behavioral Health on how they support the emotional and behavioral health of our youth," says NTPS executive director of student support Karen Remy-Anderson. "Attendees will have an opportunity to ask questions of the panel and share their thoughts on this topic. This work is directly related to Goal 2 of our district strategic plan:  Responsible, Resilient, Empowered Learners. As a result of the Community Conversation, the NTPS School Board will make determinations about the future direction of the district related to this goal area."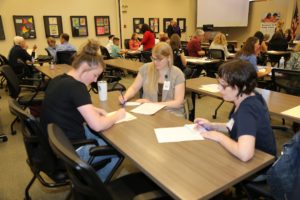 One of the primary topics will be teen suicide. The American Foundation for Suicide Prevention reports that in Washington State, it's the second leading cause of death for people between the ages of 15- and 34-years-old, and eighth leading cause of death state-wide.
"The Community Conversation on emotional and behavioral health slated for October 23 will help the community be better informed about the needs in our community for more emotional and behavioral health," says Leslie VanLeishout, NTPS director of student support, "ways that they can help to strengthen support in our community for these efforts, and improved understanding of the need for emotional support for all young people."
Doors open at 5:15 p.m. and the panel discussion will start at approximately 5:40 p.m. The night's moderator will be Mel Hartley, is an NTPS board director. "We as a Board are committed to recognizing and removing barriers in education, so every child can be successful," she says. "These crucial conversations are a way that we as a Board can explore the issues important to families and partner with community resources to provide information. Our first conversation was involving early learning to support success in kindergarten through third grade. This conversation on mental health will discuss issues facing older children and explore resources available to assist students and families with social-emotional well-being."
On the panel will be Alicia Ferris, chief clinical officer for Community Youth Services, Eliza Smith, supervisor for Crisis Services, and Jessica Shook, clinical manager for Olympic Health and Recovery Services. They'll be joined by Gilberto Maldonado, program manager for SeaMar, Shelly Willis, executive director for Family Education and Support Services, and Leslie VanLeishout of NTPS. There will then be community questions before the event wraps up.
Invite friends and share details on the evening's discussion via their Facebook event posting.  The link also includes a map to the district office as well as contact information for event organizers.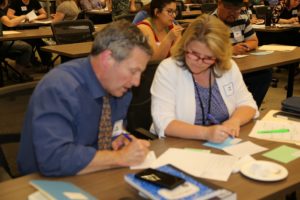 Mental illness and mental health issues can feel overwhelming to children. The Washington State Department of Social and Health Services (DSHS) explains that "Mental illness is common and can happen to anyone. One in four adults, and one in 10 children, experiences a mental health condition each year [and] Five to nine percent of children experience serious emotional disorders. These are clinically diagnosable health conditions resulting from biological, psychological, and social factors."
But they make a simple suggestion. "Understanding and support are powerful, and they can make a real difference in the life of a person who needs them."
Come join educators, caregivers, community members, parents, and families at an evening dedicated to our children's lifelong well-being. This is one community conversation that could truly change lives.
Sponsored