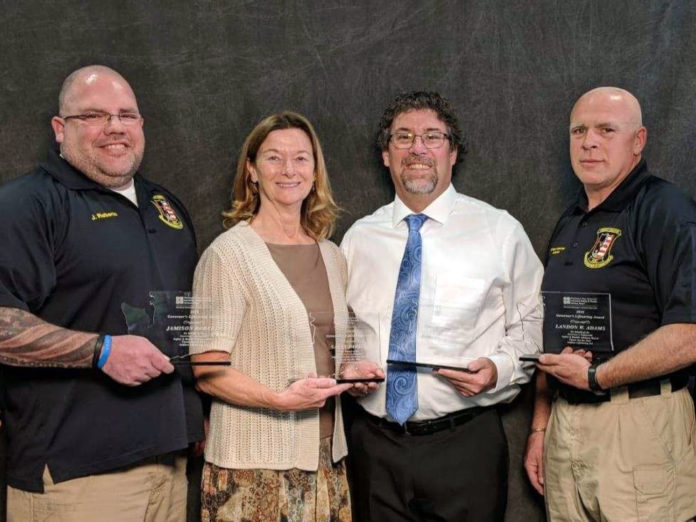 Submitted by Department of Corrections Washington State
Two state corrections employees working in Thurston County have received Governor's Lifesaving Awards. The Governor's Industrial Safety and Health Board gives out the awards, which recognize people who have saved someone's life while on the job.
Information Technology Specialist Sally Parker and Emergency Management Program Specialist Jamison Roberts received their awards Sept. 26 during a ceremony at the Governor's Industrial Safety Health Conference at the Spokane Convention Center. Parker and Roberts work at the Department of Corrections (DOC) headquarters building in Tumwater. Parker and Roberts received their awards for providing assistance to a coworker who had a heart attack in December of 2017.
Parker was working at her cubicle when she heard some commotion and a voice ask if anyone had called 9-1-1. Without hesitation, she ran over to where the noise was coming from and instructed her coworkers to make the emergency call. She then informed security that an ambulance was on its way so they could guide the medics when they arrived. Parker then called the building's emergency line.
By then, the coworker having a heart attack lay unconscious on the floor, so Parker began doing chest compressions. Parker had taken CPR classes many times over the years, but she never had to use it before that day.
"My training kicked in and I knew exactly what to do," Parker said.
Meanwhile, Roberts, who works in the department's emergency management division, was notified of the situation. He grabbed one of the building's automated external defibrillator devices from the wall and brought it to Parker and the unconscious worker.
Parker and Roberts applied a shock using the defibrillator and continued CPR until emergency responders arrived to bring the worker to the hospital.
The worker has since made a full recovery and returned to work, Parker said.
"You never know when you may have to use CPR for a coworker, family member or someone next to you at the gym or in a public place. It's a great feeling to know I was able to be a part of a family continuing to have their loved one with them."
Roberts added a large part of his job involves educating and training staff about planning for emergencies in their day-to-day lives, and he was glad fellow staff could use what they learned and put it into action.
"As an emergency management program specialist, I am always talking about how important preparedness is both at home and at work," Roberts said. "The Department of Corrections is full of trained staff who are ready and willing to respond and assist in any way they can."
Parker has 27 years of state service, 19 of which have been with the DOC. Parker was a counselor at WCCW for six years, and served as a community corrections officer from 1981 to 1985. From 2002 to 2008, Parker worked within the department as a finance specialist before taking a job as an information technology specialist.
Roberts stared working at DOC in 2002 as a correctional officer. Since 2015, Roberts has worked in the department's emergency management unit as an emergency management program specialist.
A total of four DOC employees received Governor's Lifesaving Awards. In addition to Parker and Roberts, Washington State Penitentiary Correctional Unit Supervisor Landon Adams and Washington Corrections Center for Women Correctional Officer Darren Gooding received awards for saving the life of a correctional officer at an annual emergency response team training academy. The correctional officer, who has participating in a fitness run, began showing signs of distress. Adams and Gooding pulled the correctional officer out of the run formation. Moments later, the correctional officer stopped breathing and lost consciousness. Adams and Gooding administered chest compressions and were able to revive the correctional officer.
About the Awards:
Nominees must have performed the lifesaving act during work hours. Recipients are receiving awards for incidents occurring between June 1, 2017 and May 31, 2018. All workers covered by the state workers' compensation system or by a self-insured employer are eligible. Nominees work in both the public and private sectors. Nominees must have performed "hands-on" aid. For law enforcement officers, firefighters, emergency medical technicians and similar professions, the lifesaving action must be considered above and beyond the normal call of duty. The Governor's Industrial Safety Health Board gives out the awards each year. For more information about the awards, visit https://www.gishab.org/events/lifesaving-awards/.