I am hopeful that there are still many sun-filled days ahead but the morning crispness in the air cannot be denied. The season of fall leaves, football and pumpkins crowding the doorways of our local stores is upon us. While I don't enjoy the shortened days and the cooler temperatures, I do look forward to Friday night lights and the seasonal drink offerings at Batdorf & Bronson Coffee Roasters.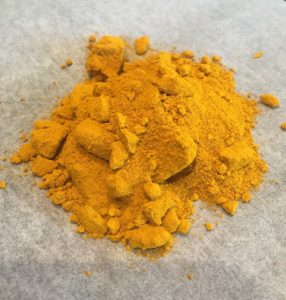 While we were still enjoying beach days and summer barbecues, the baristas at Batdorf & Bronson were formulating new drink combinations for our enjoyment this Fall. I sat down with Kara Baker, assistant manager at the Batdorf & Bronson Coffeehouse on Capital Way in downtown Olympia to learn about what was new on the menu.
Golden Milk
"People have been looking forward to our Golden Milk," shares Kara. Golden Milk is a turmeric milk-based espresso drink that Batdorf & Bronson introduced last year. "Our Golden Milk was hugely popular last year and we are excited to be bringing it back to the menu this fall," she adds.
The health benefits of turmeric have been in the news for the past couple of years and while some have added it to their diet for years, many people are just learning about this surprisingly healthy spice. Turmeric has been used in India as a medicinal spice for thousands of years. Naturally anti-inflammatory and thought to contain cancer fighting properties, Golden Milk is a healthy and delicious addition to your hot or cold espresso drinks. The Golden Milk is made in house using turmeric, coconut milk and ginger. The ingredients are combined to make a concentrate that can be added to make a Golden Milk Latte or even without coffee, served simply steamed. "We always try to make our seasonal drinks dairy-free to meet the growing demand for milk alternative drinks," Kara shares.
Maple Syrup and Organic Vanilla Latte
This is a fun and new flavor that the employees at Batdorf & Bronson came up with over the summer. Served cold or hot, this drink uses an in-house concentrate of organic maple syrup and Portland based Holy Kakow organic vanilla syrup. Holy Kakow is committed to using high quality and responsibly sourced ingredients.
During the slow periods in the day, the employees will try different ingredients and try to create new flavor profiles that might appeal to customers. "We have a lot of fun sampling these creations and we often involve the customers offering them samples in the store," Kara shares.
Gingersnap Cookie Latte
"This is one we are all really excited about in the store," Kara says. A blend of molasses, ginger and cinnamon powder will add a hint of a gingersnap cookie to your morning coffee or add a little sweetness to an afternoon pick-me-up. It isn't too sweet, but a nice flavor that just might satisfy a sweet tooth. The gingersnap concentrate can be added to a hot or cold drink. I wondered aloud if this might be a nice addition to a cup of tea for those that prefer an afternoon chamomile to caffeine late in the day; Kara responding saying they would definitely try it.
Buttered Rum Cortado Cappuccino
You had me at buttered rum. The final addition to the seasonal menu might be the most exciting. A cortado is a six-ounce beverage that hosts a "barely there" layer of foam. Imagine that layer with the flavor of melted butter and rum. "I am going to be working on the sourcing for the buttered rum this weekend," shares Kara. Batdorf & Bronson will use a high-quality buttered rum mix to add to the one third cup of steam milk used to create this delicately delicious beverage.
Everyone contributes to the seasonal drink menu and the employees enjoying working with new ingredients and adjusting the flavor profile. I asked Kara if she had ever tried anything that was a loser from the beginning. "Not really," she replied laughing. "But we have tried things that needed some tweaking."
For more information on the new seasonal drink menu and upcoming holiday offerings, visit the Batdorf & Bronson Coffee Roasters website or visit their coffeehouse.
Sponsored