Emma Leimback was initially hesitant to apply for the head volleyball coaching positon at Tumwater High School when it became available last spring.

Tana Otton had transformed the Thunderbirds into one of the most elite programs in the state during her 15-year run as coach, turning the squad into a perennial juggernaut with more than enough accolades to support such a lofty claim.
Leimback, who played collegiately at Eastern Washington University and teaches at Bush Middle School, had prior experience coaching youth and adult volleyball, but had yet to try her hand coaching at the high school level.
It was understandable for her to be reluctant to make the move to such a high-profile gig.
A call from Otton, who capped her career at Tumwater with a record of 262-37, pushing Leimback toward the T-Birds changed all that.
"Tana told me I really needed to apply," Leimback said. "I wasn't so sure and it took me a while, but I realized that's a great idea. For Tana to say, 'I'm choosing you,' really meant a lot because it was super intimidating. Everyone was saying, 'I can't believe you're taking the job. They've won state so many times. It's just a huge program.'"
Under Otton's watch, Tumwater had won three state championships, the most recent coming in 2016, seven district titles, and 14 league championships.
Thankfully, she didn't just leave behind a legacy, she also left Leimback with plenty of returning talent this season, including all-state senior setter Sophia Koelsch, who has accepted the challenge of leading her T-Bird teammates into this new era, while at the same time continuing the winning tradition that is Tumwater volleyball.
"She's the glue," Leimback said about Koelsch. "Sophia knows everything about everyone here. It makes it so much easier for me to come into a new program and have her already be able to run everything."
A three-sport dynamo, Koelsch already has scholarship offers on the table in basketball (George Fox and Pacific University) and tennis (Pacific Lutheran University). And while she is still waiting on her first volleyball offer, one would think if she duplicates what she did in 2017 – including being a first-team all-2A EvCo selection and an honorable mention pick on the Washington State Volleyball Coaches Association 2A all-state teams, she will have even more college options.
What makes Koelsch such a special talent on the court is her mastery of running the team's offense and her ability to effortlessly make everyone around her better.
"She's super knowledgeable about the game," Leimback said. "She knows where to put every single ball for every single player. If we throw a new hitter at her, she immediately knows where to put it."
The top recipients of Koelsch's textbook passes this season will be senior Savannah Sleasman and junior Leah Cairns – a pair of second-team all-conference honorees last year.
"Having players like Leah and Savannah make it easy," Koelsch. "I can just throw it up there and they'll go get it."
The T-Birds also return junior Ellie Bocksch, who received honorable mention all-conference honors as a sophomore, as they look to add yet another EvCo banner to their growing collection.
"It's been a lot easier than I thought it was," Leimback said about taking over the Tumwater program. "Coming in, I wasn't just worried about the coaching aspect, but all the paperwork that comes with it. I'm now in charge of everything, not just the varsity players, but the JV and C-Team, the whole program. But it's been good. These girls come from a long line of tradition and have really made it easy."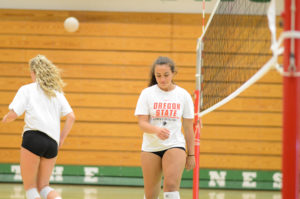 Coaches and players may change, but the name across the chest stays the same – that's been Koelsch and her teammates' outlook this year.
"We have a lot of tradition set in place that we try to follow, which is super nice, but we are also trying to embrace new traditions and make this our own," Koelsch said. "I just love this team so much. And we all love each other too, which makes it even better."
Last year the T-Birds failed in their attempt to successfully defend their 2A state championship. The team was unexpectedly bounced early from the tournament following back-to-back, 3-0, sweeps. It marked the first time in eight years that the team didn't take home a state trophy.
The mission now for Koelsch and company is to right that wrong this year.
"We look forward to state every year. That's the goal again this season," Koelsch said. "It's just going to take hard work and dedication. We talked a lot about committing to this at team camp this year. Obviously, you're going to have some off days, but we know everyone needs to be committed in order for us to get to where we want to go."