What's cool, brilliantly blue and good for your body? It's Zoe Juice Bar's new blue majik power smoothie. The not so secret ingredient is blue majik spirulina. The high antioxidant and nutrient content of spirulina makes it a powerful yet easy addition to your daily food intake. Zoe Juice Bar owner Jason Phillips continues to offer healthy, quality choices for our gastronomical pleasures. The recent opening of the westside location gives discerning customers another reason to stop in.
It has been almost five years since Jason and his wife Briana opened Zoe Juice Bar on the eastside of Olympia, located on the other side of the parking lot from Ralph's Thriftway. This location became popular for people looking for nutritional satisfaction and great taste. The made-to-order smoothies and juice combinations are packed with whole vegetables and fruits.
What makes a Zoe smoothie or juice different than others? Plenty! "There's a lot of that goes into a smoothie," explains Jason.  You will find whole fruits and vegetables in each drink. When you order a green garden you are getting kale, spinach, mango, papaya, strawberry, pineapple, banana and almond milk with raw apple–cucumber juice. Zoe Juice Bar's drinks don't contain canned fruits, sugary syrups or artificial anything. You'll taste the difference. Your body will appreciate it. Plus, your drink was prepared right here in Olympia.
When you want a little extra in your smoothie, Zoe Juice Bar has a menu of options. Need a protein bump? Choose between plant or dairy varieties. Pick omega boosting chia or flax seeds. For energy some like to add bee pollen, maca or raw cacao. Zoe uses baobab from Alaffia, another local business. Are you unfamiliar with baobob? It is a native African tree with fruit that contains high amounts of vitamin C and potassium.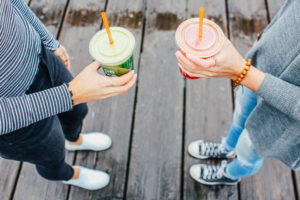 Jason's own path for improving his health led him to juicing. Zoe Juice Bar sells cold pressed juices with interesting combinations of fruits, vegetables. Their signature blends have names like pure joy and replenish. You can also customize your perfect mixture. They also have wellness shots.  It's two ounces of pure, raw fresh goodness. There's nothing like a little shot of zeal to get your morning going.
If you are looking for a non-beverage option, Zoe Juice Bar offers a menu of acai bowls. Acai berries are loaded with antioxidants, which are helpful to all parts of your body. They also have fiber and fat.
Acai is blended with various fruits like banana and mango, then mixed with almond milk. The fruit base is then topped with granola, shredded coconut and goji berries. The acai bowls are packed with vitamins, minerals, fiber, and they're delicious. Eat one for breakfast, lunch or a refreshing snack. Zoe Juice Bar also has on a hand a few offerings from 8 Arms Bakery.
The new westside location gives Zoe Juice Bar more breathing room. One wall is lined with three commercial-sized refrigerators to keep the fresh produce and just-squeezed juices ready to go. Your drink will be made to order, but there are cold pressed juices available for immediate purchase. There are a couple of Zoe Juice Bar parking spaces in front of the door to make your stop easy in and easy out.
We all know that supporting local businesses keeps more dollars in our community. It's also important to note that Zoe Juice Bar employees are residents. Some have enjoyed long-term employment by starting in high school and continuing through college. The westside location will make this even more convenient for those who continue at nearby South Puget Sound Community College or The Evergreen State College.
Jason and Briana also gives back to the community that supports them. They are ongoing sponsors of the Boys & Girls Clubs of Thurston County. Jason says it's fun to see youngsters come through their juice bar on field trips. After getting a tour, everyone is served a smoothie. You can be sure that creates smiles all around.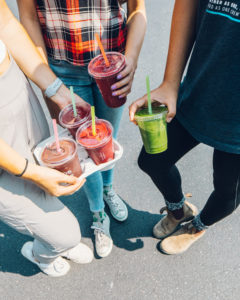 I'm all for brightening my morning or getting an afternoon lift. It means a lot to me that the drink I order from Zoe Juice Bar is the quality that I have at my own home. The difference is that someone else did the shopping, chopping, making and cleaning up. That's a nice choice.
Visit the Zoe Juice Bar website for their full menu, juice cleansing information and much more.
Zoe Juice Bar
360-539-7117 (westside)
360-259-4074 (eastside)
Monday – Friday: 7:30 a.m. – 6:00 p.m.
Saturday – Sunday  9:00 a.m. – 6:00 p.m
Eat Well – Be Well
Sponsored