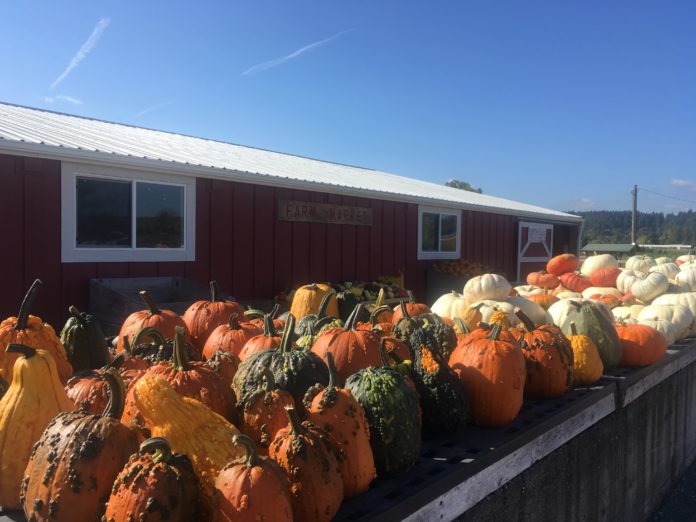 Pumpkins and corn and zombies, oh my! When the weather gets crisp and the evenings get shorter, it's time to hit the Thurston Bountiful Byway for family-friendly fun this fall. Gear up for Halloween at pumpkin patches and haunted houses right here in Thurston County starting in September. It's easy, just follow the Thurston Bountiful Byway to these family-friendly fall activities.
You can contact Experience Olympia & Beyond for a Thurston Bountiful Byway map and self-guided tour brochure.
BOO-CODA
Since 2012, the town of Bucoda has transformed itself from cute to scary for the fall season, becoming the BOO-CODA SPOOK-TACULAR! With a scary, award-winning haunted house; pumpkin pancake breakfasts (every Saturday in October); Trick-or-Treating (every night in October); hearse procession and viewing (October 13); pumpkin carving, ghost story telling, and coloring contests (October 20), there is something for everyone in BOO-CODA.
Michael Jackson fans won't want to miss Bucoda Thriller, October 27. This event, which happens around the world on the same day, has everyone taking to the streets to help break a world record for most people dancing to "Thriller." Watch for firefighters dancing with their boots and drop in some cash for their annual "Thrill the Boot" fundraiser for the Bucoda Firefighter Association. Monies raised helps local families in need throughout the year.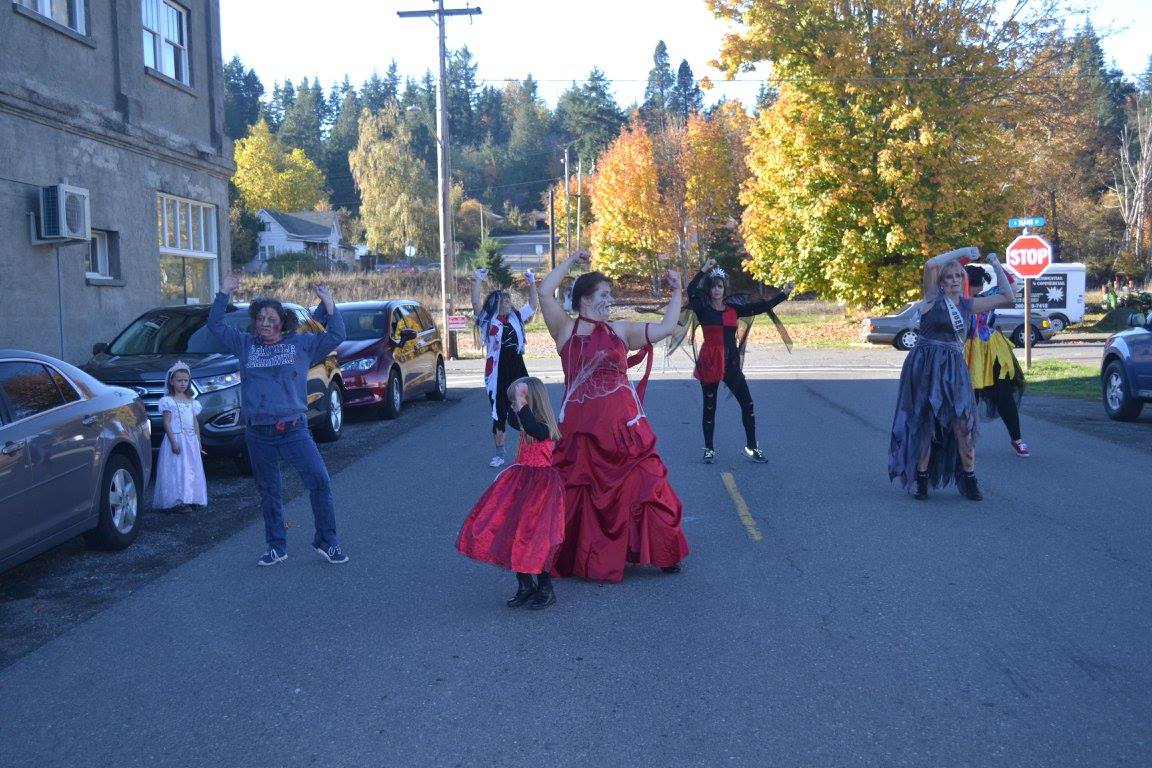 Mayor Alan Carr explains the event is a way to raise awareness of the small town and draw visitors, but also as a fundraiser for community projects. While the Town of Bucoda puts on the BOO-CODA SPOOK-TACULAR, an ad-hoc committee works on all the events and Scary-nights puts on the haunted house. The net proceeds raised by BOO-CODA SPOOK-TACULAR and Scary-nights Haunted House go to community projects, the community center and gymnasium."
All the fun starts October 1! Visit the BOO-CODA SPOOK-TACULAR Facebook page for up to date events and news. You can get $2 off coupons for the haunted house at the following locations:
Tenino: Market Fresh, Scatter Creek Winery, the Iron Works Boutique, City Hall, and Aunt Kate's Chocolates.
Bucoda: Joe's Place.
Tumwater and Centralia Timberland Bank locations.
Hunter Family Farm
Hunter Family Farm has tons of family-friendly fall activities, from a European super slide and pillow jump to baby goats, pumpkins and corn mazes. "We look forward to sharing our farm with the public and contributing to wonderful memories and traditions for families," says Tami Hunter. "Also, the baby goats!  They are so cute and hilarious and people love them as much as we do."
The farm features two corn mazes, the giant maze is 4 acres and the junior corn maze is 1 acre. In the giant maze look for clues to solve a mystery. We asked for a hint on this year's theme, but Tami wasn't giving anything away. "Our mystery theme in the corn maze is still a mystery!" she says mysteriously.
They have some unique family fun in store for you, like the ducky race, where you purchase a rubber ducky for a $1, put it in a trough and then push an old-fashioned water pump to create a flow of water to send your ducky across the finish line. "Everything is family friendly for all ages, nothing too scary," Tami shares. "The older kids and adults enjoy the giant corn maze, pillow jump, animals, European super slide, pumpkin sling shot, wagon ride to the patch and picking out a pumpkin."
All this fun at the Hunter Family Farm starts September 29. For more information, visit the Hunter Family Farm website.
Rutledge Corn Maze
The Rutledge family has been farming in Thurston County since the 1800s; they have owned their current farm since 1992. The Rutledge Corn Maze is a don't miss – it's professionally and expertly designed each year with a different theme. This year, the family partnered with Making Strides Against Breast Cancer of Thurston County, an American Cancer Society (ACS) event. This is a cause that is close to their hearts. "We lost my grandfather who started us in the corn growing business to cancer," shares Robby Rutledge, when asked why they chose this charity.  His grandfather was also played a big part in helping to start the maze. "We also lost my grandmother recently to cancer as well. We also are doing it because we think it is a worthy cause."
Activities at the farm include their famous corn maze, pumpkin patch, haunted maze, zombie paintball apocalypse, a corn and a cow train, "spookley" story time, and arts and crafts (Saturdays and Sundays), corn hole, ladder ball, a swing set, corn cannons and more to be announced.
The haunted maze is scary! "It can be very scary," cautions Robby. "However, I find that it depends on each person. We do not recommend it for anyone under the age of 10."
Haunting for Dollars will happen October 14 this year and will be the main fundraising even for ACS. Tickets go on sale at 6:00 p.m. that night and the haunt opens at 8:00 p.m. "We bring in several of our more experienced actors to ensure that the show is a great success," says Robby. He adds that he wouldn't recommend this event for children under 10-years-old either. Their goal is to raise $25,000 for the Making Strides Against Breast Cancer event, so come to the farm, go through the maze and donate to a cause that affects us all.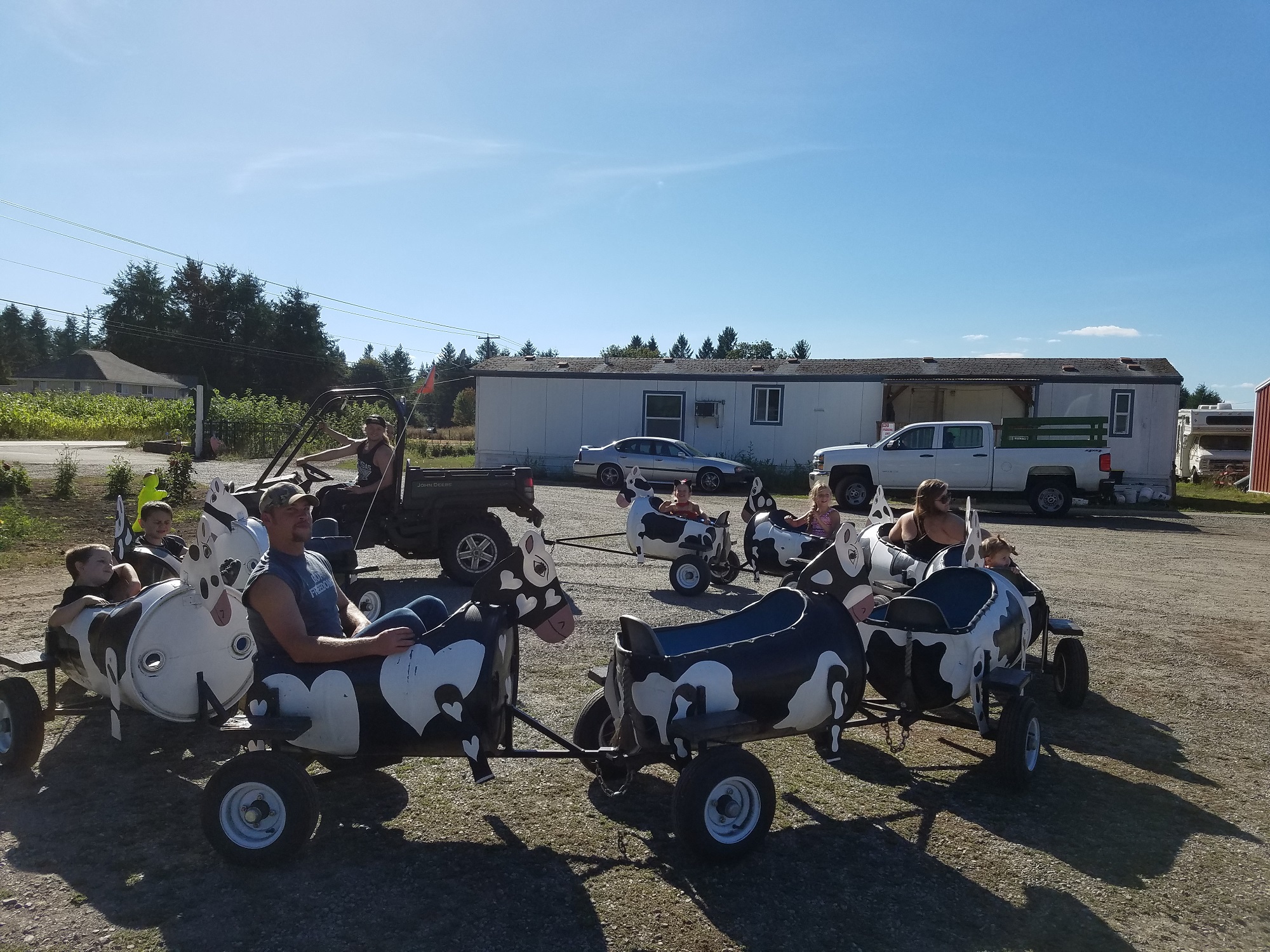 "We are so fortunate to have this partnership," shares Autumn Cummings, event lead for Making Strides Against Breast Cancer of Thurston County, "and can't say thank you enough for the opportunity to be working with them this year and having such a unique way to share the mission with an amazing local family that is determined and passionate about finding a cure for cancer and supporting their community while Making Strides Against Breast Cancer in Thurston County and beyond."
The corn maze, haunted maze and zombie paintball apocalypse open September 22 and the pumpkin patch opens on September 29, but Robby says you won't be turned away if you come early! For more information, visit the Rutledge Corn Maze website.
Schilter Family Farm
The Schilter Family Farm is a third-generation farm, having been in operation since 1930. The Harvest Festival and Pumpkin Patch started in 1997.
This year, Schilter Family Farm is raising awareness for ALS-Lou Gehrig's Disease with proceeds from their activities going to the ALS Association. They even have a corn maze designed in the likeness of Lou Gehrig.
"We chose to support this organization to raise awareness around this devastating disease and help raise money towards finding a cure," says Stephanie Schilter. "Our pastor from our parish, Fr. Jim Lee at St. Michael Parish in Olympia, was diagnosed with ALS back in November. We are wanting to show our support and our love for him, as well as help the organization who is striving to find a cure."
Everything at Schilter Farm is family-friendly, so bring the kids as there is a ton for them to do! They have a Fort Nisqually to explore, cow head roping, pumpkin bowling, corn hole, pumpkin cannons and more in the works. Bring your camera, as the photo ops are abundant!
Opening September 29. For more information, visit the Schilter Family Farm website.
Sponsored