Emily Chisa thinks she may have been the last person to know. Walking through the River Ridge High School hallways last year, Chisa received a handful of congratulatory sentiments from several classmates.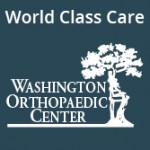 Only she had no idea what everyone was talking about. Most of these well wishes were simple drive bys, providing her with little context into what athe fuss was about.
Finally, it all made sense. Chisa had been named to the Washington State Volleyball Coaches Association 2A all-state team as an outside hitter.
"The first thing I thought was, 'Are you sure that's me?'" Chisa said.
While Chisa may have been caught off guard by seeing her name on the all-state list, few others were surprised following her sensational sophomore season, which saw her also earn 2A South Puget Sound League Sound Division co-MVP honors after finishing with 178 kills and 73 aces.
"There's definitely a bar set for everybody here," Chisa said. "Our team level of play has increased incredibly."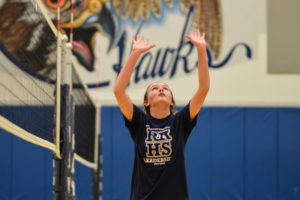 Two years ago, the Hawks went winless. Last year, River Ridge came within a victory of advancing to the state tournament for the first time since 2010.
With Chisa back, along with the majority of last year's starters, including first-team all-league selection Grace Goetsch and second-team pick Carley Gibson, the Hawks are eyeing a lengthier run this season.
"One of our core covenants that we are working on this year is family," said first-year coach Nyra Gallardo, who takes over the program after serving as an assistant coach at Olympia High School in 2017. "We try to say that we are one giant family. We are Hawks family, putting each other under our wings and helping each other fly and I think that's what's been happening so far. They've certainly made me feel that way."
Gallardo takes over a Hawks' team that was second in the 2A SPSL Sound Division last year, finishing with a solid 14-5 record and advancing to the 2A West Central District tournament. After dropping its first match at districts, River Ridge rallied, winning three consecutive loser-out contests, to position itself a single win away from heading to state.
Dreams of that were dashed following a 3-1 setback to Washington.
"That was heartbreaking," Chisa said. "I was in tears. I was so upset about it. I drove all the way back home crying."
The tears have since transformed into motivation for Chisa and her teammates as they look to end an eight-year state tournament drought this year.
"The expectations are really high this season. If you're walking onto that court, you better start running. Nobody slacks off," Chisa said. "Everyone in the group is motivated. We want to go to state and everyone is putting in the work for that to happen."
Thoughts were considerably different when Chisa entered the program as a freshman. The Hawks had struggled through the previous year's campaign, failing to pick up a victory. Chisa knew the team had suffered through some hard years record-wise, including a 0-14 season in 2015 where they were shut out 12 times, but immediately pushed the past aside and went right to work trying to flip the script despite her young status.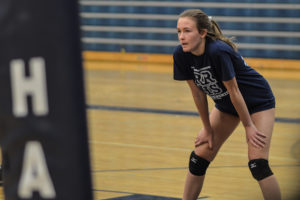 "I just came in and wanted to play. I knew they definitely had some drama before, but it was a new year," the six-foot Chisa said. "My freshman year, the first game we won at home, when we ended the losing streak, Carly came up to me and gave me a big hug and said, 'Thank you for being on the team.'"
The Hawks' fortunes have improved significantly since, and Chisa's play is a large reason why that has occurred.
"Hand's down she's a stud," said Gallardo, who first got to see Chisa play during the summer. "She's a special player and she's going to go far. She's really coachable. She's a great athlete all around. Her teammates love her. She's the real deal. We can put her anywhere, back row, front row. She fills in all the gaps. She can definitely do anything. She's a powerhouse out there."
River Ridge had 63 players try out for this year's squad – the highest total in quite some time. The Hawks will play in the newly formed 2A SPSL West Division this year with Clover Park, Fife, Foss, and Steilacoom. River Ridge went a combined 4-1 against its new division foes last year, only losing to Fife during a SPSL tournament play.
"I think we're taking steps in the right direction for sure," Gallardo said. "The goals they have are reachable."