Going back to school is often a time to set resolutions such as organization and good study habits, but those resolutions can also be extended to ones that help protect the environment. We've come to associate the school year resuming with new purchases, which can be taxing on both the environment on top of being expensive.
Here, we've compiled some tips to make the start of the new school year a sustainable and affordable season.
Make your lunches green with homemade meals and reusable containers
Avoiding single-use water bottles, lunch bags, and plastic cutlery and instead opt for reusable ones help keep trash out of landfills. Even just using a refillable water bottle instead of plastic saves 167 disposable water bottles and hundreds of dollars a year on average. Consider a stainless steel or BPA-free refillable bottle, along with a reusable bento box to pack snacks for the school day. Pottery For The Planet creates beautiful reusable tea mugs, and I personally use an EcoLunchbox to carry my meals on the go. Reusable cutlery such as To-GoWare and packing a cloth napkin are other eco-friendly ways to enjoy your lunch.
While you're at it, packing your own meals and snacks can be a good way to cut costs too. Including lots of fresh fruit and produce is one of the easiest ways to pack healthy, eco-friendly treats. With a little more time, try making homemade granola bars instead of packaged ones for a fun activity with your family.
Source school supplies and new clothes sustainably
The new school year traditionally comes with a shopping trip for supplies and new clothing. Consider this as an opportunity to practice sustainability by supporting ethical and local companies, reusing as much as possible, and reducing your ecological footprint with back-to-school purchases.
School supplies can easily be made more eco-friendly by purchasing recycled, chlorine-free paper and opting for non-plastic options. Every ton of paper recycled saves approximately 17 trees, and switching to recycled paper is an easy option. For more exciting options, look for "tree-less" school notebooks made out of hemp or banana paper. Backpacks made of recycled PET or canvas and refillable pens (6 billion pens are thrown away in the US every year) are more eco-friendly options as well.
Shopping for new clothes for the school year can be done sustainably as well. Consider supporting small, local businesses, and purchasing clothing that will last. Thrift stores and hand-me-downs are great options to save money and resources, and can be a fun way to find unique, durable clothing items. Some communities host clothing swaps at times like the start of a new school year. If you can't find one locally, consider hosting one.
Other local options for used clothes include Dumpster Values, Psychic Sister, Poppet, and Goodwill, including Olympia's Goodwill Outlet and Blue Boutique. Schoola allows you to shop online for secondhand clothing, and 40% of all purchases on Schoola go to supporting schools. For big investments like winter coats, if not purchasing used, consider buying from companies such as Patagonia that support environmental efforts and offer lifetime warranties on their products, eliminating the need to buy more.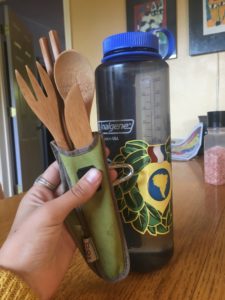 Drive less
Walking, biking, or taking the bus to school not only reduces carbon emissions, but can be a significant factor in saving costs. If that's not an option for you, consider looking for or starting a carpool group. Many schools host an annual Bike to School Day to raise awareness for alternative transportation options. You can suggest your school practice this if they don't already.
Reuse and reduce what you can
The best way to support the environment when back to school shopping is simply to buy less. Backpacks from last year are likely still usable, notebooks that aren't fully used can have filled pages removed and are as good as new. Many school supplies such as rulers, pencil sharpeners, pencil cases, compasses, protractors, and more only need to be purchased once. Consider buying used textbooks.
Another easy way to reduce consumption is to go the paper-free route. Often, PDFs of readings can be found online, and homework can be emailed instead of handed out on paper, especially for college students. If allowed, taking notes on a laptop saves a lot of paper.
These small steps may seem inconsequential, but the ENP (Environmental Paper Network) states that if the US reduced our paper consumption by 10% each year, we could save enough energy to power 228,000 homes, save 11 billion gallons of water, and reduce carbon emissions equivalent to removing 279,000 cars from the road.
When working toward sustainability with the new school year, remember to take steps that are manageable and realistic, so that you can keep them up all year and maximize your impact. Pick tips that resonate with you in order to make it fun and exciting to prepare yourself or your children for the upcoming school year.