Talented pottery artist Sherry Kirk used to live a very different life than she has now as a potter and permaculturist at her secluded Rainier studio Sidhefire Arts. Sherry spent 21 and a half years in the Army in psychological operations. During that time, she was trained to speak in Russian and Thai and traveled all over the world assisting in missions ranging from demining operations to counter-narcotics. She worked in places such as Cambodia, Laos, Korea, and the Soviet Union.
Her final job in the Army was as the Rear Detachment Command Sergeant Major of 1/25th Stryker Brigade while they were deployed to Iraq. "That was a really hard job because I was responsible for setting up all the memorials for the soldiers we lost," Sherry says. "I did 40 memorials in about a year and a half and making sure their families were taken care of."
When Sherry retired, she wanted something completely different, so she used her GI Bill to go to school at Evergreen State College. Sherry started with the intention of going into community environmentalism. "I am really interested in ways that community can support the environment," she says. "Also ways to create an environment that can assist in supporting the community members."
Needing a break, Sherry took an art class. "The art kind of ate my soul," she says. Within one quarter, she completely changed all her classes to art. She got into a hand-building pottery class. "That didn't really catch my attention, but as soon I started throwing I thought it was really cool." Sherry admits her talents at wheel were questionable at first. "The first wheel-throwing pottery class I took in college, I was horrible," she laughs. "Like, the kind of especially bad that you would see in a movie. I would put clay on the wheel and when I would try and center it the clay would go flying off the pottery wheel and across the room."
Being a classic type-A personality, Sherry decided she wasn't going to let the clay beat her. "I was going to learn how to do the thing and then quit once I was good at it," she remembers. "Of course, by the time I figured out what I was doing, I was addicted to making pottery, so I guess the clay won."
With her new skills, Sherry treated pottery as a hobby for a few years and then in 2015 she decided she would focus on building pottery as a business at Sidhefire Arts. That is when she started researching the market and looking at ways to expand her skill set and what type of pieces people would want.
At the same time, she was involved in Medieval Reenactment Groups so she was looking at shapes and forms that would be durable enough for people to use camping at events and drinking next to fires. "If you drop it, it needs to survive that and still look good and be a shape that people will want to hold in their hands," she says.
Sherry creates pottery pieces that truly are functional works of art. Two years ago at Spring Faery Festival, a breeze blew the fabric on her vending shelter and knocked one of her largest tankards off the top shelf and onto the concrete. There was a collective gasp from everyone watching, but instead of breaking, the tankard just rolled across the concrete. She picked it up and checked it out, and with not a scratch on it, she put it back on the shelf. A customer reached across and grabbed it saying, "I'll buy this one, it appears to be indestructible."
As she slowly built Sidhefire Arts, Sherry passed a tipping point where her creative pottery started getting significant attention, particularly for her historical reproduction pieces. "At this point, I am addicted," Sherry says. "Theoretically this is my retirement hobby, but I think I work an average of 12 hours a day. Right now, I am mostly trying to keep up with the enormous expansion that happened this year." She has sold pieces all over the world to places like France and Spain from her Etsy store. She recently began producing tankards for the Skål Beer Hall. "I sell everything I make," she says.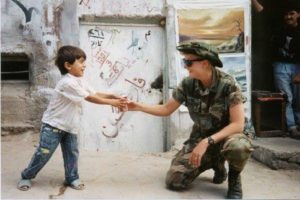 The most difficult thing for Sherry is work and life balance. "It's become my passion and I invest more and more of my time into it," she says. "I love to learn new techniques and coming up with new designs is my favorite part of the process. Trying to remember to schedule quality time with my family and friends is vitally important to me because that is what life is truly about. So I've started actually blocking time on my calendar that just says 'quality time.' If I don't do that I'll schedule something pottery, art, or be vending in every available time block."
To find Sherry's functional art pottery, visit Gallery Boom in Olympia or check out Sidhefire Arts on Etsy. "I want to create people's favorite cup," she says. "I want them to go to the cabinet every day and I want them to reach for something I made."