Summer is usually a break from school. Teachers, students, school faculty, and parents all can have a rest from thinking about education. However, the Olympia School District Board of Directors is still working hard during the summer months. Officially comprised of the superintendent and five voting members, the Board is tasked with deciding on district budgets, hiring and overseeing the superintendent of the Olympia schools, bargaining with
staff unions, and strategic planning. They help design the futures of all Olympia School District (OSD) students. The OSD Board has been utilizing student representatives for several years. Student representatives are students from one of the four OSD high schools (Avanti, Capital, Olympia, and the Olympia Regional Learning Academy). The job typically rotates between the high schools, but this year brings a change to the system.
In accordance with a resolution passed in the 2017-18 school year, the OSD now has two student representatives on their board. Grant Erickson, a senior at Capital High School (CHS), and Anna McClatchey, a junior at the Olympia Regional Learning Academy (ORLA), have taken over these roles. They were sworn in on June 11, 2018, at the beginning of a regular OSD Board meeting.
While student representatives don't vote, they do have unofficial votes as well as opportunities to weigh in on most matters the Board discusses and decides, such as policies, procedures, and resolutions. One of the newest Board members, Director Dr. Leslie Huff (OSD District Position 3) says, "Having student representatives gives us initial insight into how a new policy or board action might be received and also where we might need to focus attention as a board." The Board members visit schools often, but having student reps helps them to fully grasp the experience of a current OSD student.
Every other year, each high school has a turn to have one of their students on the Board in this advisory capacity. The student representatives were appointed by the faculty and staff at each high school. Anna McClatchey first heard about the position when she was entering her sophomore year at ORLA. When it came time for ORLA to choose a student, Associated Student Body advisor, Christine Havens, had then ASB president and longtime leadership student, Anna, in mind for the position.
Neither of the students knew much about the school board when offered the positions, but they both felt that it would be an interesting learning opportunity. Grant says, "The assistant principal at my school called me and two other students in [to a meeting] and told us we were the three nominees that were going to be voted to be the student representative and at that point, I had no idea what it was." But he discussed the opportunity with his parents and ultimately decided to accept the position once he was selected as CHS's representative.
Both Anna and Grant were excited about this opportunity because they felt it would offer them a really interesting view into the inner workings of their school district. "I want to be a teacher in the OSD district, so I've been doing a lot of things that I'm given the chance to [in order to] gain experience. I was on the [OSD] tech levy [committee], I paged at the Capitol, I became vice president and then president of ASB, just so I could touch in these different areas and get more experience. If I want to be a teacher, the more I learn the better I can teach," Anna states. Grant remarks, "I just thought it would be a really cool learning opportunity to learn what goes into the Olympia School District and hopefully add to the conversations and try to represent the students as much as possible."
As the student representatives, Anna and Grant, are tasked with seeking out, listening to, and reporting to the Board the wants and needs of nearly 10,000 students in the district. However, they are facing the year's work ahead with grace and excitement. Director Dr. Leslie Huff says that there are many ways for student representatives to go about representing all of the students in the district.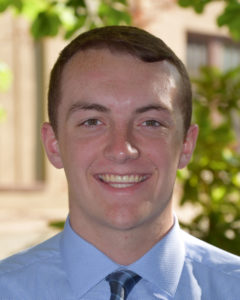 "If you have strong people skills, offer to attend student group meetings at different schools," Huff advises. "If you are more comfortable writing, create a regular article to offer to different school papers about what is happening on the board and how it affects students. There are many ways to be an effective representative, you just have to figure out which work for you."
Currently, the main project that the Board is working on is creating a new five-year strategic plan for the whole district. School district strategic plans detail ideal outcomes and characteristics for all students in the district (they could range from easily measurable high test scores to being knowledgeable about social justice issues). The upcoming expiration of the current strategic plan comes at an interesting time as the Board has three new members (elected in 2017) and a new superintendent, Dr. Patrick Murphy, who is just finishing his first year in the Olympia School District.
In late May of this year, the school district held a summit for 150 parents, staff, community members, and students to join together to discuss the work ahead in terms of the direction of the school district and what outcomes they can all agree they want OSD students to have. Anna and Grant were both in attendance, along with 38 other middle and high schoolers from the district, which created the biggest demographic group at the summit. Anna says that the main thing she's excited for in this upcoming year is strategic planning. "We just started getting into that, and I think what I'm looking forward to is when we bring it to the students." It's undecided right now as to how exactly the whole feedback process will happen, but the Board is excited to start hearing what the community has to say.
With the addition of a second student rep each year, it means that more students will have the chance to speak their minds and advocate for their fellow students. The new set-up was also designed so that there is always a student from a traditional high school (Olympia or Capital) and one from an alternative school/program (Avanti or ORLA), so there is a wider representation of the students each year. The position is open to high school juniors and seniors. For students interested in becoming a student representative for the Olympia School District Board of Directors at some point in their high school career, Director Dr. Huff has this advice, "The student rep position offers a lot of opportunity for growth and learning, but what you learn and how you approach the work is very individual. Representing your peers is a big responsibility and time commitment, but the rewards and opportunities to learn, grow, and influence the system are great."
Even though Anna McClatchey and Grant Erickson are representing the students this year, that doesn't mean they are the only ones whose voices are heard. The Board encourages public attendance at their bi-monthly meetings, especially from students and groups that will be affected by anything they are discussing. The meetings are held on Mondays at 6:30 p.m. at either the Knox Building/Avanti High School or at one of the other schools in the district. There is a public comment section of each meeting, or you can contact the board directly at any time. Grant and Anna have their own emails if the public would like to contact the student voices directly.
Grant Erickson, Student Representative from Capital High School: ericksonge@students.osd.wednet.edu
Anna McClatchey, Student Representative from the Olympia Regional Learning Academy: mcclatcheyal@students.osd.wednet.edu