Did you know that 90 percent of a child's critical brain development happens by age five? And when it comes to early learning in math, science, literacy, and social skills, Child Care Action Council (CCAC) knows that teaching through play is a powerful tool to pave the way for learning at school and throughout life.
That is why CCAC will be hosting their first Build Off event, a free early-learning family fun fair to be held August 22, 10:00 a.m. – 1:00 p.m. at the Lacey Community Center. Kids and their families and friends can take the challenge to build the tallest structure out of 500 wooden Keva planks with a chance to win great prizes, including the grand prize of a night stay at Great Wolf Lodge. While children are not building, they can enjoy a wide range of early learning activities including games, arts & crafts, reading fun, and safety activities!
"Our community is rich with organizations focused on early learning and this is a great chance to showcase many of the great programs here," said Gary Burris, executive director of CCAC. "It's these partnerships that help provide high-quality early learning opportunities in our community."
Activity stations will be held inside and outside of the Lacey Community Center, with many fun activities specially designed for kids and their families. In addition to the Build Off competition, Block Fest is a regular program run by CCAC that uses blocks of different shapes, sizes and colors to help children learn STEM (Science, Technology, Engineering & Math) skills through play. Kids at the event will find different block stations to play and create while also learning early math and language skills.
Kaleidoscope Play and Learn will host an arts and crafts station, and showcase early learning STEM activities that are present at each of its weekly free playgroup meetings. The Safe Kids of Thurston County program will have an interactive, jumbo sized Chutes and Ladders style game ready to teach kids about pedestrian safety. Throughout the year, Safe Kids works to provide education and resources to families about safety risks at home, school and the community. They also have helped provide car seats and bike helmets, and recently hosted a community swim lesson event.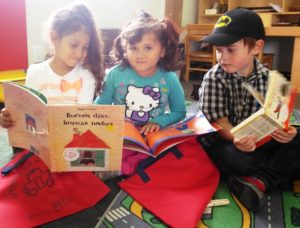 Raising A Reader will have a literacy-based activity booth for kids at the event including a sensory table to extend the story of the book When I Build With Blocks by Niki Alling. Raising A Reader is another CCAC program and it focuses on early literacy skills by lending books that are taken home every week to over 1,300 children at child care centers around Thurston, Mason, and Grays Harbor Counties. The Timberland Regional Library will also have an interactive activity booth making story sticks and the South Sound Reading Foundation will be at the event to give away free books.
Another great family activity includes a bike-powered smoothie making machine sponsored by Molina Healthcare. And you can double up on cool treats and get a free ice cream sandwich from Harbor Wholesale Foods. Plus, learn how to make your own bubbles with Earth Friendly Products, make & race Rumble Bots with the Hands On Children's Museum, visit with Marshall the Courthouse Dog, recycle & compost with the WSU Master Gardeners and the Master Recycler Composters, and catch a visit from the crew at Lacey Fire Department.
"The point is for kids to be able to come and have fun and not realize they're learning something in the process." shares Allison Woody, office administrator at CCAC. By coming to the event, kids can learn through play, and parents can also learn about the many programs and services provided by the Child Care Action Council and some of the other community organizations.
An added twist to the event is the hashtag challenge that is running throughout August. Each time the hashtag #ccacBuildOff is used on social media with a picture of something you build, $1 will be donated to CCAC (up to $250). So get out there and practice your building skills, post as many times as you want, and get creative!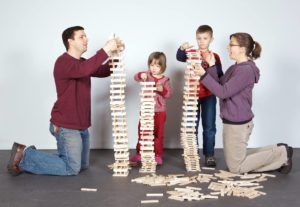 The Build Off event and the Child Care Action Council's many programs all help to accomplish the goals in their mission statement, which is to promote and nurture early learning communities where families and children thrive. Volunteers who want to assist with that mission can sign-up to help at the Build Off through general event support. But CCAC is also looking for volunteers to plan other events throughout the year.
This free community event was made possible by the event sponsors Molina Healthcare, WSECU, McSwain & Company, Port Blakely, and Van Dorm Realty.
For 30 years, CCAC has worked to provide learning opportunities for children in the community and helped to ensure their path to success in school and in life. Come to the Build Off and learn how to help your kid learn STEM, literacy, and other important skills, while having fun with blocks, books, bubbles, and more.
The Build Off is open to all kids, but is best suited for those 3- to 12-years-old. For more information, visit the Child Care Action Council event page or call 360-786-8907 x112.
Build Off
Wednesday August 22, 10:00 a.m. to 1:00 p.m.
Lacey Community Center,
6729 Pacific Avenue SE, Lacey
Sponsored