The first thing that hits you walking into the new Yelm Chamber of Commerce building is the mural. A towering depiction of Mount Rainier covers four walls and rises to ceiling level. Like the mountain itself, visible in the distance once you step outside, it commands attention.
As a piece of art, the mural is compelling but the story behind it is even more so. The painting, originally done for the former Prairie Security Bank building, is one of the few remaining grand-scale murals from local artist Neo Brown, who died in an auto accident in 2003. "Anyone who knew her or knew the story of when the bank opened is really pleased to see that we're maintaining the historic integrity of this place," says Chamber President Angie Evans.
The Chamber moved into the building in June after spending more than a decade in the Prairie Park Complex next to Casa Mia and the Yelm Timberland Library. The new location puts them right on Yelm's main street, making them more accessible for both local business owners and visitors. "This made sense in terms of visibility, growth and convenience," says Executive Director Line Critchfield. "With the changes we've been making over the last few years we needed more space."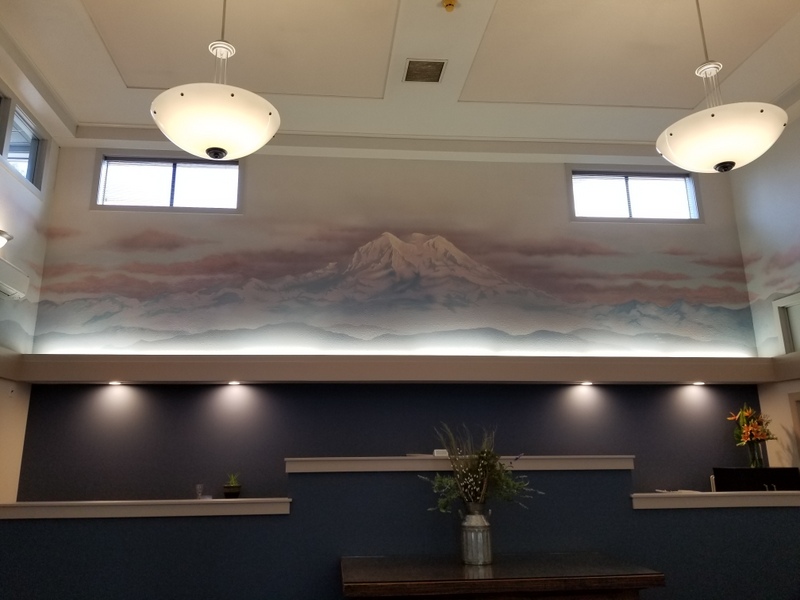 Most of those changes involve creating greater opportunities for local businesses and heightening Yelm's profile in the region. "We've spent a lot of time making sure our member benefits match what our members want," says Critchfield. "That includes being at the forefront of tourism and driving people into Yelm, so having this space as our headquarters will promote those goals."
Both Evans and Critchfield note that the new location offers one perk lacking in their previous home: ambiance. "This is a really welcoming space," says Critchfield. "We want people to feel comfortable coming in and learning about the area so that's important."
The mural is no small part of that atmosphere. "It really is a breathtaking sight," says Evans. "It's very comforting and relaxing. The first time I saw it, I thought, 'This must be a really nice place to work.'"
Community response has been positive, particularly in terms of the mural. "We've heard nothing but good things from anyone who's walked through these doors," says Critchfield. "People are really pleased that we've preserved the history of the building and the artwork."
Aside from her fame as an artist, many remember Brown as the sister of then local sheriff Gary Edwards, who is now a Thurston County Commissioner. Their mother Ruby Edwards, who also died in the accident, married into the regionally renowned Longmire family. As some of the first settlers in the Oregon Territory, the Longmires came west and eventually landed in Yelm in 1853. Parks, streets, lakes and one of the lodges in Mount Rainier National Park commemorate the family's impact on the area.
Art, apparently, has been a theme from the beginning.   "Having received due notice from the Hudson Bay Company not to settle on any lands north of the Nisqually River we crossed the river and went to Yelm prairie, a beautiful spot," James Longmire noted in his diary from the mid-19th century. "I thought as it lay before us covered with tall waving grass, a pretty stream bordered with shrubs and tall trees, flowing through it, and the majestic mountain standing guard over all, in its snowy coat, it was a scene fit for an artist."
Yelm is one of the fastest growing cities in Thurston County, which itself is one of the most rapidly expanding counties in Washington State. It serves as a gateway to Mount Rainier and is part of the Thurston Bountiful Byway, a network of farms and farmers markets, breweries, wineries and distilleries, trails and local attractions.
The chamber hosts several major annual events such as the Nisqually Valley Home & Garden Show, Christmas in the Park and Yelm Prairie Days parades. In November they'll emcee the annual Best of Nisqually luncheon which honors local businesses and individual employees in different categories. On a more frequent basis they hold a weekly Leads at Lunch meeting, regular Business After Hours events and the monthly members forum.
"We're excited to have the opportunity to promote our members in Yelm," says Critchfield. "We invite people to come in and see us any time."
To learn more about the Yelm Chamber of Commerce visit their website or call 360-458-6608.