When I think of vinegar, an acidic taste comes to mind. It's definitely not something I would just sip on straight. Or so I thought before a recent trip to Sandstone Distillery in Tenino.
Owners John and Jenni Bourdon are all about experimenting with new ideas, whether it's a bacon whiskey or a dill flavored vodka, the creative juices never seem to stop flowing. However, because distilleries are not allowed to serve the spirits of other companies on site, it can be a bit of a challenge to create interesting cocktails. "Any mixologist will tell you it's hard to get creative with one line of spirits," Jenni explains. "But we still wanted to make something that was tasty and a little more complicated for our guests. I had heard about shrubs and I had never tried them before, and so I literally went and bought a book and made some." And just like that Wild Heart Sipping Vinegar was born.
So what is a shrub or sipping vinegar as many are calling them now? The truth is their beginnings go back thousands of years to the Arabian Peninsula, when people would allow their fruit juices to ferment and turn to vinegar. A Sharab, as they called this elixir, was then used to flavor water, often in place of an alcoholic drink. Yet, it wasn't until the Sharab made its way to the American colonies many years later that it earned the name shrub. "Martha Washington would entertain people all the time with her shrubs," Jenni shares, "but then it fell out of favor when Prohibition came. It really didn't make a comeback until the craft brewing and spirits took off." Sometimes the oldest traditions truly are the best ones.
Not all sipping vinegars these days are created equal though and John and Jenni have spent many hours perfecting the recipes. Using just the perfect balance of apple cider vinegar, whole fruit and juices, botanicals and just a little cane sugar, Jenni creates a shrub nothing short of amazing. "They're simple, but it's like a cookie," Jenni says smiling. "You know, your grandma makes a chocolate chip cookie and you can go to the store and buy one, but you know they are going to taste way different. These just have their own personality." And that's partly due to the fact that some of her sipping vinegars take more than two months until they are ready. Just like a great whiskey, Jenni's shrubs get better with age.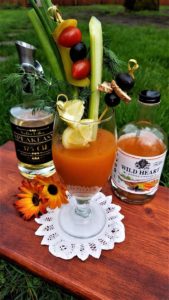 Not only do the sipping vinegars complement Sandstone Distillery's spirits, but I can honestly say they are great straight out of the bottle or mixed with sparkling water. And they come with amazing health benefits as well. "Apple cider vinegar is kind of like aspirin; it's the do-all for the body," Jenni explains. "There's not a lot of exhaustive medical studies done, but they've found it's really good for the body from the inside out." Aside from keeping your gut working properly, apple cider vinegar also stimulates the circulatory system and has been shown to help with liver and kidney functions in people.
Personally, it just makes me feel good when I drink them. But Jenni reminds me that Wild Heart Sipping Vinegars are not just for drinking either. They're actually great for using in cooking, from salad dressings to marinades or creating reduction sauces. "These are hospitality, they are like an extension of culinary creativity for me," she adds. "I love to have people over and I love to cook." After listening to her recipes I'm ready for her to write a sipping vinegar cookbook. The possibilities really are endless with these colorful jewels.
So although Jenni never planned to have a second business, Wild Heart Sipping Vinegar is her passion and it shows. "It's an extension of me in a way so I'm just going to let it grow how it grows and see where we go with it," as Jenni puts it.
Even the name is something she created as a reflection of the life she and John have modeled. "I'm kind of a live out loud, grab every adventure you can kind of person. It's about finding things you enjoy and going out there and doing them to the fullest. Not wild heart as in crazy, but just go follow your heart, be who you are and live your life the best you can."  The distillery is an extension of that mindset as well.
But understanding that a food-based business and a spirits-based business were very different, Jenni turned to a local incubator of food-based businesses, Jeff Nelson of EZ Foods, for expert advice, and his commissary as a springboard for the production of the shrubs.
Wild Heart Sipping Vinegar features eight core varietals: Apple Cinnamon, which was the first to pair with their bacon whiskey; Black Cherry Pom; Blueberry Thyme; Carrot Thai Basil Coriander; Cranberry; Mango Orange Chili Pepper; Pear Cardamon Rosemary; and Sweet Beet. You can find these delicious shrubs at Sandstone Distillery located just west of Tenino, or for more information visit the Wild Heart Sipping Vinegar website.
Sponsored